National Daiquiri Day is Thursday, July 19, 2018!
And yes, we still talk about cocktails and spirits, sometimes we wonder if we should not leave a platform just for that! So after our Slochetails recipes, we are talking today about the National Daiquiri Day! For this very special day, Bacardi Rum has partnered with 4 of the best mixologists & bars in Montreal to create different signature daiquiris that will be offered throughout the day this Thursday!
What! I will not have to do my own Daiquiri for the National Daiquiri Day!
So, this Thursday, dear Montrealers, you will be able to celebrate this wonderful sunny day and you will be able to taste the "Pinaquiri" of the Cloakroom Bar, the "Ghost Daiquiri" of the Atwater Cocktail Club, the "No Waste # 2" of the Bar Le Mal Necessary, and the "Not Your Hemmingway" bar El Pequeño, the smallest bar in Montreal. Each cocktail will be sold between $ 11 and $ 15!
So here are the cocktails for the National Day of Daiquiri
For this day, we suggest a trip to 4 well-known Montreal establishments.
Pinaquiri
by Andrew Whibley of Cloakroom Bar
ingredients:
Bacardi Cuatro
Sherry vino
Vanilla
Lime
Cinnamon
Coconut oil
Pineapple
Ghost Daiquiri
by Jeremy Bourgeois of Atwater Cocktail Club
Bacardi Superior
Simple syrup
Acid solution (lime ph ph)
St-Germain Meringue
No Waste #2
Elisabeth Denault from Le Mal Nécessaire, follow the Pineapple. Moreover, the owners of Le Mal Necessaire have just opened the Pamplemousse Bar, featured in our 2018 summer magazine.
Bacardi Cuatro
"No Waste Syrup Pineapple"
Vanille
Citron vert
Glace
Menthe
Anis étoilé
Not Your Hemingway
By Sabrina Mailhot of El Pequēno, a bar where you will feel in Cuba and probably the smallest bar in Montreal and Coldroom (hidden not far away …)
Bacardi Cuatro
Cazadores Reposado (we will soon talk about a nice initiative of Cazadores)
Aperol
Sour grapefruit
Syrup
Cane sugar
I want to do my own Daiquiri for the National Daiquiri Day!
You rather want to stay at the house and do a Daiquiri evening with friends, here is the original recipe.
DAIQUIRI BACARDÍ ORIGINAL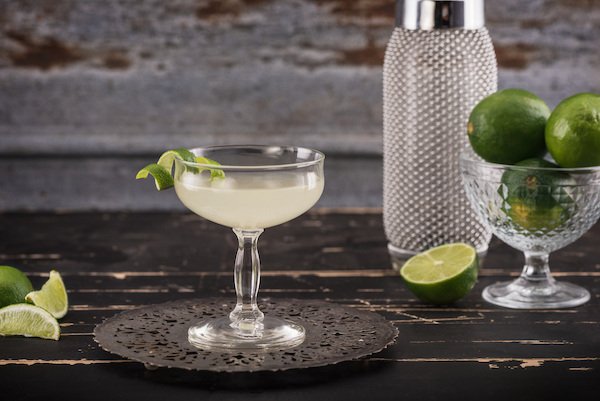 Ingredients
2 parts of Bacardi Superior Rum
1 part fresh lime
 0.75 part cocktail syrup (sugar-semolina, icing sugar, hot water)
Preparation
Shake and filter in a cup
We will put on line, in a few days, an interview with the ambassador Bacardi and also of RDPMAG, Samuel Trudeau, who is currently at Tales of Cocktails, the New Orleans Cocktail Festival, about upcoming news from the Bacardi Group!