Priceless Cities Guide to Hosting a Dinner Party
13:58
updated on Jan Mon 2023 17:48
A few weeks ago, I received the Mastercard Priceless Cities Guide by mail (to find out what Priceless Cities is, I made an article in 2015 when I added Montreal to the city's range of cities. program (to be translated soon) to hosting a dinner party. I found it really relevant so I approached the National Bank of Canada, partner of the program, to find out if it was possible to have the visuals, the answer was positive. So, this article I do it for you and because a meal with friends is often an experience that is priceless. Even if you see Mastercard everywhere in this post, it is not sponsored. It is my personal initiative to have contacted them to share their Priceless Cities Guide.
№ 1. of Priceless Cities Guide to Hosting a Dinner Party : The glasses
The good glass for the good wine is essential to have the best expression of the wine. It is often during the holidays that we take out our best wines to surprise our guests. Why not choose the ideal glass for this one to have a complete experience?
№ 2. of Priceless Cities Guide to Hosting a Dinner Party : Up to the table setting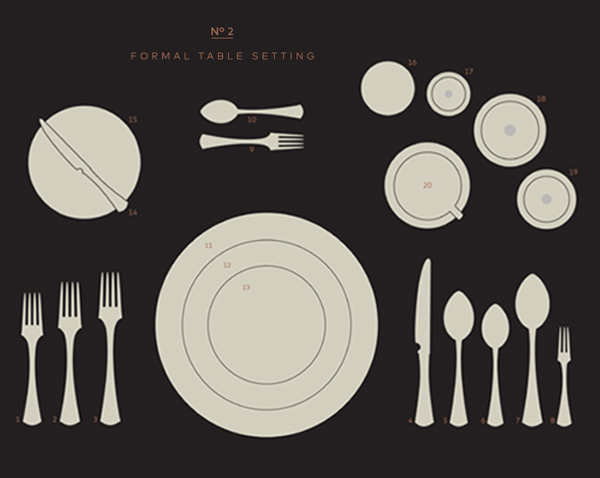 № 3.of Priceless Cities Guide to Hosting a Dinner Party : The Napkin folding.
Nothing impresses more than the beautiful folded napkin, it's often a detail, but it often makes all the difference and makes your table just beautiful.

№ 4. du Guide Priceless Cities : The perfect hot Etiquette
The Guest List
It may be a bit late for this step as I write these lines, but it's still possible. So, make a short (or long) list of guests and, to find out how many people will be present, ask them to confirm their attendance by returning the invitation card. Obviously, to maximize the short delay, this can also be done by email.
The Pre-Dinner
Before calling everyone to the table, let your guests lounge in the living room where they can mingle and get comfortable. Don't be shy – participate in conversations and entertain your guests with games and anecdotes.
Set The Mood
Set the right tone to your evening dinner with the right lighting and background music. Dimming the lights and adding non-scented candles around the room will help bring some warmth to your dinner's atmosphere. For music, keep the volume low and relaxing – it should complement the dinner, not overshadow it.
A small Taste
Serve appetizers and beverages (find ideas in our magazine) to your guests in the living room to get the evening started. This is great when you need more time to prepare the meal.
The Table
The Table's Presentation
That's where you'll impress your guests.Use place cards so guests know where to sit. Embellish your table with crystal, china, silver and fine linen cloths. For your table's centrepiece, make sure it isn't too tall to block your guests' view.
Drinks
Feel free to offer a few cocktails and wines that will fit well with the main course. Also offer alternatives such as mocktails, juices or soft drinks (to make more refined, do not hesitate to take products from the range Bec Cola, 1642 Sodas or Fever-Tree which all offer interesting alternatives to major brands. Do not hesitate to buy larger size bottles such as magnums to have a minimum of bottles on your table. Make sure your guests' glasses are always full, both with wine and water.
Serving Dinner
Warm up your dinner plates in the oven or rinse them in hot water before preparing and garnishing in the kitchen. Serve the female who's seated on the right side of the host first, then follow counterclockwise around the table – the host should be the last one served. When serving plates, always be on a guest's left side.
Time for dessert
Clear the table of all dishes and glasses before you serve dessert and coffee. Keep it short and sweet, with nothing too heavy especially after a delicious full-course meal. In the worst case, they may request a second dessert service. Do not hesitate to offer them a second portion.
After Dinner
Don't start cleaning yet, you deserve some rest. Enjoy a post-dinner conversation with your guests and gracefully accept any compliments. Once everyone leaves, you can start clearing the table and washing the dishes. Here's to a successful dinner. Also make sure all your guests who came by car are able to drive. Feel free to keep them for the night, call them a taxi or ride service like Operation Red Nose. Keep the numbers very far away, it will be less embarrassing for your guests. And now, this is the perfect way to make a priceless dinner.
And here you are ready for your evening. Thank you to Mastercard and National Bank of Canada for their collaboration on this article. Find a complete dinner by chef Grégory Faye on this link!
Images: Mastercard / National Bank of Canada