Gentologie Radio, Season 1, Episode 1 : Marc Ouayoun of Porsche Canada
10:28
updated on Apr Thu 2022 10:31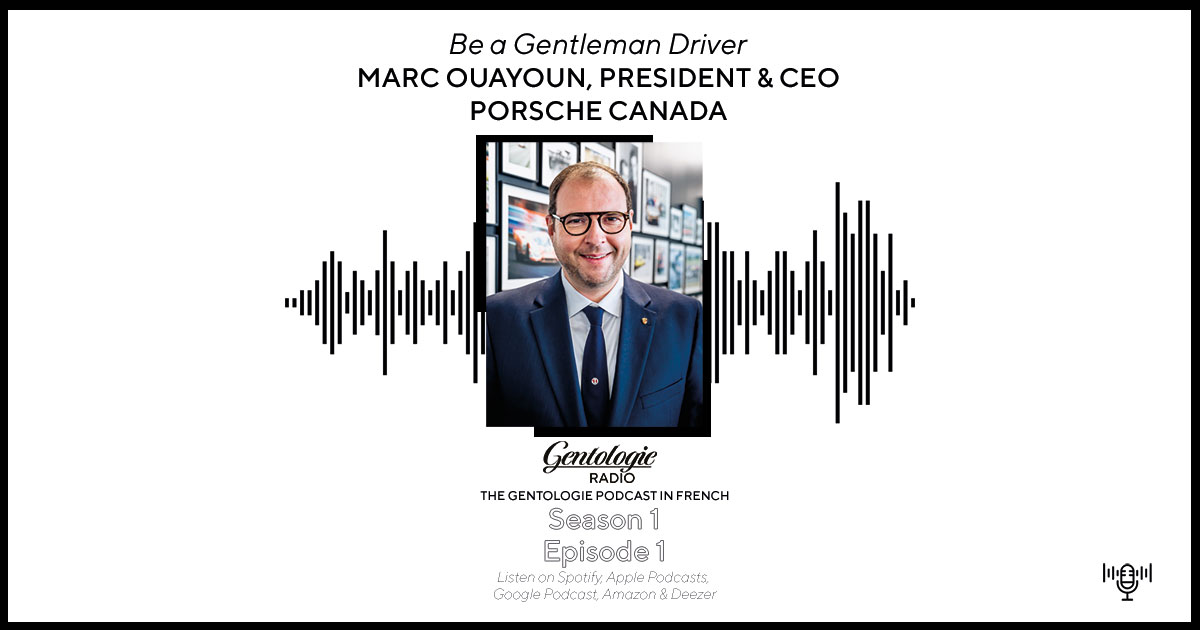 Gentologie Radio Season 1 Episode 1: Marc Ouayoun of Porsche Canada, The Gentologie Podcast in French
It is not enough to own a high-end vehicle whose performance on the road can be extraordinary, you must first be a gentleman behind the wheel.
This is one of the topics we discuss with our first Gentologie Radio guest, Marc Ouayoun from Porsche Canada. Good listening!
Gentologie Radio Season 1 Episode 1 : Marc Ouayoun of Porsche Canada
In this first episode of Gentologie Radio, our Podcast in French, presented by your host Normand Boulanger, Publisher and Editor-in-Chief of Gentologie, we welcome Mr. Marc Ouayoun, President and CEO of Porsche Cars Canada Limited. With the latter, we will, of course, talk about high-end vehicles, electrification, motor racing, how to be a gentleman behind the wheel and, of course, the Porsche brand.
With Porsche since 2006 where he successfully led the French division of the German manufacturer, before becoming its general manager in 2011. He is now the president and chief executive officer of Porsche Cars Canada, Limited since January 2018. And previously, he was with the German neighbour, Daimler, which recently became Mercedes-Benz. In short, a great career of more than 20 years in the luxury automotive field.
A long career in the luxury automotive iundustry
We wanted to know more about what has changed in the automotive field during Mr. Ouayoun's 20-year career. Know about the importance of electrification and mobility, which have taken up a lot of space over the past two decades. This is what Mr. Ouayoun tells us about in this interview.
Since joining Porsche Cars Canada in 2018, he has led an 8% increase in sales for this year as well as the implementation of the brand's first-ever Canadian Parts Distribution Center, which began operations on October 1, 2019.
Mr. Ouayoun holds a master's degree in international marketing from the Emlyon business school in France. In his spare time, he enjoys motorsports and classic models. He has owned several Porsches including the 944, 928, 911 and 930 models over the years. He is currently the proud owner of a 911 Carrera 4 Cabriolet of the 964 generation, which he enjoys driving whenever he gets the chance.
To listen to the full interview, type "Gentologie Radio" into the search bar of your podcast app:
Are you in a hurry?
A gentleman should always take the time to do things right. But don't forget to subscribe to our podcast to listen to this episode in its entirety at another time. Gentologie Radio is conversations with personalities for whom the gentleman side is a necessity. CEOs, enthusiasts, people destined to impress you. Do not hesitate to listen to us.
Share the post "Gentologie Radio, Season 1, Episode 1 : Marc Ouayoun of Porsche Canada"