Climats by Jean-Sébastien Giguère: A cookbook adapted to the seasons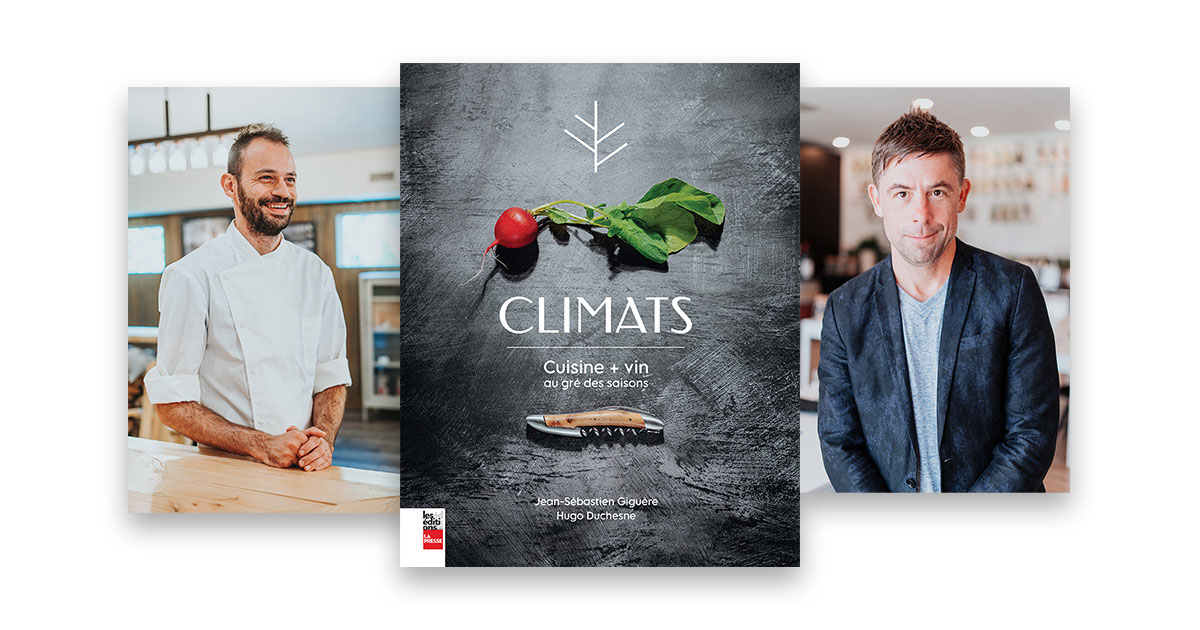 While we are in the middle of COP15 in Montréal, I am talking about the book Climats by Jean-Sébastien Giguère and Hugo Duchesne (a french book, for now). There is a link between the title and biodiversity. Discover my meeting with Mr. Giguère, executive chef of the H3 restaurant and Coureur des Bois. 
The idea behind the book
Let's try to find out the genesis of this book, we're trying to find out where the inspiration comes from, that's my first question for Mr. Giguère. "While I actively participated in the writing of the Toqué book in 2009 with Charles-Antoine Crête and Normand Laprise, I wanted to do my own book over a full year. The concept is twofold: first, what is not done in Quebec in terms of cookbooks, so I wanted to do something complete, and second, how to make sure that people who receive my tips can benefit from them, so from A to Z, I did it myself and I even had my mother test it to make sure that everything was easy to repeat. She would tell me, for example this is too salty, the cooking time is not right in my oven, etc."
And the concept is finally: "You're the chef at home, you have my tips, and over a year, to work with seasonal products that come from here as much as possible. And if people can't find the products, I give them alternatives.  
This concept of seasons and local is something that is very close to the heart of the chef of H3 and Coureur des Bois. 'Often people say that winter is flat, because there are only root vegetables, but that's all wrong and there's more to it than just harvesting, because many of us are busy and don't have time. I advise, in the recipes either to make a little bit more to freeze, to keep it for another recipe, I want to make people's lives easier. Also, for certain products, like crab or asparagus, the season is very short. We end up with four starters, nine main courses and two or three desserts per season.'
The Challenges of Climats by Jean-Sébastien Giguère
When you launch a project like Climats, what is difficult? 'At the beginning, I had too many recipes, more than 100 recipes with 5–6 sub-recipes, it was the size of a 600-page book! So I put in what made sense to me, i.e., fish, meat, vegetables, vegan dishes, etc. I wanted to touch everything. 
The agreements are one of the strong points of the book, could you tell us a little more about them? I said to Hugo (editor's note: Duchesne, who has now joined the Hoogan and Beaufort group), I want people to understand the role of a sommelier in a restaurant. We don't suggest specific wines, but rather types of grape varieties, and we go with 3 choices each time, according to people's budget. And they also explain some terms that can help people in wine knowledge, we talk about wine from Quebec (by the way, their group of restaurants is one of the biggest references in wine from Quebec). What is a cookbook? It's hospitality, it's gourmet, it's pleasure and it goes well with wine,' adds the chef.
What influence did this book have on his cooking, did it change anything? The chef tells me that the whole thing brought a better synergy, and as he had to do everything a year in advance, it changed a lot of things for him with the availability of the products. By the way, all the photos, signed Matt Ayotte, are of the real products, including the tuna he caught in Gaspésie, Nicole's asparagus from St-Jean sur le Richelieu, etc. 
Is there a recipe in the book that you really wanted and that gave you more difficulty? 'Yes, the Arlette, a puff pastry that you flatten and roll out like a sausage that you cool and then cut once it's firm and that you flatten a second time between two pieces of greaseproof paper and that you cook under pressure so that it's very crispy. I make it with a crème molette and Dunes pepper (from Quebec), a poached pear with a local spice syrup. The recipe is simple, it is simple in my head, but writing it down was difficult. With the editor, we didn't understand each other in the technique. But in the end, it's in the book,' concludes the chef. This kind of reflection has pushed the chef to simplify his explanations to his kitchen team when presenting recipes. It also pushes him to try new things that he doesn't necessarily have time to do in a restaurant, like the duck breast and clementines that he let sit overnight, which amplified the flavour in an incredible way, a technique he plans to try this winter.
Do you have a favourite recipe in the book? 'It's the whole book, I'm a person who changes her menus a lot in restaurants. What I put in the book are recipes that I've grown to love and wanted to share with people.' I try to get the answer another way by asking him if there is a recipe he couldn't have taken out. He immediately replies, 'My cavatelli, which I make with ricotta cheese and not with potatoes. Everyone who orders it is coming back for more. I have a lot of pasta, because I am half Italian. The donut that is the basis is a bit of an easy, flat recipe, where you get the perfect balance of acidity and sugar, the crispness but not too much and the softness inside, it's just perfect.' 
The magnificent book Climats by Jean-Sébastien Giguère and Hugo Duchesne is available now at Indigo and many other bookstores.                 
Share the post "Climats by Jean-Sébastien Giguère: A cookbook adapted to the seasons"