A trio of exciting wines from Europe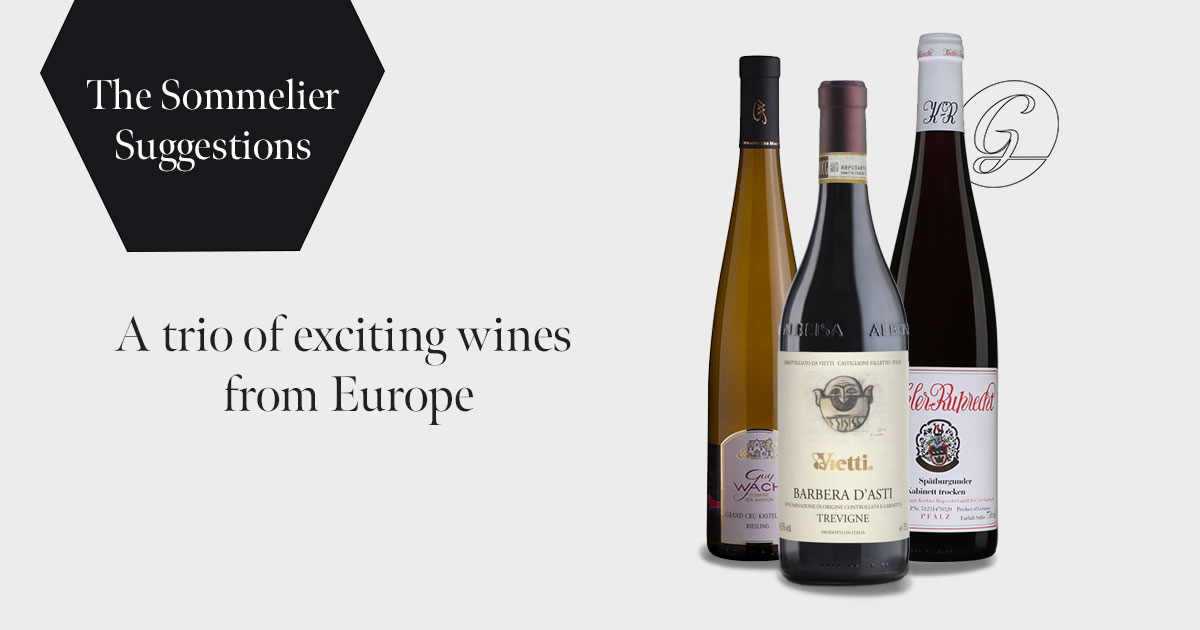 Our quest was to discover a few gems from three European countries in three distinct tableaux of varying styles! A vibrant Alsatian wine that has made it all the way to the top-quality Grand Cru appellation, a German Pinot Noir that will dazzle with a fine meal, and to end up, an extraordinary Barbera d'Asti that will astonish. Join me in discovering a trio of exciting wines from Europe.
A trio of exciting wines from Europe in white
Domaine Wach Riesling Grand cru Kastelberg 2018
Let's head for the mountains to the Kastelberg terraces. Here the soil is made up of schist (a black rock that radiates heat), which gives the wines their maturity. This great organic wine is dry (not sweet), vibrant, sweetly spiced, with that pleasant mineral impression of stone and a hint of iodine and saltiness, ideal for judicious pairings. It is long, can improve over 10–20 years and is ideal for gastronomy: cheese platters, pan-fried scallops, grilled prawns or langoustines, smoked haddock with sesame. A real eye-catcher. If you can't find it, opt for the brilliant organic Domaine Wach Riesling Andlau 2022 (13921167)
Varietal:
Available in SAQ (13921141)
A trio of exciting wines from Europe in red
Weingut Koehler-Ruprecht Spätburgunder Kabinett trocken Pfaltz 2020
Let's continue by imagining a meal to enjoy the family at table, with no time limit. This Pinot Noir from the fairly warm Pfaltz region in the Palatinate, a region with low mountains, would be king with its aromas of red cherry, smoked meat, emanating mauve flowers and animal notes of leather, sweet spices and cigar box. In short, velvet for the palate! Chicken tournedos wrapped in bacon, veal paupiettes with lardons and mushrooms in a veal stock, rabbit casserole with onions and root vegetables, potatoes cooked in ashes. Enchanting.
Varietal:
Available in SAQ (14887618)
Vietti Tre Vigne Barbera d' Asti DOCG 2020
Let's finish off with a Barbera, a grape variety of great renown in the Piedmont region, including Asti and Alba. The proof is in the form of this magnificent wine, surprisingly priced and is guaranteed to take you on a journey! Candied and dried fruit, including almost kirsch cherry, sweet spices (aged for 12 months in stainless steel vats and large casks), medium-bodied, rustic and heady. This wine is moving and can benefit from a 30-minute decanting. Excellent with pasta with morels and truffles, veal chop with grilled vegetables, chicken in mushroom sauce or Italian charcuterie. Charming.
Varietal:
Available in SAQ (11863282)