Ferrari Trento, The Italian champagne
12:24
updated on Jan Mon 2023 16:44
It was after a lunch on the terrace of the hotel William Gray that I had the chance to talk with Marcello Lunelli, the vice president of Ferrari Trento to learn a little more about the Italian brand of sparkling wine.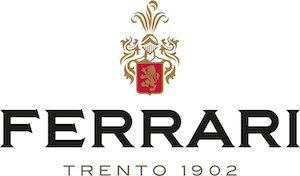 The Ferrari Trento story
So Ferrari, how does the brand start? 
Yes, it started in 1902, with our founder, Giulio Ferrari, he started in agriculture in secondary school in Trento, after that he went to in Montpellier to studying at the prestigious wine school to learn how to produce good wines and went in Champagne for an internship in a small winery, where he learns all the champagne secrets. There, he saw two factors, first, he never saw a grape like the Chardonnay, which he after brings to Trentino, then he observes the climate, the coolness between day and night which was the same as in Trentino. So when he came back to start to plant Chardonnay and he builds a cellar to produce a bottle of sparkling like he saw in Champagne. 
So, after that, in 1902, it was the first vintage, then he won an international competition in Paris, and Ferrari's sparkling wine wins the Gold Medal at the International Exhibition in Milan in 1906, so many, many awards to remain a small family. In 1952 he decides to sell the winery, he didn't have a son or daughter, and my grandfather, Bruno, opened a wine shop in 1929 in Trento, so he knows very well the quality of the wine and the man. So he decided to buy the company because he has 5 sons. 
So in 1952, had a new age of development. And Mr. Ferrari, who was still working there, teach my father and my uncles how to produce a good outstanding sparkling wine. So we move from the old winery in Trento, to where we are now and last year we sold 5 ½ millions bottles. We are the largest sparkling wine in the metodo classico in Italy. But we never change in the last almost 120 years, So we are in Trentino, so we follow the Trentodoc regulation. We start only from grapes, we managed and we have our estate vineyards for vintages and in Ferrari we only produce sparkling wine, so we don't have any other distraction. 
To produce other things, we have many other brands under the Lunelli Group. We have a distillery where we produce grappa with Segnana, we have still wine under the brand Tenute Lunelli in Trentno, in Umbria and Tuscany and we bought a Prosecco winery called Bisol and we also have a spring water called Surgiva, which is one of the top-quality water only in glass bottles to preserve environment and we opened a restaurant 12 years ago, which is now a 2 Michelin stars to make a great experience between good wines and good food.
You have an award for the restaurants, haven't you?
Yes, Ferrari Winery launches the Ferrari Trento Art of Hospitality Award, a prize intended to pay homage to the value of hospitality and celebrate the partnership with The World's 50 Best Restaurants. It's the 3rd edition and we are proud to follow the chef and the worldwide cuisine.
Ferrari is a brand that targets men, right?
Yes, my grandfather said, to become very famous you need either money or time. We didn't have any money, so we invest our time to build our brand image in events and public relations. So we worked to become the official toaster of Italian events. For example, in Rome, the president toast with Ferrari at Italians party, the football team in 1982 and 2006 toasted with Ferrari, We have som e connection with the most famous brands in Italy: Versace, Prada, Benetti yacht, Maserati for their winter and summer tours. So we wanted to become the official witness of the Italian Art of Living not only in Italy, but all over the world. We take time to go with great partnerships. 
If we come back to Ferrari, what is the difference with the champagne like Veuve Clicquot or other brands?
We use the same method and same grapes, but we are Italians and they are French, we do things differently. We want to have our won space. Ferrari is a great sparkling wine with a great history and we don't want to mix it with the French which are in the business for about 300 years with heritage and experience. But I think we are in the right way.
And if you talk about the product, what was the evolution of it?
Well, it is the evolution of the quality, grapes and vineyards, we have a very total quality to build a pyramid from bottom with brut, so good sparkling wine for every occasion and for everyone to arrive at the peak with the Giulio Ferrari. In the middle we have the reserve and special reserve non-vintage for wine shops. So every label is made to live different taste and enjoy life. Our philosophy is to be luxury sparkling wine with a democratic price, but at the same time, with Giulio Ferrari and the special reserve, to arrive at the top brands and the top quality.
The Ideal Food Pairing
If we talk about food pairing, how do you do it?
I'm always joking with my father who is a sommelier for 45 years, I tell him for me with a sparkling wine like Ferrari
we don't need to be suggested from a sommelier because the characteristic of Ferrari is a sparkling wine with acidity and well balanced and the temperature is low. You can drink during all year. I suggest drinking it as an aperitif. You can drink the rosé with pizza or spaghetti al pomodoro, very typical Italian dish, lasagna. Even with meat of fish like langoustine or shrimp. You can drink it everywhere and every time.
One of the questions you certainly have the most is what is the difference between a Prosecco and a Trento like Ferrari.
There is a huge difference. The first difference is the grapes, they used Glera which is an aromatic grape and we use Chardonnay and Pinot Noir. We use the method that the second fermentation is in the bottle, they use large stainless steel tanks rather than in each individual bottle for the second fermentation. It takes 3 years to have a bottle of Ferrari with 2 years on the lees, the Prosecco, you need 40 days after the harvest. Why? Because the Prosecco is an aromatic variety and you need to save those aromas, so the method in the big tanks permits to maintain the freshness and the aromatic. Instead, the bottle-fermented method increase the quality after many years on the lees. 
That's very interesting to know the process and to see why there is such a difference in the price and the evolution of the wine.
I think we have a huge opportunity in this moment in the world, Prosecco has a huge success and will still have because it's drinkable and it's not sweet but comfortable in the mouth, easy and not so expensive. And the Aperol Spirtz is a huge success in the world also. So now people know they can drink sparkling wine from Italy and it's Prosecco, after that, I think that the people want to make another experience, to make an upgrade. So with Ferrari, we are ready to give them another experience. So at the beginning people taught ah only champagne, now there's Prosecco from Italy, and there's an in between and we are ready with Ferrari. So it's a good opportunity and for this thing, we also bought a Prosecco winery with Bisol. 
And also in the taste, there is less sugar. 
Yes, the future will be to reduce the sugar because the people, they don't like it. And also, the quality of grapes increases. So there is a great future for the Prosecco and with Ferrari. 
In the future, where do you see Ferrari?
Well, I want to see Ferrari all over the world where the people would want to live an Italian experience. There is a special mood that the Italy has that we must export all over the world. The joy, the happiness to live 2 minutes or a lunch with friends with fantastic food and good sparkling wine that will remember you luxury, but at the same time, affordable.
Do you have any products that you are working on?
Last year, we started the Giulio Ferrari Rosé, and we have to increase the production. This one Robert Parker gives it 98 points! A game changer. And also we want to make more special editions and special wine list of vintage from our special reserve, because I think our customers want more quality, and not only the current vintages on the market. 
When you speak about special editions, do you talk of something with your partners?
Yes, we have one with Kartell, an Italian lead design company, but also with different brands like Luna Rossa, the boat in the America's Cup. 
Here is our little questionnaire with  Marcello Lunelli, Ferrari Trento vice-president
Your favorite city in the world?
The first was San Francisco, now is Stockholm, and 2 days ago I was in Vancouver, and I got a lot of emotions. And you want to jump in the south of the world, Cape Town with the wine, the food and the people.
Your favorite restaurant?
My favorite restaurant is a family restaurant in Mantua called Dal Pescatore, it's a 3-star Michelin, but it's like to be at your home, all the family worked there. They cook typical food of Mantua. 
And if we go on the cocktail scene, what is your favorite bar?
When I go to Milan, I love to stay in the center of the famous Galeria, in the Park Hyatt, the Mio Lab Bar. Great design but really simple.
And until our next question, your favorite car?
I have a dream, 10 years ago I bought the electric the Fisker Karma; now they change, it's a mix between technology and design. I still have it, but also I love the 500 Fiat, I have the new and the old. It's an Italian passion.
What is your favorite airline?
It's where I never was. I love to spend the summer holidays in Sardegna and I love to be there. 
Your favorite place to shop?
Wow. We are very lucky in Italy, one place is Milan. You can find the new vision in fashion. 
Your favorite place to disconnect
Madonna di Campiglio, where I go skiing during winter, and spend few weekends there.
Something you could not live without.
God, wine and food, my wife and my daughter.
In a word,  describe:
Refined: Always be honest. If you tell what you do and you do what you tell, you will have an honest life.
Distinguished: To do your ideas of things and not follow people.
Passionate: Wine and sparkling wine. 
The Official Sparkling Wine of Formula 1
Ferrari Trento has been named the Official Sparkling Wine of Formula 1. Announced globally ahead of the start to the 2021 FIA Formula 1 World Championship in Bahrain, the prestigious three year partnership will see Ferrari Trento's award-winning sparkling wine become the official toast of Formula 1 celebrations throughout 2021, and beyond.
Formula 1 has appointed Ferrari Trento as its celebratory drink partner, not only because it is one of the most-awarded producers of sparkling wines but also in recognition of its long and respected history. Similar to Formula 1, the Italian family-owned winery based in Trentino, in the Italian Alps, is a global leader in its field, crafting its luxury Trentodoc wines for over a century to become known as Italy's sparkling wine par excellence.
Ferrari Trento in SAQ
Ferrari Trento in LCBO
Learn more about Ferrari Trento by visiting their website
Make this delicious recipe to pair with your Ferrari Trento