Good France: Celebrate the French gastronomy
12:25
updated on Jan Tue 2023 11:12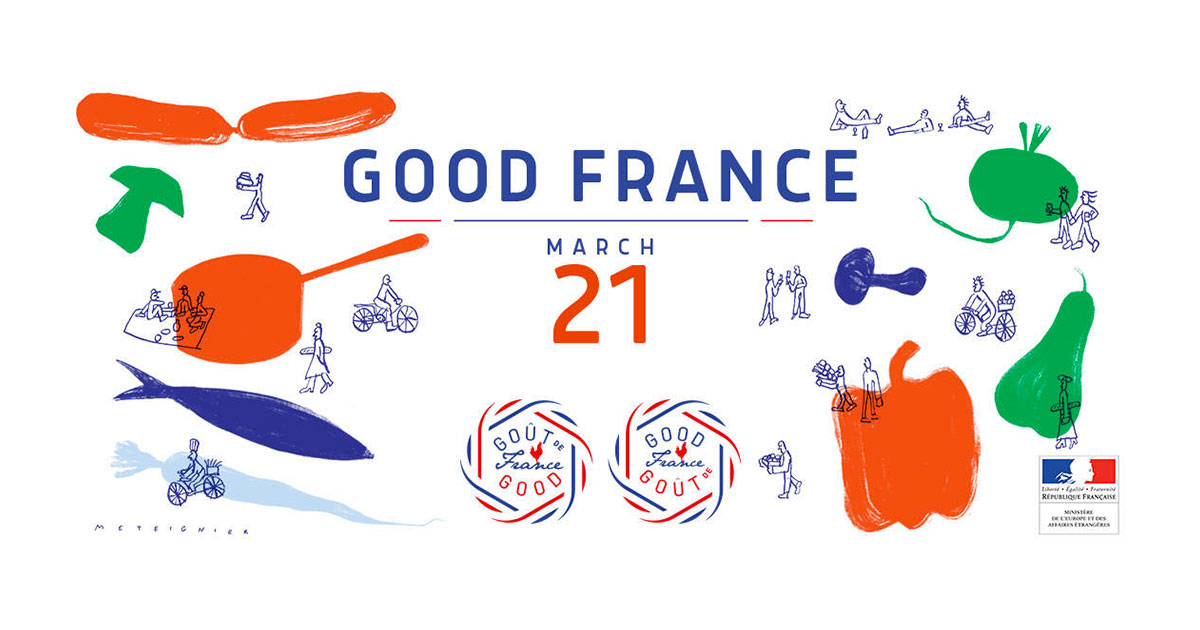 From March 21st, Good France returns: the largest event in the world that celebrates in more than 150 countries, the French gastronomy!
Good France: For an environmentally responsible cuisine
In 2019, Goût Good France has had a makeover: this 5th year of the event will see over 5000 chefs participate across 5 continents over 4 days of events celebrating responsible cooking. This year, the Provence region will be in the spotlight and will be showcased during events in France and around the world.
On March 21st : A menu for the planet
Following on from COP21 and the French National Food Conference (Etats Généraux de l'Alimentation), France is at the forefront of global environmental action. The Good France key event showcasing France's gastronomy has taken a greener approach in 2019 aimed at better respecting the planet's resources. On 21 March, chefs from around the world will be cooking up a French-style dinner, with a focus on more responsible cuisine. Each menu will present dishes using less fat, sugar and salt, with great concern for "good food" and the environment.
Good France has also decided to join forces with the "No More Plastic" association, represented by Alexandra Cousteau. She will chair a "Good Impact" round table on the issues of environmental and resource preservation, where she will be joined by chefs, scientists, business leaders and other important figures.
Event organized by the French Ministry for Europe and Foreign Affairs and chef Alain Ducasse.
2019: Provence in the spotlight!
Provence, destination in honor of Good France, will be valued at various events in France and internationally. For the first time, the Department of Bouches-du-Rhône and Provence Tourisme are launching MPG2019 (Marseille-Provence Gastronomie 2019): 1,000 events for a year of celebration, meetings of chefs, gourmet markets, picnics, urban vegetable gardens … a real gourmet journey in Provence. More to come…
The Good France Canada event takes place in Montreal on March 20th!
In Montreal, at the Museum of Fine Arts, 9 pairs of French and Quebec chefs will combine their talent to introduce the general public to the richness of French gastronomy. The profits will be donated to the charity La Tablée des Chefs, whose mission is to feed those in need and to develop culinary education for young people. Come celebrate with us the vitality of French gastronomy and Franco-Quebec friendship, during the event Good France, in collaboration with the Consulate General of France in Montreal and Chef Olivier Perret. They will gather, during a prestigious evening, 9 pairs of French and Quebec chefs, both artisans of taste and mixologists, to develop together a unique creation from local ingredients.
It is this Wednesday, March 20, 2019 from 6pm to 8pm at the Bronzes Gallery of the Montreal Museum of Fine Arts (MMFA). During this unique and high-flavored evening, you will have the pleasure of discovering the creations of:
Jean-Marc Guillot (Meilleur ouvrier de France – Fairmont Le Reine Elizabeth) & Arnaud Marchand (Chez Boulay – Bistro Boréal)
Alexis Taoufiq (Meilleur ouvrier de France mixologie – Le 4e Mur) & Simon Lespérance (Perles & Paddock)
Roland Del Monte (Meilleur ouvrier de France – Renoir) & Roch Desjardins (École hôtelière de la Montérégie)
Nicolas Dutertre (L'Académie du chocolat) & Julien Roy (Automne Boulangerie)
Baptiste Peupion (Fairmont Le Reine Elizabeth) & Helena Loureiro (Portus 360 – Restaurant Helena)
Christophe Morel (Morel Chocolat) & Stéphanie Labelle (Pâtisserie Rhubarbe)
Olivier Tourrette (La Cloche à fromage – Montréal) & Jean-Philippe Maurice (Aux Terroirs)
Johnny Porte (Ritz-Carlton Montréal) & Antoine Baillargeon (Le Monarque)
Olivier Perret (Le Renoir) & Frédéric St-Aubin (Moleskine)
Participating restaurants in Canada
Several restaurants from east to west of Canada participate in the "French" menu on March 21st, here is the list.
Moncton:
Great Quebec City area:
Le Mouton Noir (Baie St-Paul)
Chez Jules Brasserie Française
La Fenouillère
Montreal
La Maison du Magret
La Palette Gourmande
Le Pois Penché
Restaurant Renoir
Ottawa
Signatures Restaurant – Le Cordon Bleu
Great Toronto Area
Batifole Gourmand
George Restaurant
Le Baratin
Ricarda's
Veloute Bistro & Catering
Mom's Restaurant
Manitoba
Great Vancouver Area and Kelowna