Cocktail of the Week: Maple Old Fashioned with flamed orange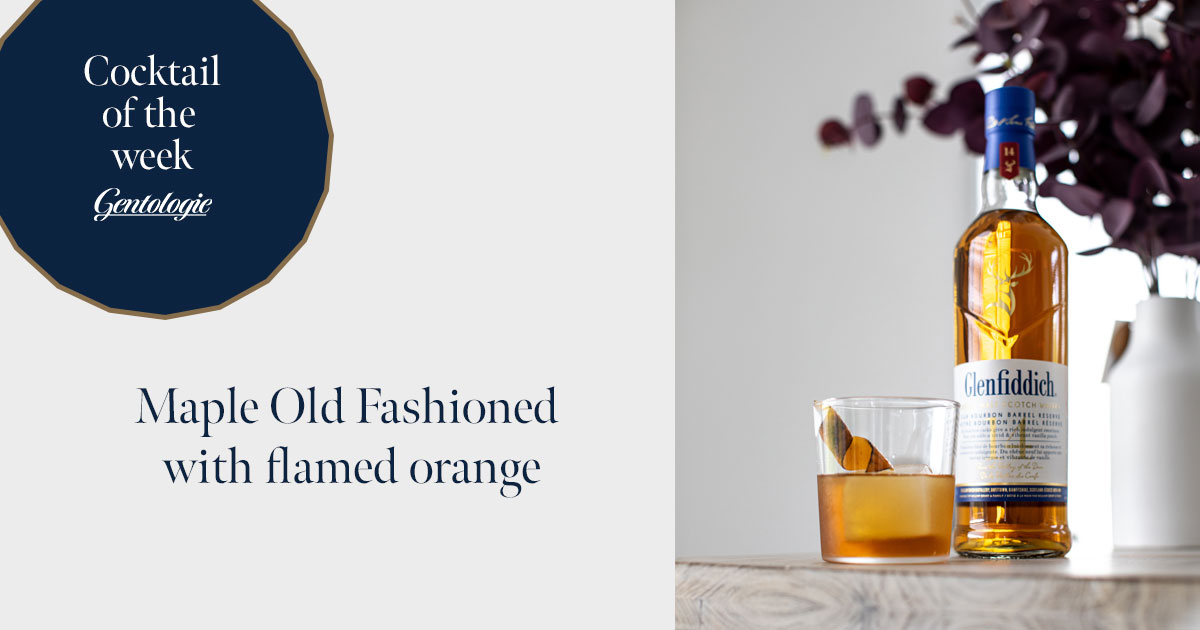 As autumn makes its quiet entrance, why not take the opportunity to relax and enjoy a delicious cocktaSmooth and sophisticated, Glenfiddich Bourbon Barrel 14 Year Old boasts warming notes of vanilla, brown sugar, fresh pear and apple. Finished in charred New American Oak barrels sourced from Louisville, Kentucky, this rich and toasty single malt will inspire Scotch and bourbon lovers alike. The latter will be perfect in this Maple Old Fashioned with flamed orange.
Maple Old Fashioned with flamed orange
Ingredients:
2 oz Glenfiddich 14 Year Old Bourbon Barrel Reserve
¾ oz pure maple syrup (We love the one from Nos Cabanes)
3 burnt orange peels
3 dashes Angostura Bitters
Method
In a mixing glass, add two burnt orange peels.
Pour in the maple syrup, Angostura Bitters and Glenfiddich Bourdon Barrel 14 year old whisky.
Fill your mixing glass with ice (the ice is added at the end to avoid dilution, so that you get all the flavours of the cocktail and not too much water) and stir well.
Strain over a large ice cube.
Garnish with the remaining orange peel.
Add a twist with a buttery Maple pop-corn infusion
Feel like adding a touch of autumn to your cocktail? Glenfiddich offers a buttery popcorn infusion that will go wonderfully with this Old Fashioned with maple and orange flambé.
Ingredients
2 cups of heavily buttered popcorn
Maple Syrup (to taste)
Boiling water
Method
Prepare 2 cups of heavily buttered popcorn
Place into a sterile container
Pour maple syrup over top with 2 tbsp boiled water.
Stir to combine.
Let this sit in the fridge, covered, for 3 days before straining.
Add to your cocktail.
Garnish with maple popcorns (you can add a bowl of them for you also).
*Recipe provided by Glenfiddich