The Gentologie Selection: Rediscovering Italy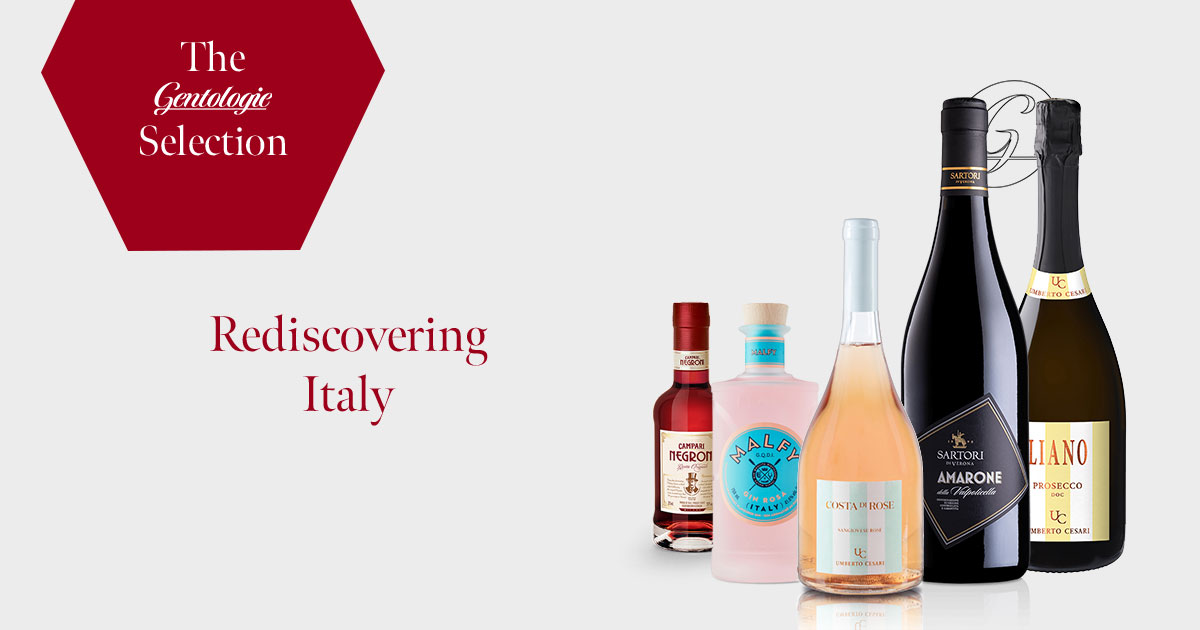 Welcome to our new space, The Gentologie Selection. As the weeks go by, a selection of wines and spirits appreciated by the team and not only suggestions from our partner sommeliers, who will also remain. Our theme for this article, Rediscovering Italy.
Rediscovering Italy through spirits
Malfy Gin Rosa
I discovered the Malfy brand on my most recent trip to New York, where it occupied a huge space in one of the Eataly stores I visited. I hadn't yet tasted the Rosa, but now I have.
Malfy Gin Rosa is not a rose gin as you might think, but a pink grapefruit gin, and it tastes great with juniper! It's a delicious product with a taste that will linger even as a gin and tonic.
Degree of alcohol:
Availability: 
In SAQ : 13854814
In LCBO : 636068
Campari Negroni
Here's a great way for gin and cocktail lovers to rediscover this timeless classic. Campari Negroni is a ready-to-serve version of this well-known cocktail, created in Florence in 1919. It offers us a refined blend of juniper and sweet citrus notes, mixed with herbs and spices to achieve that bittersweet flavour that lasts longer.
The recipe combines Campari, the main ingredient, with London Dry Gin and Cinzano Red Vermouth. To prepare, simply pour into a glass filled with ice cubes, stir and garnish with a slice of orange. With its 375 ml format, it's designed for 4 perfect servings.
Degree of alcohol:
Availability: 
In SAQ : 15097407
In LCBO : 24096
Rediscovering Italy through sparkling
Liano Prosecco
With Thanksgiving weekend upon us, what better way to celebrate than with a glass of prosecco? And with the weather so warm, why not try one of our Spritz recipes? In this delicious product, you'll find aromas of nuts such as almond and hazelnut, biscuity bread and flowers ranging from acacia to lily of the valley. Fresh and balanced on the palate, with a delicious finish. Perfect as an aperitif with seafood-based starters (like the "Oyster Discovery" box from our partner Oysters & Caviar).
Varietal:
Varietal:
Degree of alcohol:
Sugar content:
Availability: 
Rediscovering Italy through rosés
Costa Di Rose
What can we say about this Sangiovese Rosé, with its antique pink hue, we love its freshness, tangy flavours and lingering aromatic fruitiness. Ideal as an aperitif with a delicious burrata or salmon tartare.
Region:
Varietal:
Degree of alcohol:
Sugar content:
Availability: 
In SAQ : 14800754
In LCBO : 21608
Rediscovering Italy through reds
Satori di Verona — Amarone della Valpolicella 2018
Autumn is slowly approaching and this wine will be the perfect companion. It is matured in stainless steel and concrete vats, then in oak barrels for around 3 years. With its superb deep red colour with garnet highlights, it has typical aromas with notes of red fruit jam and a spicy finish. It goes perfectly with rich, comforting dishes such as marinated red meats, grilled meats (discover our article "The Art of Steak" for perfect cooking), pasta with a delicious Bolognese sauce or aged cheeses.
Region:
Varietal:
Corvina 50%
Corvinone 30 %
Rondinella 15 %
Cabernet 5 %
Degree of alcohol:
Sugar content:
Availability: 
The 2019 in SAQ : 15180622
The 2018 in SAQ : 11035882