Negroni Week, to celebrate the legendary Italian cocktail
17:48
updated on 13 September 2021 14:10
Campari, Italy's iconic red aperitif, team up with Imbibe magazine to present Negroni Week, celebrating the iconic Negroni cocktail – a perfect blend of Campari, gin and red vermouth. For seven days, hundreds of places on the planet celebrate the Negroni cocktail, which dates back more than 100 years.
Donations to charities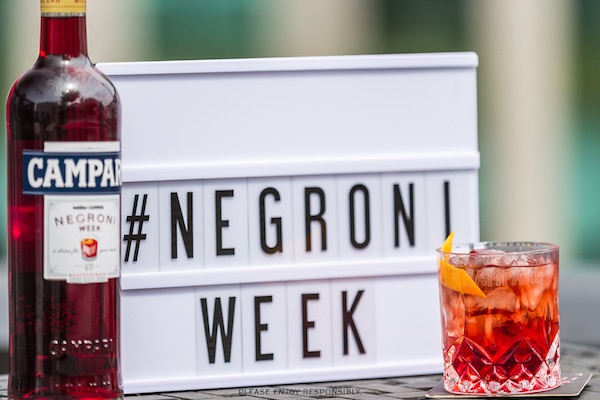 With the modern cocktail movement continuing to grow, the annual event has grown every year. Starting with 100 participating bars in 2013, this week has grown to approximately 120 participating venues at over 12,000 venues around the world, and to date they have collectively raised almost $ 3 million for charity.
What Negroni Week Will Offer You
No matter where you choose to enjoy it, you will have the chance to experience unique events and experiences and the best Negronis made by world famous bartenders. Following the success of its introduction in 2017, Campari's bartending sessions will continue with the world's best bartenders, including bartenders from Red Camp, who have been the focal point of the Campari Red Diaries global campaign launched earlier. this year. The bartenders at Red Hand, and many others around the world, will showcase their talents by creating classic Negronis as well as creative variations – all with Campari at the forefront, as the defining ingredient of the cocktail.
The other essential ingredients of the famous cocktail, Bulldog Gin and Cinzano Red Vermouth, are the essential ingredients of Negroni Week, which form the ideal line-up for all Negroni.
There is no Negroni without Campari
As a globally consumed classic cocktail, the prestigious IBA Official Drink List states Campari is the key defining ingredient.
Ingredients:
Instructions:
Pour the ingredients directly into an old-fashioned glass filled with ice
Stir gently
Garnish with half an orange slice
See the Jerome Laflamme version for Gentologie
Negroni Week, how does it work?
Negroni Week is a charity program that puts the power of fundraising in the hands of participating barmen, their bars and Negroni drinkers around the world. Participating sites will donate a portion of Negroni cocktail sales and related items to more than 40 charities, so why not say "applauding charity" and tasting cocktails like no other.
For more information on participating local bars and what's happening in your area during the 2021 Negroni Week, visit the Negroni Week website.
The 2021 Negroni Week is happening for September 13 to 19
On social networks, follow the following keywords #NegroniWeek #Negroni #Campari #imbibe and the @Campariofficial @imbibe and @CampariCanada accounts.