The James Bond Vodka Martini recipe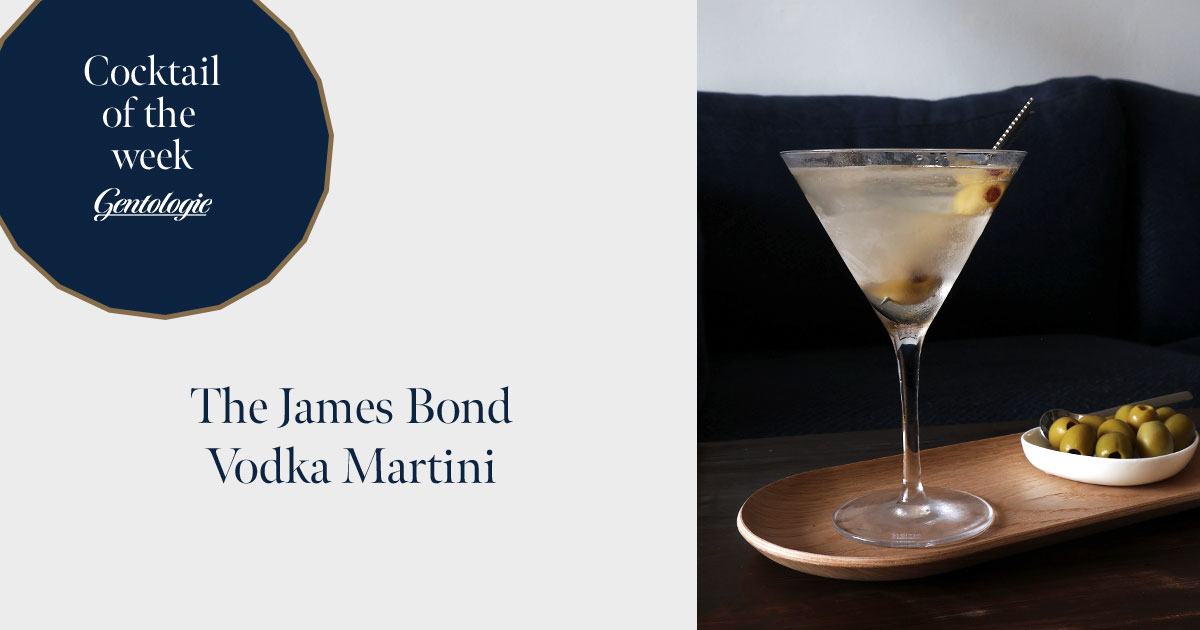 As a huge James Bond fan, I also love his signature cocktail, the Vodka Martini. However, as I rarely make it myself, I tend to forget the recipe and they all seem to be different in the sources I consult. So here's the recipe for James Bond's Vodka Martini, shaken, not stirred, of course.
The story behind The James Bond Vodka Martini
Believe it or not, the Vodka Martinis weren't always an essential part of Bond's cinematic escapades. In the early novels by Ian Fleming, the creator of James Bond, Bond's favourite drink was actually a gin martini, made with Gordon's gin, vermouth and a slice of lemon peel, closer to the recipe for the Vesper Martini. It was not until Fleming's third novel, Moonraker, that Bond first ordered a vodka martini. According to Fleming's description, the cocktail was "shaken, not stirred" and served with a twist of lemon.
It was not until the films that the vodka martini became 007's cocktail of choice. In "Dr. No", the first Bond film, Sean Connery, the first interpreter of the secret agent, orders this now-legendary cocktail, giving it a special place in Bond history. Since then, the vodka martini has appeared in almost every Bond film, often accompanied by the famous phrase "shaken, not stirred."
How to make 007's iconic cocktail
Some will wonder which vodka to choose. Bond, or at least the producers, has not been very faithful in this respect over the years. Smirnoff, Finlandia, Stolichnaya (that's what we went for) and even Belvedere have played the leading role in the famous cocktail.
For Vermouth, we were treated to the classic Martini. But we can't fail to recommend Noilly-Prat, one of the best vermouths on the market. There's also Dolin Dry. There are a few local versions, but make sure you choose a pale-coloured dry vermouth.
For olives, I love Filthy's Pimento. (on their website or on Amazon)
The ingredients
2 1/2 oz. (75 ml) of vodka
1/2 oz. (15 ml) of dry vermouth
Green olives
ice
Method for a "Shaken, not stirred" Vodka Martini
Add the vodka and vermouth in the shaker
Fill with ice
Shake until very cold
Strain into a chilled martini glass
Garnish with an olive… or a lemon
Put on your tuxedo (optional)
Enjoy
What is a Dry Martini ?
The term "dry" is a common cocktail modifier that generally means a higher proportion of higher-alcohol spirits compared to a lower-alcohol blend. In the case of the Martini, this means more gin/vodka and less vermouth.
Dry' drinks often have a stronger alcoholic flavour, although the exact proportions vary enormously and often depend on specific drinks and personal tastes. It's worth noting that a dry martini doesn't omit vermouth altogether, despite the cliché that mixologists are told to "just look at the vermouth bottle".
For the Wet Martini, it's a martini with a little more vermouth, about half the amount of vodka/gin, about 1 oz, or 30 ml.
Dirty Martini: a martini to which ½ oz (15 ml) of olive juice has been added, and is garnished with a few olives.
Want to try a very popular variant of this cocktail, discover the Espresso Martini.