The perfect wines for the lobster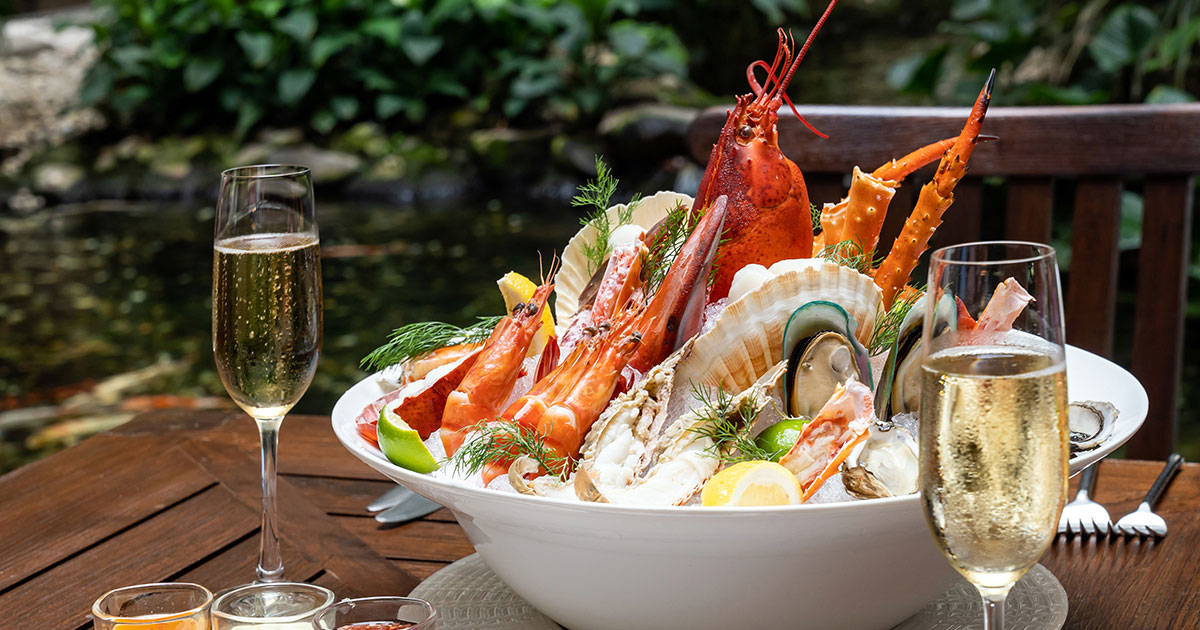 For lovers of lobster and shellfish, a fresh wine with an impression of minerality is essential to combine the aromatic elements and enhance the lingering iodine flavours of certain seafood and cooked dishes such as scallops. Here are the perfect wines for the lobster you'll be tasting over the Canada Day long weekend and that has this profile to captivate your guests.
The perfect wines for the lobster: From France to Canada
Domaine Vendange Crémant de Savoie Brut
Diane and Benjamin Vendange took over the vines from his grandfather in 2015, and will be certified organic in 2024. The crémants are made using the same traditional method as in Champagne. This producer vinifies with care and expertise. The nose is astonishing, the fine bubbles dancing in the glass and on the palate. Fresh orchard fruit (including McIntosh apples), lemon zest, peach and white flowers are combined with sweet, enchanting almond. Its freshness and length on the palate are noteworthy, with stirring of the lees and 16 months on the latte adding texture and complexity. A brilliant wine.
Varietal:
45% Jacquère
30% Altesse
25% Chardonnay
Moillard Chablis Coquillage 2021
Situated in northern Burgundy, near Auxerre, the Chablis vineyards run alongside a small river called the Serein, and its soils are Kimmeridgian limestone, which gives the wines an impression of minerality and salinity. Chablis, which was founded in 1850, is pale yellow, clear and brilliant, with hints of white fruit. On the palate, the wine is taut and balanced, with an invigorating hint of lemon. Energizing.
Varietal:
La Chablisienne Chablis Premier Cru Grande Cuvée 2021
Established in 1923, La Chablisienne is a cooperative winery with a very good reputation in Chablis. All the wines it produces are of the highest quality, at all prices, from Émotions Minérales to the prestigious Château Grenouilles. Here we have a remarkable blend of Chablis Premier Cru grapes from both the right and left banks of the Serein. This pale gold-coloured wine sparkles with aromas of yellow apples and white fruits, accompanied by a touch of minerality and sweet spices. The finish is persistent and opulent, and asparagus dishes will be king. A dazzling wine.
Varietal:
Léon Beyer Riesling Réserve 2021
Riesling lovers? Maison Léon Beyer has been established since 1580, spanning 14 generations, and is located in the heart of Alsace. It offers us chiselled, authentic wines made from several emblematic grape varieties of Alsace, in the Haut-Rhin region, in High Environmental Value. This wine emanates white stone fruit, sweet spices and light hydrocarbons; it is round, easy to digest, sapid and fresh, and can even improve for 7 to 10 years! It gives an impression of minerality, bringing aromatic complexity and length. An elegant wine.
Varietal:
Cave Springs Riesling Beamsville Bench 2020
To round off the series of the perfect wines for the lobster, Cave Springs, a pioneer in Canada established some forty years ago. The care taken with the vines and the environment, the Niagara microclimate and the desire to excel all contribute to producing wines that are true to their terroir and of consistent quality; their Rieslings, Chardonnays, Pinots Gris, Gamays, Pinots Noirs, Cabernet Francs and Icewines are all noteworthy. A visit to this bucolic place is a must. This Riesling is fragrant, fresh and energetic, with aromas of preserved lemon, apple and sweet spices! An eloquent example of their savoir-faire. Dazzling.
Cépage:
Enjoy a long Canada Day holiday and discover four superb wines from Mission Hill Family Estate and our section on Niagara Valley wineries.