Dyson Supersonic: The ultimate gentlemen hair dryer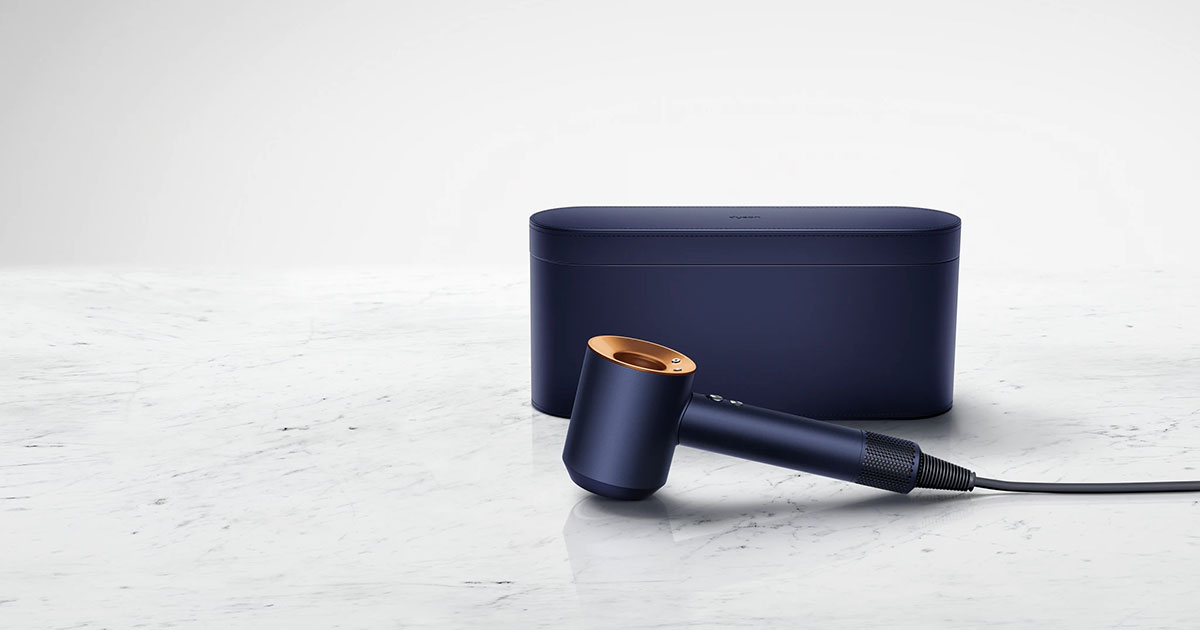 Going to the barber is all well and good, but recreating the perfect style at home can sometimes be a challenge, especially in this National Men's Grooming Month. The Dyson Supersonic is this hair dryer that created a revolution when it was launched and that still makes the competition jealous. Check out our interviews about her with Dyson engineer Mrs. Kate Craft and their global style ambassador Mr. Jon Reyman. Responses were originally received in English.
The Dyson Supersonic and the technology
Mr. Normand Boulanger – What is the technology behind the Supersonic, what makes it a reference now? 
Mrs. Kate Craft: The launch of the Supersonic in 2016 truly disrupted the category. At the heart of the Dyson Supersonic is the Dyson digital motor V9. This small but powerful motor spins up to 110,000rpm. Combined with our Air Multiplier technology, it produces a high-pressure, high-velocity jet of controlled air for fast drying and precise styling. There is also a microprocessor with a thermal feedback loop, which provides intelligent heat control. It measures air temperature over 40 times a second and regulates the heat to ensure that it never exceeds your desired setpoint. This prevents extreme heat damage to help protect your hair's integrity and shine. 
One of my favourite things about the Supersonic is that the attachments are magnetic. This allows for easy fitting, removal, and rotation during styling. 
How did you develop the dryer so that it is as effective for long hair as it is for short hair? 
Hair – regardless of type or length – is hair. At Dyson we solve problems that others often ignore. We knew conventional hair dryers can overheat, causing extreme damage to hair and that's what we first set out to solve – a powerful and fast dryer for all hair types. With our expertise in motors and powerful air flow, we knew we could engineer a better, more efficient, and less damaging hair dryer. More important than length was our research into different hair types to ensure that our hair dryer was suitable for all– from straight to curly, thin to thick. We also worked with professional stylists to understand how best to dry and style hair from the people who are in-salon each day. 
Beyond the hair dryer itself, we engineered attachments for all hair types and styles – from our concentrator to diffuser – helping to ensure that it works well for anyone and everyone. For many, hair is a part of your identity, and we wanted to get it right. 
The improvements since 2016
What has been the improvements since the launch of the dryer?
We are committed to continuously developing the right tools for different hair types and to achieve different styles. Last year we introduced the flyaway attachment. The attachment harnesses the Coanda effect – which is at the heart of the Airwrap multi-styler – to lift longer hairs and hide flyaways. Giving you a smooth, salon finish, at home. We also introduced a wide tooth comb attachment, engineered for curly and coily hair, with robust teeth to help create shape and lengthen hair as it dries. The gentle air attachment was created to be kinder to fine hair and sensitive scalps, something many people struggle with. This attachment diffuses the air into a gentler flow, while still drying hair fast. 
We've also released a wide-tooth comb attachment. This attachment is for curly and coily hair to help lengthen hair as it dries and create volume and shape. It's has been optimally designed for better root access, tension, and section size.  We've released a variety of colours over the years to match a variety of aesthetics and personalities. 
Why should every man (with hair) have this dryer? 
KC: Dyson a conçu un sèche-cheveux révolutionnaire. Le Dyson Supersonic est un design sophistiqué alliant ingénierie et art. Si vous recherchez des temps de séchage rapide, le Dyson Supersonic vous l'offrira avec son flux d'air puissant et précis. Si vous cherchez à coiffer efficacement et à maintenir la santé de vos cheveux, vous pouvez utiliser nos accessoires conçus avec précision pour ce faire. Par exemple, si vous avez des cheveux bouclés, utilisez le diffuseur pour disperser l'air uniformément autour des boucles afin de simuler un séchage naturel tout en réduisant les frisottis.
How to style your hair properly with the Dyson Supersonic and Mr. Jon Reyman
Let's continue on the Dyson Supersonic with Dyson's global style ambassador, Mr. Jon Reyman.
Mr. Normand Boulanger: What are the advantages of the Dyson to always have a perfect style?

Mr. Jon Reyman: The Dyson Supersonic will never go to a temperature that will cause heat-damage, and I'd say that's a pretty big advantage to always having a perfect style. Protecting your hair and hair health is the most important thing to keep in mind when achieving any style. And when it comes to achieving your desired style the Supersonic has all the necessary attachments – it's the number one tool in my styling kit.
How should we use it if if we have short or long hair? Are the any differences?
Depending on your hair length and type there are many different ways you can style your hair using the Supersonic. The beautiful thing about it is that you can use it in so many ways. For example, if you have long hair curly hair using the diffuser will help to define your curls for a very natural look. Dyson's diffuser attachment will disperse air more evenly around your curls, and simulate natural drying, helping to reduce frizz and define curls and waves. I'd recommend starting by applying your favourite curl cream to your wet hair then attach the diffuser. Use the Supersonic on Medium heat, medium speed. Flip your hair over and diffuse and hold your top section and repeat. Then once you are done your top section move along to the back and diffuse and hold. Lastly, to do the sides of your head, tilt your head and diffuse and hold.
If you have short hair, and are looking for a sleek slicked back style, I'd recommend using the styling concentrator attachment, with the flyaway attachment to finish off your look. The styling concentrator is a wider thinner design and creates a high-velocity blade of air. Since the air is focused, you can style one section at a time. To create this look, I'd recommend starting with your favourite mousse or pre-styling product, then using a round brush and the styling concentrator attachment brush your hair back, with the round brush and Supersonic in sync, and hold until dry. Repeat this. Once you have your slicked back look, to really get that sleek finish attach the flyaway attachment and on low speed, low heat begin to pull back in the same direction you dried your hair – to get that shiny finish.
What is your favourite way to use it?
There are so many ways to use the Supersonic, it really is such a versatile tool, thanks to all of the attachments available. Although, since Dyson released the flyaway attachment for the hair dryer, I have to say it has become my favourite attachment to finish a look. 
Essential accessories
Which accessories are essential? 
I would say it really depends on your hair type to determine what is essential. The Supersonic comes with 5 attachments – the flyaway attachment, the styling concentrator, wide-tooth comb, diffuser and the gentle air attachment. Each attachment has its own function and can aid in any style you are trying to achieve. Though if I had to pick one, I would pick the gentle hair attachment as an essential. The gentle air attachment diffuses air to create a gentle, cooler airflow while still drying hair fast. It is really engineered to be kinder to fine hair and sensitive scalps – or skin if you are drying your beard. 
Why should every man (with hair) have this dryer? Or can it help to style the beard?
The Supersonic is a great all-purpose tool and allows you to control your style. Though, I would simply say that every man needs a Supersonic to help protect from extreme heat damage – it's the ultimate benefit! 
To help style beards, especially longer beards, the widetooth comb attachment is a great tool to stretch out your beard to keep good beard maintenance.
Get your own Dyson Supersonic by clicking this link
Share the post "Dyson Supersonic: The ultimate gentlemen hair dryer"