4th Anniversary of Gentologie… What's next?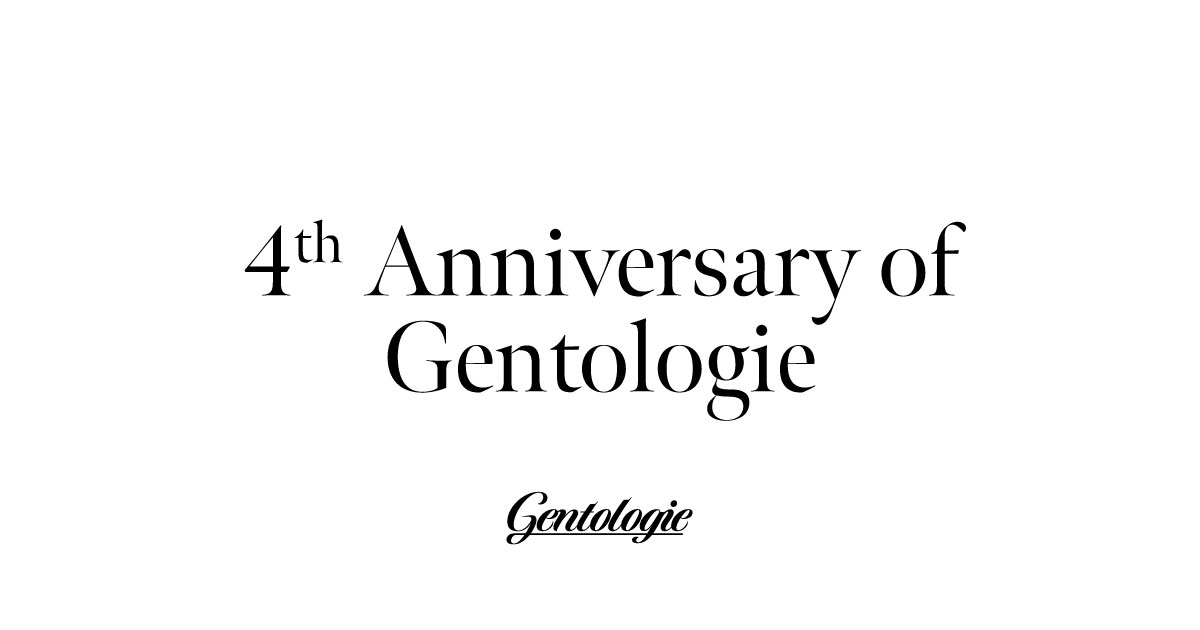 Today, Sunday, September 17, 2023, marks the 4th anniversary of Gentologie. It was on this day, on my return from a trip to Niagara for the unveiling of the Porsche Taycan, that I unveiled this brand, whose graphics were created in collaboration with the Gentologie brand's artistic director (and my cousin) Anne-Renée, by launching the 1st Gentologie magazine and changing the website. From 2019 to 2021, Gentologie magazine was in digital format and although the idea of the paper format was still in the back of my mind, it was still just a dream. A dream that came true in 2022, thanks to you. So, after 4 years of Gentologie, most of them in pandemic form, it's time to tell you about what's next.
4th Anniversary of Gentologie: The current state of things
Of course, I'd love to tell you that everything is going great and that things are going really well, but I have to be realistic and honest with you, our community and friends. Our mission hasn't changed and we still want to " Turn all men into gentlemen."
We're lucky enough to have a number of products, take part in a number of events and be invited to a number of trips (three extraordinary experiences in 2023), but at the end of the day it all has to add up.
On the other hand, visits to the site are not living up to my expectations, Gentologie has around 10,000 page views per month, which is a long way from my initial target, but over the year it's still an increase of 86% compared to 2022 (we're at 87,000 page views since 1 January 2023). I'd like to see at least 30,000–50,000 page views per month. Advertising revenue isn't great either (just like my salary), the Google AdSense ads you see on the site haven't yet earned us a penny since they were introduced last spring. The advertising and content in the magazine aren't up to scratch either. 
The launch of the print magazine in 2022, thanks to everyone who took part in our crowdfunding campaign, has certainly helped propel the Gentologie name a little further, but while I know I'm heading in the right direction, the business plan isn't holding up at the moment, unfortunately. With 1,000 copies per issue, it's very difficult to make a magazine profitable. Advertisers want a higher distribution, but to do that we need more magazines and we need to pay for them and, above all, sell them. It's like the chicken before the egg, or the chicken before the egg—it's a difficult balance. 
Here's a view of Gentologie from the media agency of a potential advertiser.
Positive:

Quality magazine, well written and appropriate for someone waiting in a car dealership.
Reaches a niche target that is difficult to reach in print. In the magazine's media kit, the founder mentions that men are underserved when it comes to lifestyle magazines, and he's right.
Even when it comes to reaching a majority of men in print, it's complicated. We have a magazine like 'Les Affaires ('The Québec Forbes) that reaches a more male community, but it's not lifestyle, and therefore not contextual for our business.
Gentologie is very contextual, with a sommelier commenting on some of the more upmarket wines. They also add codes for the products they mention. What's more, the next edition would be about European wines, so an advert for our company would fit right in.

Negative:

The biggest negative would be the magazine's reach.They have a distribution of about 1,000 copies, mostly in Genesis dealerships. We don't have any information about how much time is spent reading the magazine, exactly in what context the magazine is read, etc.
Their website gets 50,000 hits a year and they don't have much advertising on their site. (In 2023, we're already at 87,000 page views, an increase of almost 86%).
35% of their readers come from outside the province of Quebec and 40% of their web visitors come from France and/or the United States. For a local medium, we feel that too large a proportion of their audience comes from outside the country and would be of little value to our business.
We have no problem with our company's advertisements appearing in a magazine distributed to Genesis dealers. Since the magazine is about lifestyle, not cars, we don't think the consumer would feel uncomfortable being exposed to an ad from our company while waiting in a dealership. The connection would be more with the magazine, not the dealership and the cars.

Final point of view:

All factors considered, we believe Gentologie needs to develop their local audience more deeply if they want to work with us. If they can build a strong Quebec audience in print and/or digital, we believe a collaboration would be possible in the future.
Personally, I see more positives than negatives, but that's the general response of most advertisers. That and they don't have a budget. 
To give you an idea, for a bilingual version of 1,000 copies, the cost is close to $15,000. This includes printing, proofreading, translation, graphics and distribution. I imagine you can see what's at stake.
Next step: Find more subscribers and better distribution
I would say that the biggest challenge in publishing a magazine is finding subscribers, especially with a small community like ours. Gentologie is in the men's lifestyle niche. You may have noticed that the number of men's magazines on newsstands is quite small, not to say tiny. What's more, Gentologie targets an audience in the luxury sector, i.e., men who are extremely busy and inundated with content, each more interesting than the last (not that Gentologie isn't, but we're up against journalistic, work-related, cultural news content, etc.). In short, going after subscribers one by one is a challenge. What's more, our subscription system is a bit complex and doesn't do everything I want. I'm planning to upgrade it in the next few months, which will involve costs (yes, again), so we'll need to build up web expertise in this area in the future.
So that you can have access to our magazine, over the next few weeks we want to find places to distribute it. It's already available at Genesis distributors for 2023, at La Poissonnerie La Mer's best customers and at Clusier. You can also find a digital version on PressReader and soon at Cafeyn. Unfortunately for Apple News+, only our French articles are available, not the magazines.
Keep in mind: Our niche
We work with various partners, including PR agencies. Some of them understand our positioning perfectly, while others send us press releases even though they don't seem to have visited our site since we started in 2019. Of course, agencies want to promote their clients' products, but it has to complement our objectives and not feel forced, otherwise all three—Gentologie, the partner and the client—will lose out in the end. It's sometimes frustrating to repeat myself and constantly have to hit the same nail on the head. It's a daily job to explain some of the choices I've made with Gentologie, but I have to focus on the niche of my platform. 
To be clearer, in a few days' time a clear and precise presentation of Gentologie will be available to agencies and marketing people, with the aim of giving the people we work with a clear idea of what Gentologie does, its mission and its long-term objectives. 
The future of Gentologie
What's on the horizon for Gentologie?
I keep coming up with new projects. Ironically, it's when the going gets tough financially that the most creative ideas come to me. The Gentologie Media Group, Gentologie's parent company, needs to become a content production powerhouse for us and for our customers, and it also needs to become profitable. And there are no 36 solutions, it's opening up to the outside world, going after clients to produce their magazines in-house, that's an expertise that I've developed with Gentologie, and that the group needs to push.
The media kit for the magazine has recently been redesigned and an "Advertising" page (you can see it here) has been created, which includes our media kit. The media kit for the website will be available next week.
Make Gentologie bigger
How will Gentologie grow over the next few months/weeks? We're also launching two new podcasts, "Gentologie On Air," the English version of our Gentologie Radio podcast (which I'll be relaunching in a few weeks' time too) and the second, yet-to-be-named, will be an intimate conversation between gentlemen on the various topics Gentologie has to offer. The latter will take place once a month, starting in October. In short, I want Gentologie to be an even bigger part of the media landscape in the years to come.
Another avenue I plan to explore between now and the end of 2023 is developing high-end, handmade physical products. Unique products produced in limited editions. You'll get a glimpse very soon.
What you can do to help us grow Gentologie
As you probably know, we need you! Obviously, if you're an advertiser, investing in advertising on Gentologie is an excellent way of funding us. Otherwise, as an individual and as a company, the first step to take, if you have the means, is to buy one or more subscriptions to Gentologie and take part in our events.
If you don't have any money to invest in Gentologie (I understand that), don't hesitate to do free things like subscribing to the various Gentologie newsletters, following our accounts, liking and sharing our publications on the various social networks (Facebook, LinkedIn, X, Instagram, Youtube and Pinterest), visit the website a few times a week and keep the "Latest articles" page in your favourites, and, not forgetting, share our articles on social networks with your friends and colleagues. It costs nothing and can only help us make more money and talk to new readers.
And above all, it would be great if you could click on the adverts a few times (and not block them), that's also what keeps us alive.
Also, a special thank you to the companies that have supported us financially since the beginnings of the printed Gentologie magazine: Beam Suntory, Charton-Hobbs, Clusier, Perfect Pear, DDMG, Favuzzi, Genesis, Huîtres & Caviar, Poissonnerie La Mer, Rolland and Whyte & Mackay.
I know this article is a bit long, but thank you for following us and, for those of you who are, for being loyal subscribers to Gentologie.
With that, I'm off to produce some content for you, dear community.
See you soon,
Normand