Art and Stella Artois: The story continues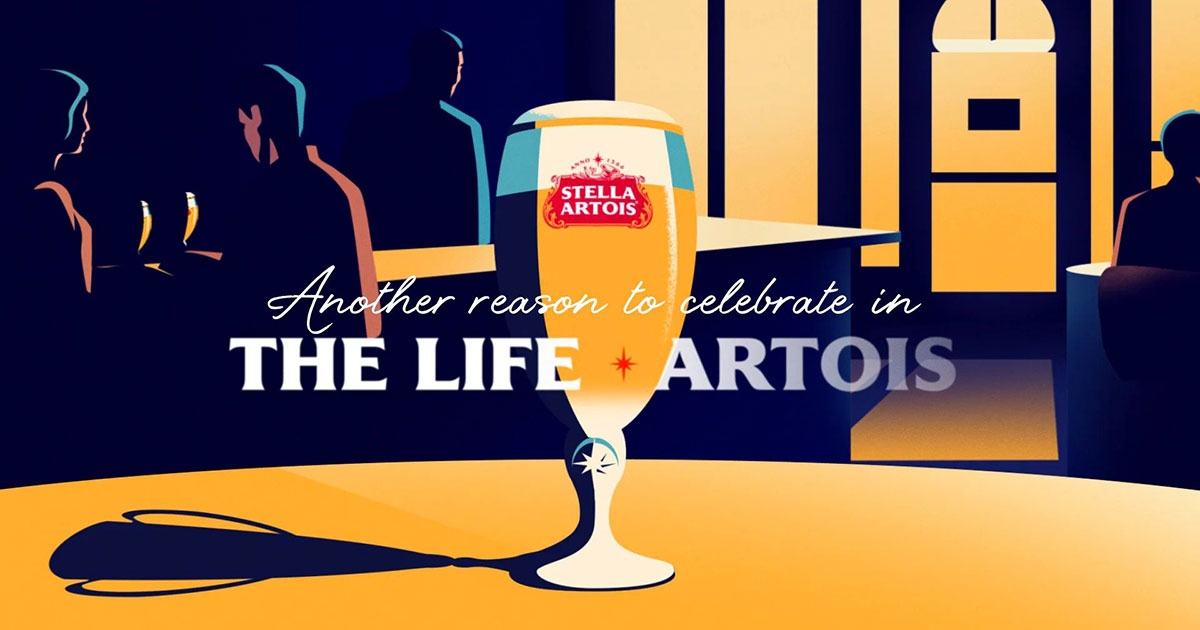 You certainly know Stella Artois, yes yes the brand of beer. Did you also know that for this art and Stella Artois are two things that go hand in hand. For my part, when people talk to me about art and Stella Artois, I immediately think of the wonderful chalice created during the various campaigns with water.Org to pour one for the future which have raised millions of dollars.
I also personally adore Stella Artois, because in addition to being one of my favorite beers, it was in our selection of Labatt beers at the launch of magazine no. 2 of Gentologie, and its positioning is directly linked to that of Gentologie, a bit more upscale, with a classic and tasteful side.
"The Life Artois" campaign: Art and Stella Artois brought to life
In it's new global campaign, created by Mother in London. We notice in the various advertisements, an impeccable artistic direction and a warm tone, breathing new life to the iconic brand Stella Artois, and through all of us, who need to relive after being confined. "The Life Artois" is the expression used to describe a state of mind, available at any time and in any place. She encourages everyone to savor every pleasure life serves, along with the people who matter most. Isn't that the most important right now, by the way?
The campaign is based on Stella Artois' long association with the arts and cinema, as I told you above, with a design reminiscent of the 1930s and 1940s to invite the public into this new reality. The style is inspired by Stella Artois' rich European history, inspired by classic advertising of European destinations from the luxurious past of travel. It is reminiscent of simple times, in a way that feels modern, fresh and inviting. This campaign was created in collaboration with Dress Code in New York.
For poster to street art for "The Life Artois"
In order to complete this campaign, different versions have been made all around the globe, like in London. And Montreal also participates in this great mass. With the help of Festival MURAL (re-read our interview on the 2018 festival with André Bathalon) as well as the expertise and network of extensive artists, Stella Artois hired local artist Francorama (aka Franco Égalité) to design a space that makes clever use of shapes, lines and contrasting colors to help visitors maintain social distance while transforming the space in which they will settle. You will be able to see this work unfold before your eyes until August 23.
"Supporting the local hospitality industry has been a part of our mission since day one of the country-wide lockdown," says Todd Allen, VP of Marketing at Labatt Breweries of Canada. "Now that we are finally ableto reconnect with friends over a beer at our favourite restaurants and bars, Stella Artois aims to facilitate
these social moments in a safe and responsible way."
"This global pandemic has impacted every aspect of the local economy through to large annual cultural festivals like MURAL," says Nicolas Munn, President of MURAL Festival, "So when Stella Artois approached us with the idea of reimagining the Festival in a way that allows us to pursue our mission of democratizing the arts to support local business and residences while adhering to social distancing protocols, we knew we had to get involved."
A campaign with several event variations
This new artistic side of Stella Artois  has been unveiled at the start of the year in Australia with this advertisement for the Australian Open in Tennis as part of its new sponsorship.
In the United States of America, It's the Hotel Artois, an experience of Stella Artois at home as the brand presents its new graphic era. And it's still beautiful. I hope this campaign will come here, it looks really perfect with the take-outs and the fact that we're a lot more at home.
Cover Imagee: Dress Code for Mother