Last chance to see Leonard Cohen exhibit at the MAC
14:41
updated on Jan Mon 2023 18:58
While it will end in a little less than a week, April 12 (new dates have just been added), it's the least thing to tell you about Leonard Cohen exhibit – A crack in everything, presented at the MAC Musée d'Art Contemporain de Montréal.
A masterful exhibition, equivalent to the talent of the artist.
I do not think it's necessary to introduce Leonard Cohen, this multidisciplinary artist from Montreal. It will have inspired people here and everywhere on the planet. And this exhibition makes you discover even more. In short, she brings you into her intimacy, into things you do not know about him.
So, after more than two years of development, the MAC presents Leonard Cohen: A crack in everything. These are the words, music and life of Leonard Cohen who invade the MAC since last November. And this exhibition will probably be the most popular exhibition in the history of the museum.
The work of life of Leonard Cohen revisited by contemporary art
This true multidisciplinary exhibition mixing visual arts, virtual reality, installations, performances and music offers the public original works by local and international artists inspired by the universe, the major themes of life and art. Leonard Cohen.
These are six rooms devoted to critical celebration, loving homage and, one year after his death, to the peaceful commemoration of great artistic achievement and inspiring life.
What you will discover in the exhibition:
20 unpublished works
40 artists from 10 countries
The exhibition also features context-specific multimedia installations, designed specifically by the MAC, in an immersive multi-screen environment highlighting Cohen's fifty years of performing and a wonderful exploration of the mechanics of his thinking in a major installation that focuses on Cohen's spoken voice in conversation. Needless to say, Leonard Cohen was rarely trivial and watching and listening to it is a pleasure.
The exhibition presents works by the following artists:

Kara Blake

Candice Breitz

Daily tous les jours
Janet Cardiff et George Bures Miller

Christophe Chassol

Tacita Dean
Thomas Demand

Kota Ezawa

George Fok

Ari Folman

Clara Furey

Jenny Holzer

Jon Rafman
Michael Rakowitz

Zach Richter

Sharon Robinson
The Sanchez Brothers

Taryn Simon
Music, the key element of the Leonard Cohen exhibit
You may be aware that music is an essential part of this exhibition, and musicians have been invited to record an exclusive cover of a Cohen song, which is presented to the Museum in an installation called Listening to Leonard.
Ils sont :
Ariane Moffatt with the Montreal Symphony Orchestra
Aurora
Brad Barr
Basia Bulat
Chilly Gonzales et Jarvis Cocker with The Kaiser Quartett
Dear Criminals
Douglas Dare
Feist, Half Moon Run
Julia Holter
Leif Vollebekk
Li'l Andy and Joe Grass
Little Scream
Lou Doillon
Mélanie De Biasio
Moby
The National with Sufjan Stevens
Richard Reed Parry and Ragnar Kjartansson
Socalled.
I think that's the part of the exhibition that touched me the most personally.
Also Clara Furey will be at the MAC to perform "When Even The" according to the following schedule: Fridays at 7 pm and Saturdays and Sundays at 2 pm.
* We invite you to consult the complete and up-to-date schedule on the MAC website before your visit to the Museum.
An offsite start last November for Leonard Cohen exhibit.
The experience began off-site: lovers of Montreal and Cohen, just like visitors were invited to Silo No. 5, in the Old Port of Montreal, for five nights in a row, to experience the majestic work of Jenny Holzer entitled For Leonard Cohen, a series of large-scale nocturnal screenings of Cohen's writings, which began on the first anniversary of his death, November 7, through November 11.
As part of the exhibition, the MAC also held five off-site concerts, organized around five of Cohen's essential albums, a concert for each of the five-month duration of the exhibition. Each concert presented, in an intimate setting, a selection of invited Montreal musicians and singers who performed an album in its entirety, respecting Cohen's original intent and the order of songs that make up each album.
The Leonard Cohen exhibit in a book.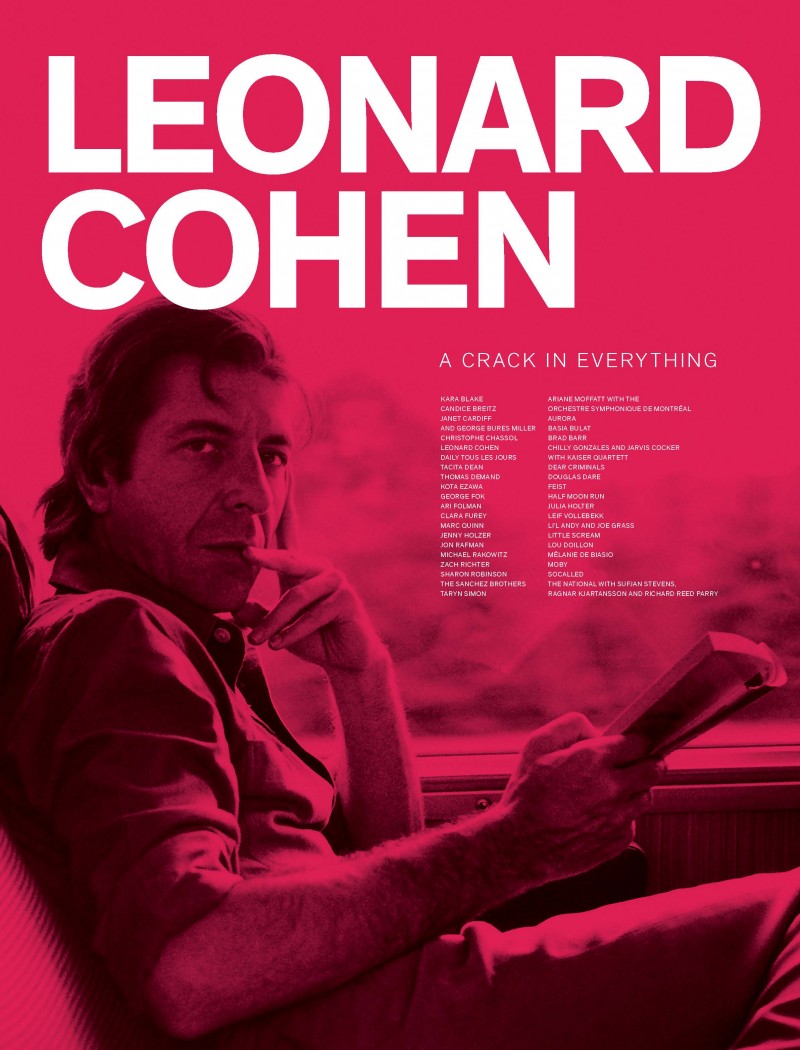 Released only a few weeks ago, this beautiful book, located between monograph and exercise dedicated to the character, documents this unique exhibition and pays tribute to the enormous cultural influence of Leonard Cohen by borrowing a side all in pictures. Artists from around the world who participated in the exhibition reinterpret Leonard Cohen's words, songs and biography.
The book also contains the artist statements of each of the 40 participants of the exhibition, in addition to texts by co-curators John Zeppetelli, chief executive and chief curator of MAC, and Victor Shiffman, guest curator at MAC, which details the two years of preparation preceding the opening of the exhibition.
Leonard Cohen's biographer, Sylvie Simmons, and author Chantal Ringuet complete the publication with texts highlighting Cohen's career and the highlights of his life.
A collector's item for lovers of Cohen that's for sure.
For latecomers, the Leonard Cohen exhibit continues on April 10th, 11th and 12th!
Friday and Saturday, April 6 and 7: from 10 am to 9 pm
Sunday, April 8: 10 am to 6 pm
Monday, April 9: 10 am to 6 pm
Tuesday, Wednesday and Thursday, from 10 to 12 April: from 10 am to 22 pm
//
Credit Photos and videos: MAC – Musée d'art contemporain de Montréal
Share the post "Last chance to see Leonard Cohen exhibit at the MAC"