The Must-read books for gentlemen
13:11
updated on Oct Tue 2022 12:55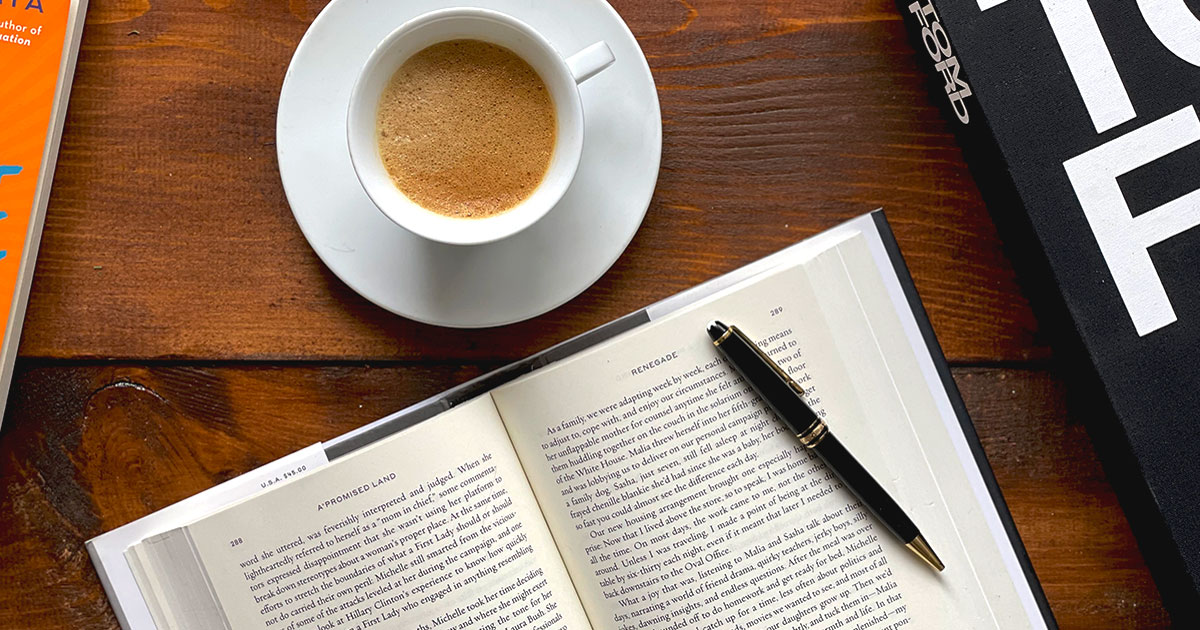 For many, the end of the evenings and the holidays are periods of relaxation, of relaxation, means of taking off from your screens. Here are our must-read books for gentlemen suggestions. These will allow you to expand your vocabulary and thus help you in your next conversations and presentations.
For those starting out a business
BALANCING ACTS: UNLEASHING THE POWER OF CREATIVITY IN YOUR LIFE AND WORK BY DANIEL LAMARRE
Starting from nothing, Daniel Lamarre chose to abandon his dreams of journalism to embark on a more lucrative career, advertising. But the day he was offered to join the mythical Cirque du Soleil, he didn't hesitate for a second. However, its beginnings in this new universe were not easy: how to go from a traditional company to one of the most innovative and prosperous organizations in the world?
From last-minute additions to technological prowess, through the reunion of Paul, Ringo, George and Yoko Ono for the production of the show The Beatles LOVE, Daniel Lamarre opens the doors to a protean artistic world as abundant as offbeat. Through his extraordinary journey, he encourages us to reveal our creativity, through imagination and spontaneity, the shortest path to success.
BUY ON AMAZON
BUY ON INDIGO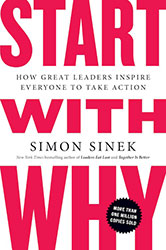 START WITH WHY BY SIMON SINEK
Starting a business is never easy. Even less find the reason for it. This book will help you.
Mr. Sinek is the leader of a movement that aims to build a world in which the majority of people are inspired by the work they do. You've probably seen his video on TED.com about the importance of knowing why we do what we do. "Start with why" takes this concept much further.
Any person or organization is able to explain what they do; some can explain how they are different from others, but very few manage to clearly articulate why. The WHY has nothing to do with money and profits, it is the results that count. The WHY is the reason that inspires us and also inspires the people around us.
From Martin Luther King to Steve Jobs to the Wright Brothers, Start With Why demonstrates that leaders who know how to inspire people all think, act and communicate the same way, a way diametrically opposed to that of everyone else. Filled with a wide range of real-life stories, this book provides a structure for building organizations, leading movements and inspiring people, all from WHY.
BUY ON AMAZON
BUY ON INDIGO
YOU ARE AWESOME: HOW TO NAVIGATE CHANGE, WRESTLE WITH FAILURE, AND LIVE AN INTENTIONAL LIFE BY NEIL PARISCHA
It was during a virtual meeting with Nespresso that I had the chance to meet Neil Pasricha. If you don't know him, he's a New York Times million bestselling author of The Book of Awesome and The Happiness Equation series, a thought leader, and one of the most popular TED speakers in the world.
This book was a revelation for me, and really did me good. It's amazing how inspiring it is that changes the way we view failure and help us build resilience. If you are in a bad mood, this book will help you I am sure.
BUY ON AMAZON
BUY ON INDIGO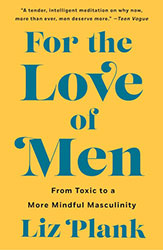 FOR THE LOVE OF MEN: FROM TOXIC TO A MORE MINDFUL MASCULINITY BY ELIZABETH PLANK
While great strides have been made in challenging gender stereotypes and expectations of women, the same progress has not been made among men. With optimism and humour, Ms. Plank opens the dialogue and offers an intelligent, relevant and very researched guide on how it is possible to redefine masculinity.
Addressing women who seek to guide men in their lives, men who want to do better but don't know how, and parents who want to raise good human beings, For the Love of Men helps to better understand the issues of masculinity in a changing society where, however, the roles in which men are confined change little.
A work by the Quebecer that will undoubtedly make us all better gentlemen.
BUY ON AMAZON
BUY ON INDIGO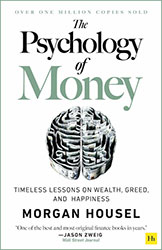 THE PSYCHOLOGY OF MONEY: TIMELESS LESSONS ON WEALTH, GREED, AND HAPPINESS BY MORGAN HOUSEL
Doing well with money isn"t necessarily about what you know. It"s about how you behave. And behavior is hard to teach, even to really smart people.
Money-investing, personal finance, and business decisions-is typically taught as a math-based field, where data and formulas tell us exactly what to do. But in the real world people don"t make financial decisions on a spreadsheet. They make them at the dinner table, or in a meeting room, where personal history, your own unique view of the world, ego, pride, marketing, and odd incentives are scrambled together.
In The Psychology of Money, award-winning author Morgan Housel shares 19 short stories exploring the strange ways people think about money and teaches you how to make better sense of one of life"s most important topics.
BUY ON AMAZON
BUY ON INDIGO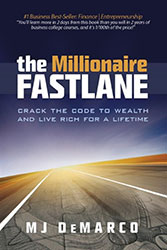 THE MILLIONAIRE FASTLANE: CRACK THE CODE TO WEALTH AND LIVE RICH FOR A LIFETIME! BY MJ DE MARCO
Is the financial plan of mediocrity—a dream-stealing, soul-sucking dogma known as "The Slowlane" your plan for creating wealth? You know how it goes; it sounds like this: "Go to school, get a good job, save 10% of your pay cheque, buy a used car, cancel the movie channels, quit drinking expensive Starbucks lattes, save and penny-pinch your life away, trust your life savings to Wall Street, preferably a low-cost indexed funds, and then one day, when you are oh, say, 65 years old, you can retire rich."
The mainstream financial gurus have sold you blindly down the river to a great financial gamble: You''ve been hoodwinked to believe that wealth can be created by recklessly trusting in the uncontrollable and unpredictable markets: the stock market, the job market, and the housing market. This impotent financial gamble dubiously promises wealth in a wheelchair—sacrifice your youth for a financial plan that reaps dividends in life''s twilight.
Accept the Slowlane as your blueprint for wealth and your financial future will drift carelessly on a sailboat of HOPE: HOPE you can find a job and keep it, HOPE the stock market doesn't tank, HOPE the economy rebounds, HOPE, HOPE, and HOPE. Do you really want HOPE to be the centrepiece for your family's financial plan?
Drive the Slowlane and life will deteriorate into a miserable exhibition about what you cannot do, versus what you can. For those who don't want a lifetime subscription to mediocrity and a lottery-sized chance of elderly riches, there is an alternative; an expressway to extraordinary wealth that can burn a trail to financial independence faster than any road out there.
BUY ON AMAZON
BUY ON INDIGO
[vc_separator]
The Books Gentlemen Should Read to Understand the Other
THE FIRE NEXT TIME BY JAMES BALDWIN
A national bestseller when it first appeared in 1963, The Fire Next Time galvanized the nation, gave a passionate voice to the emerging civil rights movement—and still lights the way to understanding race in America today.
At once a powerful evocation of James Baldwin's early life in Harlem and a disturbing examination of the consequences of racial injustice, the book is an intensely personal and provocative document from the iconic author of If Beale Street Could Talk and Go Tell It on the Mountain. It consists of two "letters," written on the occasion of the centennial of the Emancipation Proclamation, which exhort Americans, both black and white, to attack the terrible legacy of racism. 
BUY ON AMAZON
BUY ON INDIGO
A PROMISED LAND BY BARACK OBAMA
A riveting, deeply personal account of history in the making—from the president who inspired us to believe in the power of democracy.
In the stirring, highly anticipated first volume of his presidential memoirs, Barack Obama tells the story of his improbable odyssey from young man searching for his identity to the leader of the free world, describing in strikingly personal detail both his political education and the landmark moments of the first term of his historic presidency—a time of dramatic transformation and turmoil.
Obama takes readers on a compelling journey from his earliest political aspirations to the pivotal Iowa caucus victory that demonstrated the power of grassroots activism to the watershed night of November 4, 2008, when he was elected 44th president of the United States, becoming the first African American to hold the nation's highest office.
Reflecting on the presidency, he offers a unique and thoughtful exploration of both the awesome reach and the limits of presidential power, as well as singular insights into the dynamics of U.S. partisan politics and international diplomacy. Obama brings readers inside the Oval Office and the White House Situation Room, and to Moscow, Cairo, Beijing, and points beyond. We are privy to his thoughts as he assembles his cabinet, wrestles with a global financial crisis, takes the measure of Vladimir Putin, overcomes seemingly insurmountable odds to secure passage of the Affordable Care Act, clashes with generals about U.S. strategy in Afghanistan, tackles Wall Street reform, responds to the devastating Deepwater Horizon blowout, and authorizes Operation Neptune's Spear, which leads to the death of Osama bin Laden.
A Promised Land is extraordinarily intimate and introspective—the story of one man's bet with history, the faith of a community organizer tested on the world stage. Obama is candid about the balancing act of running for office as a Black American, bearing the expectations of a generation buoyed by messages of "hope and change," and meeting the moral challenges of high-stake decision-making. He is frank about the forces that opposed him at home and abroad, open about how living in the White House affected his wife and daughters, and unafraid to reveal self-doubt and disappointment. Yet he never wavers from his belief that inside the great, ongoing American experiment, progress is always possible.
This beautifully written and powerful book captures Barack Obama's conviction that democracy is not a gift from on high but something founded on empathy and common understanding and built together, day by day.
BUY ON AMAZON
BUY ON INDIGO
Will Smith's transformation from a West Philadelphia kid to one of the biggest rap stars of his era, and then one of the biggest movie stars in Hollywood history, is an epic tale—but it's only half the story.
Will Smith thought, with good reason, that he had won at life: not only was his own success unparalleled, his whole family was at the pinnacle of the entertainment world. Only they didn"t see it that way: they felt more like star performers in his circus, a seven-days-a-week job they hadn"t signed up for. It turned out Will Smith"s education wasn"t nearly over.
This memoir is the product of a profound journey of self-knowledge, a reckoning with all that your will can get you and all that it can leave behind. Written with the help of Mark Manson, author of the multi-million-copy bestseller The Subtle Art of Not Giving a F*ck, Will is the story of how one person mastered his own emotions, written in a way that can help everyone else do the same. Few of us will know the pressure of performing on the world"s biggest stages for the highest of stakes, but we can all understand that the fuel that works for one stage of our journey might have to be changed if we want to make it all the way home. The combination of genuine wisdom of universal value and a life story that is preposterously entertaining, even astonishing, puts Will the book, like its author, in a category by itself.
BUY ON AMAZON
BUY ON INDIGO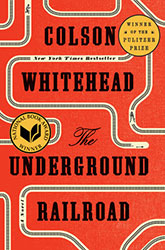 UNDERGROUND RAILROAD PAR COLSON WHITEHEAD
Winner of the Pulitzer Prize and the National Book Award, this #1 New York Times bestseller chronicles a young slave"s adventures as she makes a desperate bid for freedom in the antebellum South. The basis for the acclaimed original Amazon Prime Video series directed by Barry Jenkins.
Cora is a slave on a cotton plantation in Georgia. An outcast even among her fellow Africans, she is on the cusp of womanhood—where greater pain awaits. And so when Caesar, a slave who has recently arrived from Virginia, urges her to join him on the Underground Railroad, she seizes the opportunity and escapes with him.
In Colson Whitehead"s ingenious conception, the Underground Railroad is no mere metaphor: engineers and conductors operate a secret network of actual tracks and tunnels beneath the Southern soil. Cora embarks on a harrowing flight from one state to the next, encountering, like Gulliver, strange yet familiar iterations of her own world at each stop.
As Whitehead brilliantly re-creates the terrors of the antebellum era, he weaves in the saga of our nation, from the brutal abduction of Africans to the unfulfilled promises of the present day. The Underground Railroad is both the gripping tale of one woman"s will to escape the horrors of bondage—and a powerful meditation on the history we all share.
BUY ON AMAZON
BUY ON INDIGO
[vc_separator]
Must-read books for gentlemen to learn about fashion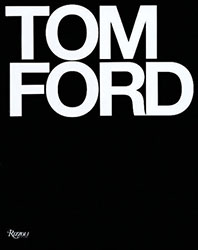 TOM FORD: TEN YEARS BY TOM FORD
Tom Ford has become one of fashion's great icons. He transformed Gucci from a moribund accessories label into one of the sexiest fashion brands in the world. His designs have increased sales at Gucci tenfold and have helped build the Gucci brand into the luxury goods conglomerate that it is today. Ford brought a hard-edged style synonymous with 21st-century glamour to his clothes, and Hollywood sat up and took note. This book is a complete catalogue of Ford's design work for both Gucci and Yves Saint Laurent from 1994 to 2004. It chronicles not only Ford's clothing and accessories designs for both houses, but also explores Ford's grand vision for the complete design of a brand, including architecture, store design, and advertising.
Tom Ford features more than 200 photographs by Richard Avedon, Mario Testino, Steven Meisel, Helmut Newton, Herb Ritts, Terry Richardson, Craig McDean, Todd Eberle, and numerous other photographers including many previously unpublished images. Published to coincide with his departure from Gucci, this book has been created with Ford's full cooperation and every page reflects his exceptional taste. It is Ford's testament to a career of singular moments reinventing the boundaries of style and sensuality in clothing.
BUY ON AMAZON
BUY TOM FORD 001 & 002 ON AMAZON
BUY ON INDIGO
ACHETER TOM FORD 001 & 002 ON INDIGO
A fashion icon, provocative American designer Tom Ford brings us his highly anticipated second book, which takes readers through the illustrious trajectory of his billion-dollar luxury empire established in 2005.
Synonymous with high-octane glamour, opulent sexuality, and fearless fashion, Tom Ford is an iconic designer whose namesake label has devout followers across the globe, from Milan and New Delhi to Shanghai and New York. Seventeen years after his best-selling debut book Tom Ford (2004), which detailed his time as creative director for the Italian label Gucci, this second volume is a visual ode to Ford's eponymous brand created in 2005 and encompasses cosmetics, eyewear, menswear, and his critically acclaimed womenswear line.
The revered designer not only catapulted his brand to the highest echelons of the fashion world—receiving accolades from the Council of Fashion Designers of America and Time magazine's Best Designer of the Year—but also commanded the attention of Hollywood by featuring loyal A-list fans such as Julianne Moore, Lauren Hutton, Pat Cleveland, and Nicholas Hoult in his runway shows and advertising campaigns. This gorgeous slipcased volume includes dazzling imagery of Ford's clothing and accessories designs, fashion editorials featuring top models such as Gigi Hadid, Joan Smalls, Mica Argañaraz, and Jon Kortajarena, and his signature sexually charged advertising campaigns by photographers such as Inez & Vinoodh, Nick Knight, Steven Meisel, and Mert & Marcus.
This volume, printed with Forest Stewardship Council approved materials and edited by Ford personally, reflects his exceptional taste and unapologetic sensual aesthetic and is a true collector's item for his devotees and connoisseurs of fashion, style, and design.
BUY ON AMAZON
BUY TOM FORD 001 & 002 ON AMAZON
BUY ON INDIGO
BUY TOM FORD 001 ON 002 SUR INDIGO
LOUIS VUITTON: THE BIRTH OF MODERN LUXURY BY PAUL-GÉRARD PASOLS
A flat poplar trunk covered with a waterproof canvas: the year is 1854, Louis Vuitton has just invented the first modern luggage that combines refinement and functionality. The elites then discover the trip. The acronym "LV" can be seen on large social liners such as in the Gobi Desert. Thanks to Louis Vuitton, travel becomes an art of living. From now on, luxury is no longer ostentation, it is a way of giving others a harmonious image of oneself. This profession of faith, "Louis Vuitton Malletier" demonstrates it once again by opening up to fashion in 1997, the creation of which is entrusted to Marc Jacobs. Success is again at the rendezvous. Louis Vuitton invented modern luxury.
Paul-Gérard Pasols' book is the first work to describe and explain—with numerous documents and unpublished testimonies—the fascinating and irresistible rise of the first luxury company in the world, which is over 150 years old. Today increased by 20 pages, with 187 new visuals showing the latest advertising campaigns, the latest fashion shows or recent major collaborations with international artists, supplemented by new texts, this work remains definitively THE reference book on the universe of Louis Vuitton.
BUY ON AMAZON
BUY ON INDIGO
BESPOKE: THE MASTER TAILORS OF SAVILE ROW PAR JAMES SHERWOOD
The definitive story of the tailors, customers, and clothes of Savile Row, the international destination and renowned epicenter of gentlemen's style
The skilled tailors of Savile Row in London have dressed kings, movie stars, rock legends, billionaires, and even a few regular guys. A Savile Row suit remains an enduring and highly individual symbol of the finest a man can buy. From its origins close to Britain's main royal palaces, the Row has grown from clothing aristocrats to military men, and more recently it has been revitalized by a renewed appreciation of personalized, handmade goods and by a new generation of modern sartorialists.
Told through eight chronological themes, this beautifully illustrated celebration brings together Savile Row's highlights and low-lifes, the dramas and private tales, the suits and their accoutrements, the fabrics and the cuts, the history and future. Each chapter charts a stage of the Row's development and its contribution to men's fashion and culture. Throughout the book are dispersed twenty-six profiles of today's master tailors, providing insight into what makes their work, relationships, and clothes so special. The book is finely detailed with reference sections on the anatomy and making of the perfect suit.
BUY ON AMAZON
BUY ON INDIGO
[vc_separator]
Must-read books for gentlemen to get ready for a BBQ season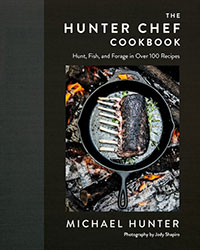 THE HUNTER CHEF COOKBOOK: HUNT, FISH, AND FORAGE IN OVER 100 RECIPES BY MICHAEL HUNTER
Well-known hunter and respected wild-game chef, Michael Hunter, grew up in the great outdoors. Inspired by the endless bounty of the land, hunting, fishing, foraging, and cooking is a way of life for Hunter.
Celebrating the resources of the wild, The Hunter Chef Cookbook features a collection of over 100 recipes and butchery guides, and stunning food and landscape photography. The book includes recipes for cooking big game, from moose and bison, to white tail deer and wild boar. Common small game features include wild turkey, duck, wild goose, ruffed grouse, as well as rabbit and squirrel. Fresh-water and salt-water fish recipes feature pickerel, wild salmon, rainbow trout, prawns, scallops, and more. A seasoned forager, Hunter offers an array of savoury and sweet recipes, incorporating wild ingredients, everything from mushrooms and leeks to sumac and berries.
BUY ON AMAZON
BUY ON INDIGO (SIGNED EDITION)
BUY ON INDIGO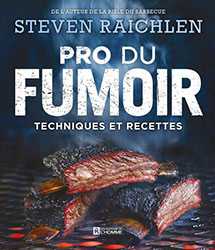 PROJECT SMOKE: SEVEN STEPS TO SMOKED FOOD NIRVANA BY STEVEN RAICHLEN
The Barbecue Bible for Smoking Meats
A complete, step-by-step guide to mastering the art and craft of smoking, plus 100 recipes—every one a game changer—for smoked food that roars off your plate with flavour. Here's how to choose the right smoker (or turn the grill you have into an effective smoking machine). Understand the different tools, fuels, and smoking woods. Master all the essential techniques: hot smoking, cold-smoking, rotisserie-smoking, even smoking with tea and hay—try it with fresh mozzarella. USA Today says, "Where there's smoke, there's Steven Raichlen." Steven Raichlen says, "Where there's brisket, ribs, pork belly, salmon, turkey, even cocktails and dessert, there will be smoke." And Aaron Franklin of Franklin Barbecue says, "Nothin' but great techniques and recipes. I am especially excited about the smoked cheesecake." Time to go forth and smoke.
THE book to get on the trend
BUY ON AMAZON
BUY ON INDIGO
*Gentologie participates in advertising affiliate programs that allow us to obtain revenue by directing you to different sites to complete your purchases.