No Time to Die: The Aston Martin paradise
13:28
updated on Aug Wed 2023 13:55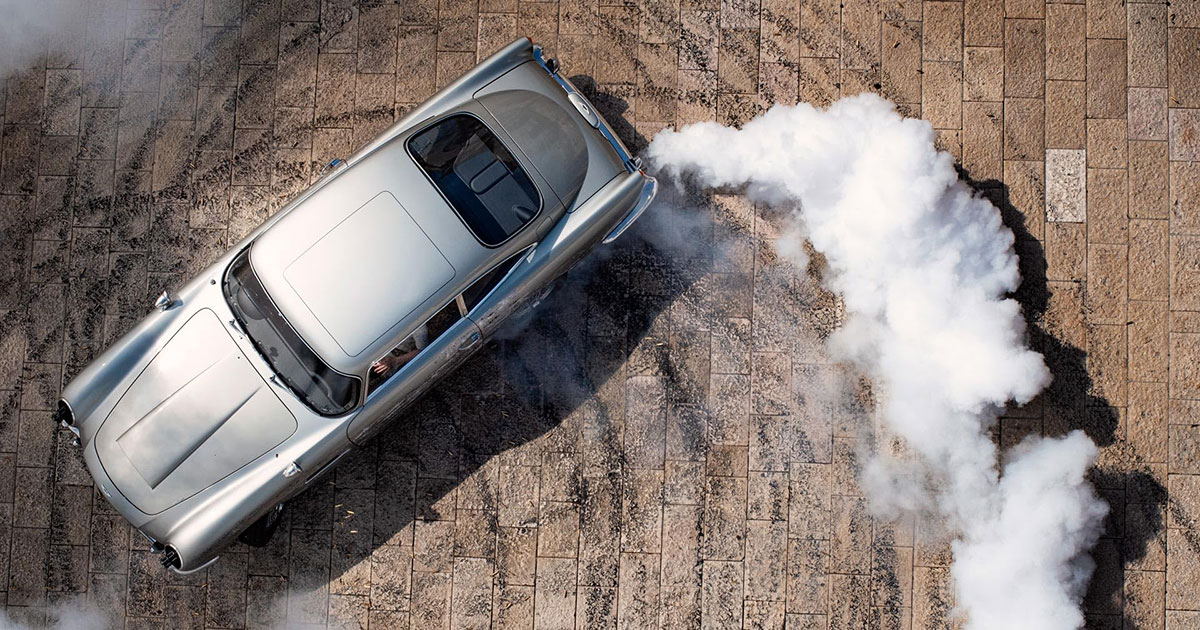 "My name is Martin, Aston Martin!" This could very well be the expression to use when talking about the cars in any of the James Bond movies. After all, the close connection between the sexiest British car manufacturer and its British spy counterpart is well known—and that connection is even more evident in the latest instalment of the seductive agent's escapades.The good news is that four Aston Martins make a prominent appearance in the latest film "No Time to Die." Four vehicles that make history in their own way.
The different Aston Martin cars in "No Time to Die"
Aston Martin DBS Superleggera
This car makes history for two very specific reasons. First, it's driven by a new 00 agent, which is a first. But also because the car itself was not yet available in dealerships at the time of the film's launch.
Mind you, we're not talking about an uninteresting model here. The DBS has long been considered the most spectacular of all Aston Martins. The 2021 version designed by Superleggera shaves off several kilograms (we're careful not to say how much) thanks to a generous use of carbon fibre.
However, it doesn't skimp on power with its 715 horsepower, 664 pound-feet of torque and its ability to reach 100 kilometres per hour in just 3.4 seconds. All this is made possible by a twin-turbocharged 5.2-liter V12 engine with a top speed of 340 kilometres per hour!
While secret agents may not care too much, the DBS cabin is packed with connected technology, including a premium sound system developed for Aston Martin (or the optional from Bang & Olufsen), and seats that can be adjusted to any position. With its US$360,000 base price tag, you'd expect to find secret agent weapons and gadgets in this one, but sadly that is not the case! A convertible version, dubbed the Volante, is also available.
Aston Martin Valhalla
The Valhalla is, as its Scandinavian name suggests, a warrior. A rather mythical warrior for the moment, since the true British supercar with a hybrid engine will not be officially marketed until 2023. Basically, it is only a prototype for the world of the most famous of spies.
Note, however, that this will still pretty much be the case at the time of its launch, since only 100 units are planned for production. It must be said that the Valhalla, in addition to its spectacular appearance, has an explosive technical sheet.
Power is, without a doubt, the trademark of this Valhalla. Under the hood is a twin-turbocharged 4.0-liter V8 engine from Mercedes-AMG. It alone generates 750 horsepower, to which can be added the 200 horsepower provided jointly by two electric motors. Because yes, in addition to being unique, the car is a hybrid. And ultralight. At just 1,550 kilos, its total power output can reach more than 950 horsepower.
That's as much as we know for the moment, since even the production interior has not yet been officially revealed. So dream on and live vicariously while watching the latest James Bond!
Aston Martin V8 Saloon
The V8 Saloon is the least spectacular Aston Martin in the film. Launched in the '70s as the first true British supercar, its stardom was quite short. Yes, it appeared in "The Living Daylights" in 1987, but it didn't have as prominent a role as its sisters.
Even though it is still considered an aesthetic gem today, it doesn't offer as much history as the others, nor does it offer as much power since it is limited to 400 horsepower. At the time, it was far superior to its rivals, but today it has been surpassed by a long shot.
Nevertheless, if you're interested, you should know that a well-preserved V8 Saloon sold in France is still worth about 485,000 euros (about $700,000).
Aston Martin DB5
This is the absolute star of all James Bond vehicles (Also on the article cover). The one that, even if you know nothing about cars, you'll recognize at first glance. It also happens to be one of the cars I'm dying to drive one day!
This model is so popular that it's now appearing in its 8th James Bond movie. Eight movies is more than many famous actors have appeared in! Remember, it first made an appearance in "Goldfinger" in 1964.
But it's not the car's power that sets it apart. At most, the DB5 had a maximum power of 318 horsepower, when equipped with a 6-cylinder engine.
Less than 900 original Aston Martin DB5s were produced between 1963 and 1965. And while these models have always been associated with the famous secret service agent, it's only in the last 20 years that their market value has skyrocketed as Bond fans snatch up what little inventory exists. 
In the early 2000s, these cars sold for well under $100,000. Today, they can easily break the million-dollar mark, unless it's one of the rare original DB5s from the 1960s. One of them sold for more than 8 million last year. In fact, according to experts, the DB5 is the most famous car in the history of film or television.
Whether you like cars or not, you have to admit that James's Aston Martins are more than just a means of transportation. They are true stars in their own right. And I dream of being able to drive them all!
The Land Rover Defender is also featured in the film. Find out more about this magnificent SUV here.
Learn more about Aston Martin trough this link
Article originally published in Gentologie Magazine Issue 9. Subscribe now to Gentologie here!