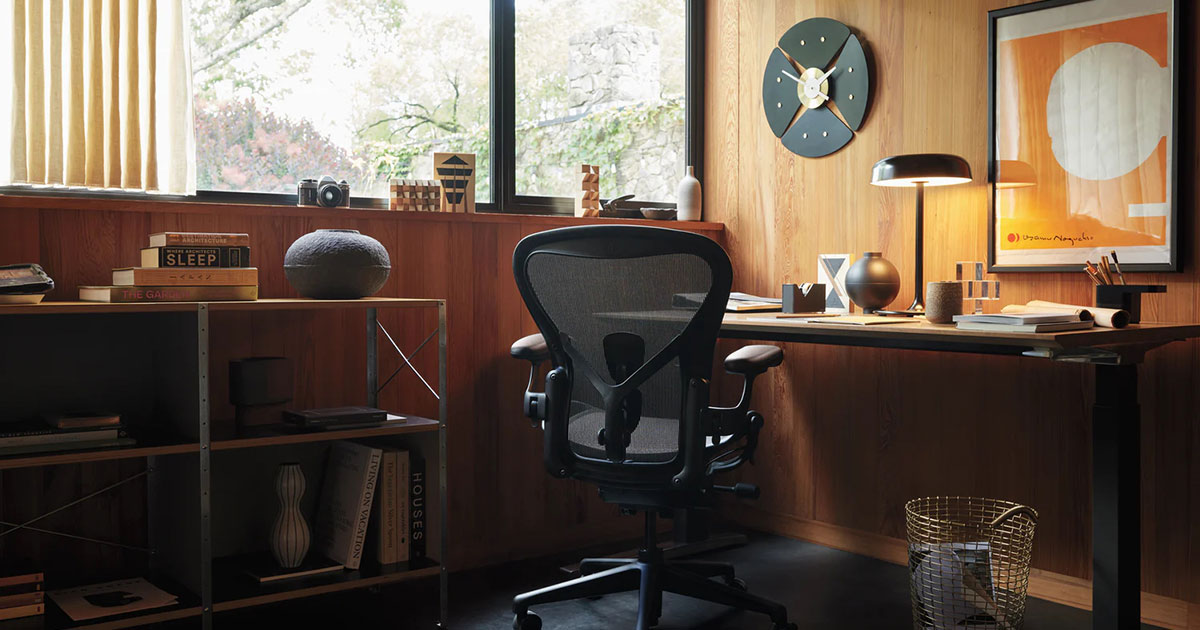 While I was telling you about my interview with Jacques Gravel from MÖBEL in this article. I owe him one of my most recent purchases. The Aeron chair by Herman Miller. The latter is part of the perfect paraphernalia for a luxury home office.
The Aeron Chair, An Essential for your Luxury Office at Home
I own this chair for a few months now, and spending several hours behind my computer, I can tell you that it is an amazing addition. But what does this special chair have to justify its high price? Ergonomic to the core, Aeron was designed for a wide range of body types, thanks to the extensive research from designers Bill Stumpf and Don Chadwick nearly 30 years ago. Its launch was pioneering in the office furniture industry—and it still is, thanks to updated research and material innovation, including the addition of ocean-bound plastic to the body of the chair. Herman Miller have always known Aeron is good for our bodies—now it's just as good for our environment too.  
Far away from the chair you're probably sitting on, the Aeron Chair is the benchmark for ergonomic seating since its debut in 1994. Since then, Herman Miller has learned a lot about how to best support people—and their postures. Aeron offers smarter weight distribution through 8Z Pellicle, adjustable PostureFit SL for total spinal support, and balanced recline and natural movement thanks to Harmonic 2 Tilt.
Plus, they're handcrafted in the USA. We are talking about a product made to last and which will accompany you for a long time. They often have promotions. In addition, you can choose different options, but the manufacturing time may be longer.
The Logitech Brio Webcam in 4K Ultra HD
If, like me, you have a Mac Mini or a laptop, the quality of your web camera is often poor. And with all the different meetings, whether business or family, you want an exceptional product. I would have liked the 4K Pro Magnetic Webcam designed specifically for the beautiful Apple Pro Display XDR, but I didn't have the $8,000 required to purchase it yet. So I turned to the Logitech Brio Webcam. It is just perfect. In 4K and Ultra HD, it has vivid colours. You can even adjust the zoom with their LogiTune app. In short, it is the perfect accessory for all your future conference videos. Also, since it's small, you can easily pack it into your suitcase so you can look your best, no matter where in the world you are.
Desk for all the tastes
I come back to you with Herman Miller because I know the quality. The antidote to a sedentary lifestyle isn't standing all day. In fact, our research shows that a combination of sitting, standing, and moving throughout the day is optimal. Enter the Renew rectangular sit-to-stand desk. Designed for both practicality and beauty, this modern sit-to-stand table delivers a powerful, one-touch lift that handles bigger monitors with ease; cord management; and even aesthetic considerations like concealed screw heads, beveled edges, and a range of finishes and sizes. Includes concealable power station with four AC outlets and two USB ports for powering devices large and small.
On the more local side, the company Ergonofis also offers an interesting choice of products. The Alive desk is one that is adjustable, luxurious with a natural-edged solid wood surface on a premium adjustable base. The latter can support up to 300 pounds.
Get the Alive Desk by Ergonofis here
The Coffee Machine, Essential to Start your Day
I love Nespresso, it really is a perfect system. Different capsules, whether Original or Vertuo, you will be served. They even introduced a subscription system so you never run out of coffee. Even though I have both machines (thank you Nespresso for the Vertuo), I think I get the Creatista Plus or the Creatista Pro (the latter has a function for Americano), which are much better for making coffee from milk and really give the impression of being a barista because I have a big penchant for the original capsules. On the other hand, if you are fans of large format coffees, opt for Vertuo, which I was telling you about here.
Get the Creatista Plus from Nespresso here
Get the Creatista Pro from Nespresso here
The Grovemade Desk pad
An office pad. It's perfect for walking the mouse around. And it's more comfortable than the wood of your desk let's face it. I discovered Grovemade via YouTube, and bought my first desk pad over a year ago. You have several choices of materials and they also offer a multitude of objects and supports whether for your screens or your keys.
Headphones to no longer be disturbed
Headphones are probably the best way to concentrate or to hear your interlocutors well. Sometimes the noises outside or your neighbours can be very disturbing while you are working on an important file. So here are some recommendations. Our columnist Jean-Daniel Perron told us about the FOCAL Listen Wireless headphones, which for him are a must.
Do you prefer something lighter? Apple's AirPods Pro are a must-have for fanatics of the apple brand. They were among the first and they just keep getting better.
Several technology columnists swear by the Sony WH-1000XM4 headphones, it is a powerful, elegant model and the quality of the Japanese brand has always been a guarantee of quality.
Buy the Sony WH-1000XM4 headphones
From Bose's side, here's a headset giving you premium adjustable noise reduction with situational awareness for those times when you want to let the outside world filter in. High-fidelity sound with adjustable active noise reduction lets you tune in to your music. as you like. Its unparalleled voice pickup is perfect for clear calls. And the protein leather pads are a must for extended comfort. It far exceeds your expectations for wireless bluetooth headsets. The Bose Noise Cancelling Headphones 700, their most advanced headset ever.
Bose Noise Cancelling Headphones 700
If you are a fan of European brands, the Danish brand, Bang & Olufsen (we remember their partnership with Berluti) offers the Beoplay HX. These headphones feature the latest generation of active and adaptive noise reduction technology to effectively compensate and suppress background noise. Its high-end materials and its perfectly adjusted design ensure effective sound insulation to allow you to live sound experiences in complete discretion; ideal for working from home without disturbing your loved ones. It is also equipped with four dedicated microphones designed to optimize conversation clarity during your phone calls.
Get the Beoplay HX from Bang & Olufsen
Relearn to write by hand
One thing I love is taking notes by hand. Just to get me off the screen and also to have the pleasure of scratching off what is being done. I'm lucky to have a Montblanc Meisterstück, a gift from my mother many years ago. I love its grip, the fact of making a gesture. And writing on paper allows me to see my ideas clearly. In short, I recommend it to you. And these are gifts whether we receive or give ourselves that last a lifetime. Moreover, Montblanc offers courses to improve your cursive writing. The latter will also help you perfect your spelling. And let's face it, the cursive script is a lot more romantic, grown-up and official.
A Paper Planner Brings a Touch of Luxury to your Desk
It is certain that the latter will not send you your notifications, but, on the other hand, it will push you once again to concentrate on writing well. Write in a clear manner, to bring your ideas together. Take the time to think things through and reduce your screen time. And let's face it, the chic of the diaries is still quite interesting. To go with your Montblanc mentioned above, get a notebook from their collection. They even have some with an augmented paper.
Discover the stationery collection from Montblanc
A Doorbell Camera, to Never miss a Delivery to your Home Office
Here we are in the technology side. While I offered you various headsets above, these have the unfortunate function of often preventing you from perceiving outside sound. It is for this reason that the doorbells from the company ring, a subsidiary of Amazon, therefore compatible with the various tools of the Alexa family, as well as several other digital assistants, are essential, because in addition to being a doorbell, you will see your various notifications, whether in your ears or on the screen. There is no reason to go without it, unless your household is in a plex. The task can probably be more complex at this time.
And finally, why not accompany the whole thing with our first print magazine which you will find right here.
This article includes affiliate links that could potentially bring revenues to Gentologie Media Group Inc.