Berluti and Bang & Olufsen: Made for gentlemen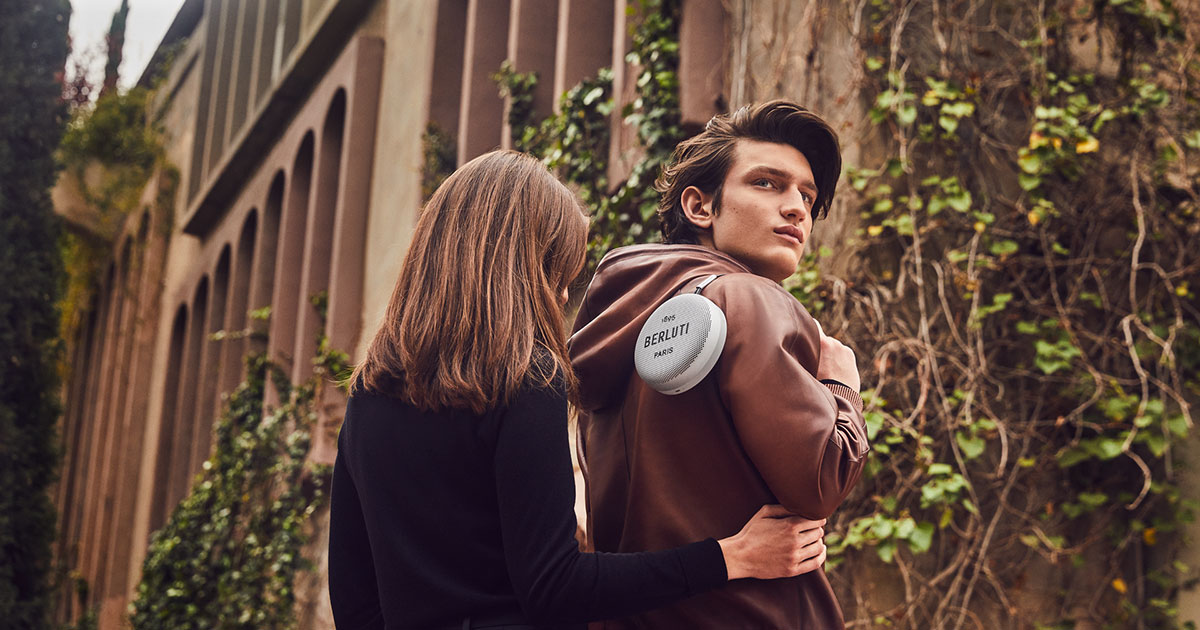 Berluti and Bang & Olufsen, the Danish luxury audio brand, collaborate for a limited-edition collection of products, celebrating 'savoir-faire' and lifestyle. This collaboration honours the heritage and craftsmanship associated with both 'Maisons' and combines some of Bang & Olufsen's most iconic products with Berluti's emblematic Venezia leather, patinated by hand to propose six unique pieces.  The result is a fusion of signature sound, timeless design, and unrivalled leather expertise where craftmanship is elevated and form and function go hand in hand.
Perfect for urban travellers and digital nomads, Beosound A1 2nd Gen Berluti Edition, Beoplay H95 Berluti Edition, and Berluti's Sound Pouch are ideal to carry on the go, completed by the addition of Beosound Balance Berluti Edition. Two exceptional made-to-order home products, Beovision Harmony and Beolab 90, add the finishing touch to the collection which complement Berluti's existing selection of lifestyle and home objects while going deeper into the brand's technology offering.
Who is Berluti?
Berluti is a LVMH fashion house with a century-old heritage revolving around artisanal craftsmanship. From the very beginning – it was founded over 120 years ago in Paris by Italian shoemaker Alessandro Berluti – Berluti has stood apart through its unique combination of technical skill and creative flair, firmly grounded in bespoke know-how. And although some things have changed with the times, that artisan spirit remains the same. Berluti today has expanded his line of accessories into ready-to-wear as well as interior design. RIMOWA, another LVMH property, also made a collaboration with Bang & Olufsen.
Berluti declares "Berluti and Bang & Olufsen are a perfect match, bringing together a common passion for excellence. Bang & Olufsen's cutting-edge philosophy, technological innovation and state-of-the-art design run parallel to the Maison's focus on craftsmanship and to its continually evolving lifestyle collection."
"For nearly a century, Bang & Olufsen has been pushing the boundaries of audio technology and the company continues to sit at the forefront of acoustic innovation. Together with Berluti, we are bringing the best of artisanship to the fore with our expertise in sound and design, and Berluti's knowledge in leather craftsmanship to create a truly remarkable collection", says Christoffer Poulsen, SVP of Product Management & Brand Partnering at Bang & Olufsen. 
The Berluti anf Bang & Olufsen
 

offering includes the following items
:
Beosound A1 2e generation Berluti Edition
Bang & Olufsen's award-winning, second-generation, portable Bluetooth speaker is waterproof, dustproof and boasts up to 18 hours of battery play time. It has true 360-degree omnidirectional powerful sound, built-in Alexa and a three-microphone array giving a great speakerphone experience. The minimalist design in Grey Mist has a large Berluti logo on top of the speaker, creating a bold expression. The Berluti calf leather cord in shiny dark brown tones is perfect for portability and the aluminium tag has the Bang & Olufsen logo laser engraved on one side and the Berluti logo on the other. The aluminium tag is completed with a mirror-polished finish, drawing inspiration from Berluti's ready to wear accessory trimmings. 
Beoplay H95 Berluti Edition
The Danish brand's finest wireless headphones, first launched in 2020, feature the highest quality sound, long lasting comfort, truly effective noise cancellation, and luxurious materials. Aesthetics and performance work together through 38 hours of play time in one charge – even with ANC turned on. Crafted at Manifattura Berluti, the headband features Berluti's trademark Venezia leather with a
TDM Intenso patina and the Maison's embossed logo. The soft lambskin ear cushions in dark brown match the Berluti Venezia leather headband, creating a cohesive expression. The aluminium discs have been engraved with the Berluti logo on the left-hand side and the Bang & Olufsen logo on the right hand-side. The headphones are housed in a black aluminum case, laser engraved with the joint co-branding that makes H95 perfect for travelling.
Berluti Sound Pouch
Berluti has created a dedicated pouch that can comfortably and compactly fit either the Beosound A1 speaker or the Beoplay H95 headphones. Made with Berluti's Signature Canvas – a motif blending Berluti's new logo and the undulating strokes of the iconic Scritto – and featuring a patinated Venezia leather tag, it is ideal for safe carrying. 
Beosound Balance Berluti Edition
Bang & Olufsen's home speaker is inspired by interior objects to redefine home audio and has a soft cylindrical silhouette featuring a hidden touch interface that lights up when being approached, inviting the user to interact with the speaker. Beosound Balance comes with built-in Google Assistant (based on local availability) and supports Apple Airplay2, Spotify Connect and Google Chromecast. Seven carefully placed speaker drivers with beam-forming technology allows the user to choose between powerful and room-filling sound for everyday listening and sound directivity for precise and immersive music experiences. Patinated by hand, Berluti's Venezia leather is wrapped around the wooden base of Balance, creating a distinct finish and manufactured with Berluti's artisanal know how. The fabric has a dark knit with a touch of brown to match the leather base which has been embossed with both logos and includes fine stitching around the base's edge to create a touch of elegance. The top plate and grill come in natural aluminium for a high contrast and exclusive highlight to the darker materials.
Exceptional home products from Berluti and Bang & Olufsen
These four pieces will be joined by two exceptional products for the home: the Beolab 90 speakers and the Beovision Harmony television. Offering unprecedented performance and adapting seamlessly to their living space, they both offer a luxurious, immersive audiovisual and surround sound experience when used together.
Beolab 90 Berluti Edition
Experience the most powerful sound experience Bang & Olufsen has ever created. Featuring 8,200 watts of musical power, the intelligent Beolab 90 adapts to its surroundings and preferred listening modes to create an unprecedented level of musical power and precision. From the position and orientation of the drivers to the placement of the cooling fins, everything is shaped to optimise performance. The base of the aluminium speaker is customised with Berluti's Venezia leather – with a TDM Intenso patina to create a bold design statement and is the perfect match for Beovision Harmony Berluti Edition.
Beovision Harmony Berluti Edition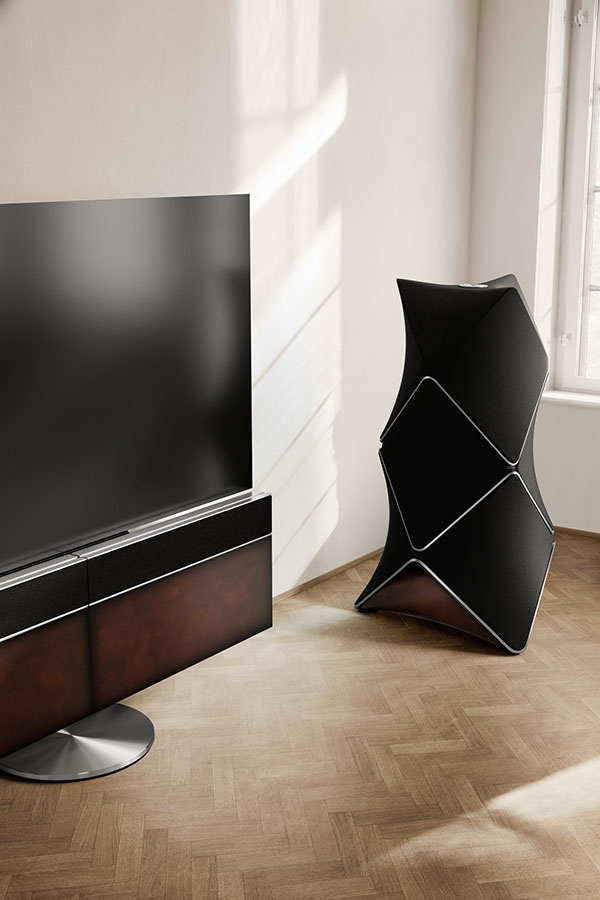 Originally unveiled at Milan Design Week in 2019 as a remarkable combination of art and technology. When not in use, the 77-inch TV folds down into a sculptural shape with the panels partially covering the screen, then fanning out and elevating the screen above them to perfect viewing height when turned on. Featuring an LG 4k resolution OLED screen and motorised floor stand, infused in Berluti's DNA through exceptionally fine, perforated and patinated Venezia leather covering the speaker panels, it offers a unique interactive experience. 
Availability of the Berluti and Bang & Olufsen Collection
The Berluti edition Beoplay H95, Beosound A1, Beosound Balance and Sound Pouch will be available in limited quantities in select Berluti and Bang & Olufsen stores and e-shops from May 28th 2021. The made-to-order Beovision Harmony and Beolab 90 will be available to order from May 28th and will be showcased in select Berluti and Bang & Olufsen stores.
Find the different stores here