Household paradise with the Dyson Big Ball Multi Floor Vacuum
23:49
updated on Sep Sun 2018 00:32
I rarely talk about my life at home on the blog, as I do not release too much money from this blog now, although the housekeeper is not for me. So the housekeeping in my house, I do it, and I hate it. So when I have to do it, it has to be efficient and fast, and I do not have to waste my time. So when my valiant Kenmore sweeper from Sears, which I've been dragging on for far too long, dropped me (it lost it's succion, it's not very practical when it's the main function of a vacuum cleaner) I had to look at the different options that were available to me. So I leaned towards my friends for their opinions, I already had a Dyson sweeper in mind, we understand that on the design side it is they who revolutionized the world of sweepers (they are even in the design pavilion Of the Montreal Museum of Fine Arts). Several suggested Miele, but I found that the model was rather similar to my current sleigh sweeper and I did not want to have to use bags yet (allo the environment). So I turned to the Dyson Big Ball Multi Floor Vacuum. Thanks to my friends Geneviève (from YULorama blog) and Mélanie for the advices.
Shopping for the Dyson Big Ball Multi Floor Vacuum
I started shopping around to see different prices, and different models. Dyson has 3 interesting models in sled vacuum cleaners, each with a declination for animals. Having no animals, these declinations are of no use to me. I hesitated between the Dyson Cinetic Big Ball Multi Floor Vacuum and the Dyson Big Ball Multi Floor Vacuum. The kinetic model has interesting that it does not require any maintenance of filter and therefore will never lose suction because of a dirty filter. On the other hand, I chose the first one, as I said earlier, since my budget was not in favor of the second choice.
Here is in action the second model (not mine) in action.
What impresses me most about Dyson is technology. I'm really a bit of gimmicks, technology. I would like to have a connected home to the maximum, however, being a tenant and an electrical system that does not allow me so much, I have to resolve myself with only a few options. Dyson has completely changed the world of vacuums from its arrival on the market, and as soon as I saw the first model, I wanted one, it was like an accomplishment for me. In addition, to see a sweeper like that of Dyson in a museum, as I mentioned above, for its design, note that the product has been studied again and again. Besides, if you doubt the product, I advise you to take a look at the video here below.
And then, while I was shopping my model, I saw this one, the Dyson 360 Eye. No, but seriously, it's so nice! Your sweeper is done by yourself when you're not there. Ok, it does not have to be super compatible with an alarm system, but hey, it's a lesser problem.
MY Dyson Big Ball Multi Floor Vacuum
So, as I told you earlier I bought this model.
I'm totally in love. Ok I do not like to vacuum more, but when I do, I find the task so much more pleasant, everything is sucked, and there is nothing left on my floor. My Dyson vacuum does miracles. Honestly, it's a big change with my previous one. And notice how it fits perfectly, the tube is attached to the sled, it's just beautiful.
Assembling the Dyson Big Ball Multi Floor Vacuum
I'm going to be honest with you, the editing is not at all relaxed if you want the whole thing to work as it should. I had to do it a few times to insert the various tips in the handle as you see below. But once the whole is done it goes like a charm, the handle is super nice and the vacuum is not too heavy (for me at least). So after more than two months of buying the device, I'm really satisfied with this one.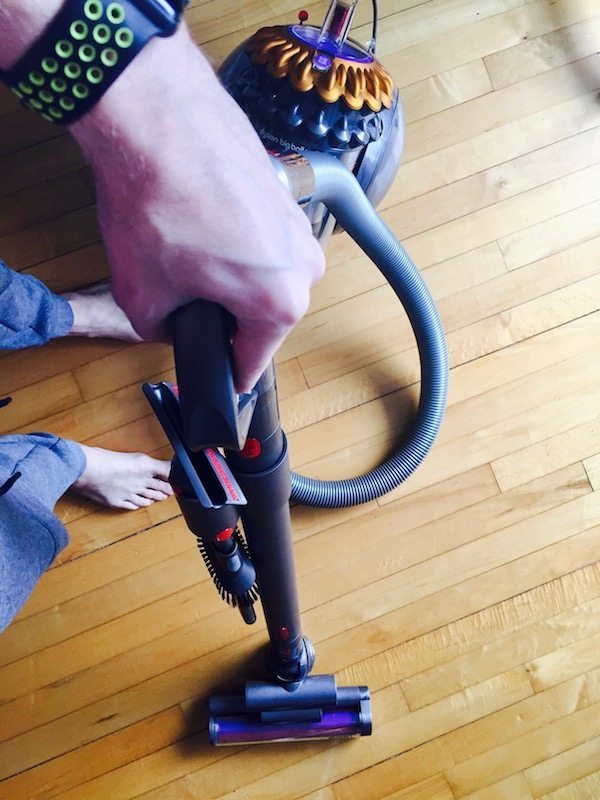 To see all models, it's on their site.
Thanks Dyson for making such magnificent devices. Note them well, they are in your daily life 😉
Note: Since the publication of the article, many new products went on the market at Dyson. We can't wait to try them.
Share the post "Household paradise with the Dyson Big Ball Multi Floor Vacuum"