Everything for a luxurious Father's Day
13:54
updated on Oct Tue 2022 12:52
While we already have a Father's Day post with some wonderful suggestions, it's impossible to miss this annual celebration where gentlemen are showcased. So here are our suggestions for a luxurious Father's Day for your spouse, father, brother, grandfather or friend.
For a father who likes to know everything: A Subscription to Gentologie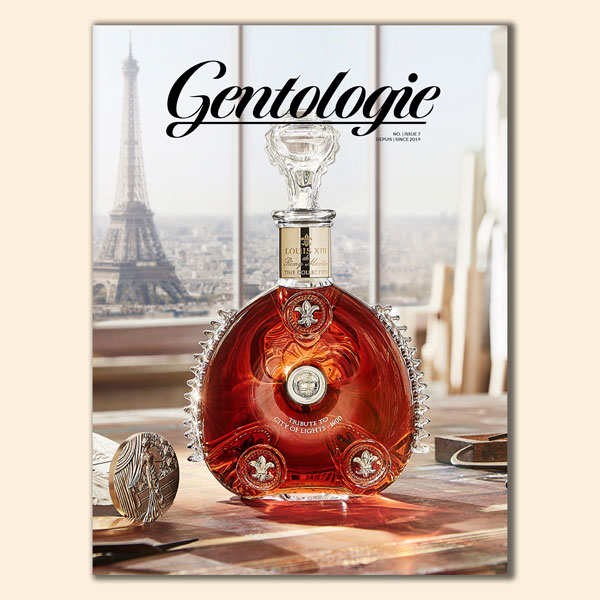 It would be difficult to ignore the release of our digital magazine Issue. 7, and we believe that offering a subscription to Gentologie magazine will be a good start for those who love watches, cars, fashion. In addition to having access to the digital version of the magazine for one year, the subscription offers him $ 300 off a first purchase from our partner Clusier as well as several other promotions that will be added over the next year.
Offer a gift subscription to Gentologie
Oysters & caviar for a luxurious Father's Day
Oysters or caviar, the choice can sometimes be very difficult. Why not go for both? Our partner Oysters & Caviar offers several boxes to make your luxurious Father's Day delight! And the best part about it is that it can be delivered to your door, no matter where you live in Canada. It's beautiful, isn't it?
See the different gift boxes here
For a luxurious Father's Day, it must be in style
Go from the sweatpants to a chic look with our different suggestions for dad
While 2021 has certainly been the year we saw dads go limp, it's time to change up their outfits to get them ready to go back to the office and be some of the prettiest. On this occasion, a trip to Clusier (where he can get $ 300 on a first purchase of $ 1000 with his Club membership by Gentologie), Holt Renfrew and Harry Rosen,, three Canadian brands, offer you options for a luxurious Party. Fathers who will make him a top model on his 36.
A swimshort from the Orlebar Brown Collection
No more ugly swimsuits for daddy, it's time to him to dressed up, on the beach and at the pool. Discover this English company that will make your dad a chic swimmer. Available at Holt Renfrew Ogilvy.
From Tiffany & Co.
Proudly passed down through the generations, signet rings or identity tags often serve as a modern signature. The Tiffany 1837 ™ Makers signature ring in black onyx and 18k yellow gold, the True Tiffany T bracelet in 18k yellow gold or the Tiffany 1837 ™ Makers ID tag are each a special gift that will become a notable piece of your family history. .
Discover the rings collection here or in store
From a T1 Tiffany bracelet to round Tiffany 1837 ™ Makers cufflinks, these sleek, demanding designs honor Tiffany's heritage through a modern lens. These reference pieces will create a polished look that he will want to wear every day.
Discover the accessories collection here or in store
For a father who likes to take care of himself, the Groom products
Whether it is for the hair, the beard or the shower, the Groom company offers you an array of choices. Discover our interview with one of the co-founders to learn more about this magnificent company.
Arrive on time to celebrate a luxurious Father's Day
Men are often criticized for arriving late sometimes. A gentleman is always on time or "fashionably late". For that, he needs the best on the wrist. And there is something for all budgets. Of course, you can go for smartwatches like an Apple Watch or whatever, but if you want your dad to keep a treasured memory, you're better off gifting him a dial watch that will stand the test of time.
We love of course OMEGA watches, TAG Heuer, Longines, the possibilities in Swiss watches, the best on the market, will make that dad has no reason not to always be there for the important moments. Here are some suggestions from OMEGA and Longines.
Longines Dolce Vita for Men
Subtly combining geometric lines and soft curves, the Longines DolceVita collection is characterized by its rectangular case inspired by a model from the 1920s. Crafted in steel, this 28.20 x 47.00 mm model features a sectorized dial. Powered by a self-winding movement, the hours and minutes are indicated by thin blued steel hands. A magnificent beige leather strap adorns this model.
The Constellation by OMEGA
In the world of men's watches, the Constellation is OMEGA's enduring symbol of precision and sophistication. This 41mm model, presented on a black leather strap, offers all the iconic details for which the collection is renowned, including an 18k yellow gold case with half-moon facets at the top and bottom, and four refined claws gripping on the sides.
On the black ceramic bezel, the Roman numerals are crafted with Ceragold ™ technology – OMEGA's proprietary method of perfectly blending 18k gold with ceramic. Additional quality can be found on the black sunbrushed dial, where OMEGA has included fine hands, a single gold Constellation star, and 11 hour markers inspired by the Manhattan skyline – in particular, the angular facets of the Freedom Tower. .
Inside, the timepiece is brought to life by the OMEGA Co-Axial Master Chronometer Caliber 8901. Its luxury finish and exquisite level of performance and magnetic resistance are visible through the scratch-resistant sapphire crystal of the case.
Discover the different Constellation models here
To Escape
The Four Seasons Hotel Montréal
Obviously, it would be unwise to recommend a trip abroad, on the other hand, gift cards for an airline like Air Canada are always a great gift idea for those who love to travel.
On the other hand, a weekend or an overnight stay in a hotel can be a great idea to spend time with your sweetheart. The Four Seasons Hotel Montreal has a brand new offer with in-room dining, A Culinary Journey with Marcus, an excellent opportunity to spend the whole weekend in love without going out, whatever you will certainly want to go for a ride on their magnificent terrace.
Café Holt's brunch for a luxurious Father's Day
Taking your dad out and taking him out to try Café Holt's brand new brunch by Joris Larigaldie will be no doubt a fantastic experience. And then you can make him choose a gift at the Holt Renfrew Ogilvy or at the SAQ just below.
The Fresh Start of the Cafe Holt of Holt Renfrew Ogilvy
A night at one of Fairmont's Hotel
The John & Yoko Suite, or that of lovers, a perfect leap in time for your dad or your lover. You can also choose from the Fairmont Manoir Richelieu, The Fairmont Royal York in Toronto or Le Château Montebello for example.
A bag from the Louis Vuitton x NBA Collection
Whether for sport or travel, this limited edition keepall, a model invented by Louis Vuitton, is the perfect bag to get away from it all. Whether for a small or a long getaway. Learn more about the collection in our article.
Get the bag online or in store
A RIMOWA luggage or bag
This is a gift that he will keep for a long time, maybe even you will inherit it! RIMOWA suitcases are the pinnacle of the frequent traveler because they bear the marks of the different destinations where they land. Learn more about the German brand. Note that you can order online on the Canadian site recently.
For the BBQ lovers
The Traeger grills
A luxurious Father's Day cannot be celebrated without a BBQ. The Traeger line of pellet grills will provide your dad with a premium cooking experience and delicious wood fire flavor. He will be able to have fun experimenting with the versatile 6 in 1 cooking technology to grill, smoke, bake, roast, braise and barbecue all his favorite dishes (you can certainly enjoy that too).
Other characteristics:
User-friendliness at your fingertips. Traeger's WiFIRE® technology allows you to monitor and control your grill from anywhere with the Traeger app.
A delicious flavor. Hardwood pellets fuel the fire and add incredible flavor profiles that charcoal grills cannot duplicate.
Perfect for all skill levels. Digital controllers make using these grills as easy as using your oven and ensure accurate and consistent temperatures.
A gas BBQ from Weber
Your dad is more of a gas fan when it comes to BBQ, Weber's Genesis II series will have it all. Learn more about Weber in our article.
The Book "En feu" from Manon Lapierre (La Petite Bette)
Not just a BBQ book, a bible. Over 400 pages all equally relevant, on techniques, buying guides and of course, recipes! (In french)
A luxurious Father's Day for daddy's bar
On aime quand notre père nous offre de bons whiskys ou cocktails. Voici donc une petite sélection pour le combler lors de vos prochaines visites.
The Bollinger Champagne
You may have seen it in our caviar photo above, it's no coincidence, Bollinger is the quintessential male champagne. He is the perfect companion of James Bond. Your daddy will only feast on. The RD and Grande Year varieties are offered in SAQ.
The Tiffany & Co. flask
Two essentials to enhance dad's bar cart? Start with the Tiffany 1837 Makers Flask, crafted from sterling silver and brass and engraved with a symbol inspired by Tiffany's object-making workshop. Then add a set of Diamond Point cocktail glasses, crafted in clear lead crystal with a textured pattern inspired by the tip of a diamond.
To discover online or in store
The Guy Lafleur Wines and Spirits
Who better than the blond demon to symbolize Father's Day with its products? Whether it is its wines or its No. 10 gin, you will be pleasantly surprised by the quality found in its products. Wines made by the Tawse team and a gin by the Hemmingford orchard team. Your father will only be happy.
Discover the different products
A Bruichladdich whisky
Your father is a Whiskey lover, introduce him to the different Bruichladdich brand products. Whether it is the original (with The Classic Laddie) or its two versions, more difficult to find) Port Charlotte and Octomore, it will be an unforgettable gift that you will certainly be able to share with him. We will tell you more about this distillery on this distillery which also produces The Botanist gin in our magazine No. 8, to be published in July.
A cognac from Rémy Martin
As you may have noticed, Rémy Martin's Louis XIII adorns the cover of our most recent magazine, it is no coincidence, since cognac has continued to gain in popularity in recent years. You will learn more about it in this article on Rémy Martin. For Father's Day, get him the X.O., a delicious cognac that will certainly please him. Want a little extra on your bottle? The people at Rémy Martin can personalize it for you, contact us and we will be happy to put you in touch.
For the Quebec products lovers
Is your father a Tequila lover? You can of course suggest the Tequila Patrón, but if he is a lover of Quebec products, you can suggest the Blue Agave liqueur El Chapleau from Rosemont Distillery, which is the same type as a tequila, but does not have the right to bear its name. The products of the Menaud distillery are also often sought after and make a wonderful gift!
For the audiophile
The Berluti x Bang & Olufsen collection
How to miss this magnificent collection which will certainly be all the rage with the music lover gentleman dad. We tell you more about it here.
A luxurious Father's Day for the playful dad
Un jeu de cartes de James Bond par Theory 11
A superb card game born from a collaboration between Theory 11 and James Bond. Why not accompany the whole thing with a Bollinger champagne.
More details about the card game here
A LEGO world map
Do you have a LEGO enthusiast dad? You have the choice. You can either choose between this magnificent Ferrari or this world map. A party of fun to build as a family.
For the Coffee lover on a luxurious Father's Day
The variety of coffees that Nespresso machines provide is incredible, whether it is for large coffees with the Vertuo range, or espresso in luxury machines like the Breville, it will certainly find its value. To find out how Nespresso is the perfect coffee for gentlemen, click here.
Don't forget, Father's day is June 20!