Nespresso Crescent Boutique: All new for it's 10 years!
14:35
updated on Jan Mon 2023 18:44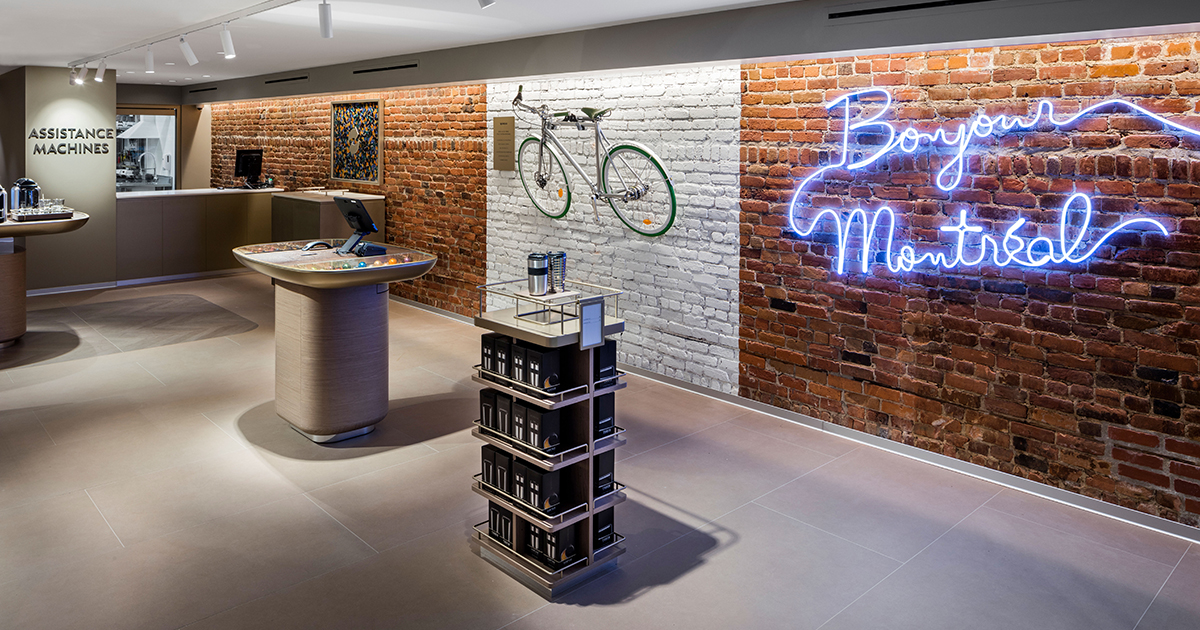 It is a renewed flagship store that Nespresso unveiled on May 2 in downtown Montreal on Crescent Street. Indeed, it is an elaborate renovation project that has helped to update the concept and thus offer a renewed coffee experience for you, customers and visitors. Let's take a tour of Nespresso Crescent Boutique. 
In a contemporary design conceptualized by the international firm Universal Design Studio and adapted locally by the Montreal firm Aedifica (we see it very well with the Bonjour Montréal or the use of materials that make Montreal very much in the concept), the shop invites customers Explore various key pillars of Nespresso, including the brand's commitment to sustainability, all in an inspiring environment that delivers an integrated customer experience.
"We are pleased and proud to celebrate our tenth anniversary in Canada with the inauguration of our new Crescent Street store," said Jean-Luc Valleix, President of Nespresso Canada. "The Crescent Street store was our very first storefront store in the country; the one who witnessed our splendid expansion in Quebec and the enthusiasm of Montrealers and Quebeckers for Nespresso. This renovation project is significant for our brand and expresses our commitment to members of the Nespresso Club and our future customers
Nespresso Crescent Boutique: A boutique, with many spaces
Downstairs :
Nespresso Café to go Counter
Nespresso has just opened its first café to go counter in Canada. Located on the ground floor of the shop, you can get your favorite classic coffee recipes and seasonal recipes. Nespresso has also partnered with Quebec companies LOOP Mission and La Fabrique Arhoma to offer complementary beverages and pastries to accompany your coffee moment. Club Nespresso members and students will also benefit from attractive discounts on coffee purchases. The takeaway counter will offer those who bring their reusable cups an instant $ 1 discount on the price of their coffee, a significant way for the brand to thank them for their green behavior.
Machine support center
The first Machine Support Center in North America was launched at the Nespresso Store on Crescent Street. This support center allows Nespresso machine owners to go directly to the shop with their machine, which requires adjustment to get a quick diagnosis. Depending on the evaluation, it may be possible to repair the machine on site in a fraction of the usual time, while the owner tasted his favorite coffee in the lounge on the first floor.
Nespresso Professional Space
You will also be able to familiarize yourself with the Nespresso Professional products demonstrated in the section dedicated to this purpose. Thanks to this space, the Nespresso store on Crescent Street becomes a place of choice to maintain or develop business relationships with the thousands of businesses located in downtown Montreal and its surroundings.
On First Floor
Sensory discovery
Upon arrival on the second floor, Coffee Specialists are there to present the wide range of Nespresso coffees. Perfect to familiarize you with the different blends and to discover their distinct aromas through an elaborate sensory tasting. As you continue your experience by browsing Nespresso's range of accessories and machines, which are easier to use than others, Coffee Specialists will continue to assist you in your experience by making you explore the world of coffee.
Nespresso Atelier
From slats with a perfect milk froth to creative recipes, Atelier Nespresso is the perfect place in the shop. Experiment with coffee recipes and learn how to elevate your coffee moments at home. extraordinary moments.
Nespresso Crescent Boutique in Montréal
2045, Crescent St.
Montreal, QC
Canada
H3G 2C1
Visit the Nespresso Crescent Boutique or buy your capsules online!
Discover our latest articles on Nespresso in dedicated section
Share the post "Nespresso Crescent Boutique: All new for it's 10 years!"