Outdoor Kitchens, a Must for the Gentleman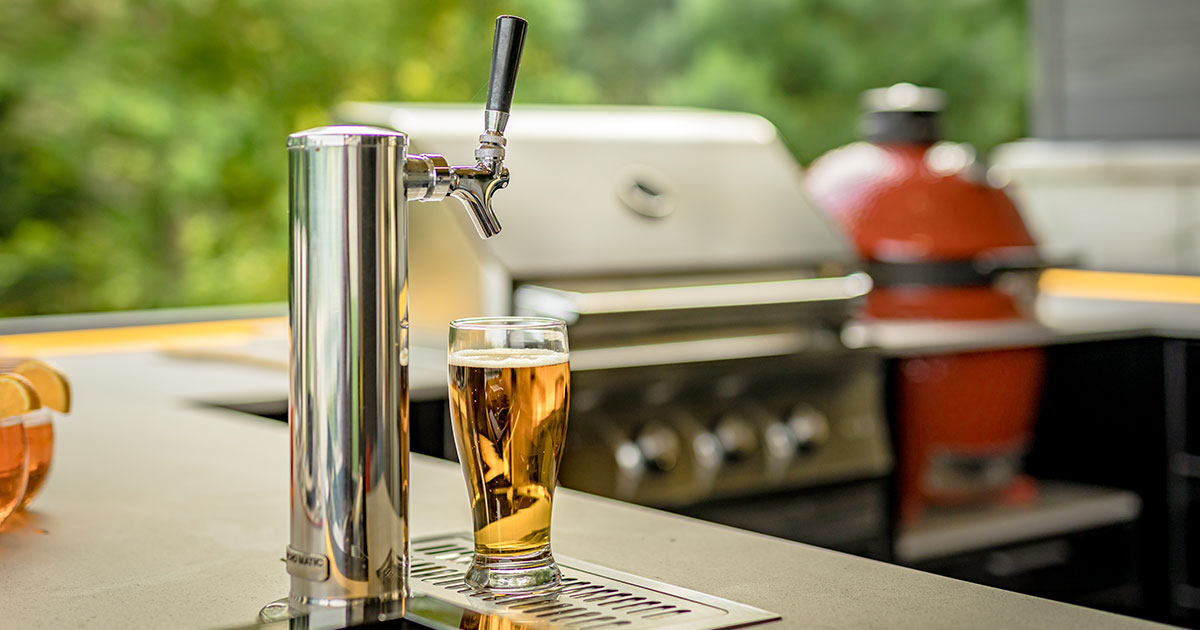 Although the summer we have just passed has been anything but normal, many saw enormous potential in their backyards. To have the backyard of a self-respecting gentleman, I spoke with Anaïs Mineau, Director of Business Development at Station Grill, to learn more about the choices to be made to have the perfect result. On the first try. You have to think about it now for next summer.
At the start of this discussion, it is on the architecture and design points that Anaïs first emphasizes. The important thing is to invest in LT and build with quality materials. In short, you have to think about this backyard because you will have it for a long time. "You have to think about the outdoor kitchen for the next 20 years," adds Ms. Mineau.
As we are in a pandemic that has claimed several lives, and health has become even more important, Ms. Mineau would like to remind you that your physical health may not be the same in 20 years. Whether we are talking about sight, hearing or physical strength, there are factors to consider in designing the new outdoor kitchen, as you would indoors. "You need easy-to-maintain materials, backstage, wondering about the presence of doors or drawers to get the plates and glasses, you have to think about the long term."
We all want a beautiful outdoor kitchen, but we have to look first at the practical side. This kitchen is made to welcome people, and especially to have fun doing it. "It is important to think everything out from the start because it can be difficult or even impossible to add when the kitchen is built," recalls Ms. Mineau.
The First Meeting
Often, the customer comes to Station Grill or makes an appointment for a meeting via videoconference. During this first interaction, the team members validate several aspects and focus on three points: technical, aesthetic and functional.
As for the technical level, they want to make sure they have a stable floor to know what the kitchen is going to be based on; will it all face a wall? This is in order to ensure that a non-combustible material will be required during assembly. "We think of everything we install safely by respecting the standards and codes in force. We also discuss the customer's needs for water, gas, electricity, etc.," Says Ms. Mineau. For example, if you want to install a sink and the work is not done, you will have to plan additional costs for these different additions.
"Next, we look at the different types of appliances the customer wants in their outdoor kitchen. Does today's gentleman want the ultimate in gas BBQs, charcoal grills, pizza ovens, etc.? In our showroom, we go over the different offers possible for him."
You will sometimes notice that some outdoor appliances may look like what you find in your home, but these are really made specifically for your yard. They are obviously more expensive than indoor ones and can spend the winter outside without a problem when all the storage precautions are taken. For example, Wolf, Sub-Zero and Twin Eagles have a range of devices designed exclusively for the outdoors.
Still, from an aesthetic point of view, Ms. Mineau advises us to always keep continuity in our devices in order to have the same surfaces, handles, style, design, etc., a bit like you would do indoors where you rarely see the mixture of several brands of household appliances.
Want to be at the forefront? The requirements for the outdoor kitchen are smaller BBQs, such as the Eagle One by Twin Eagles. "We notice that 48-inch BBQs give way to 30–36 inches, but to which a charcoal grill is added, like Kamado Joe's, for example, where we can incorporate the pleasant smells of wood into our cooking," Adds Ms. Mineau.
Do Gentlemen have different requests?
"Let's face it, the yard layout is a masculine world," Ms. Mineau observed to me. "This is the man's plan, whether as a couple or as a family. Women are often looking for the countryside with white and wood, something very feminine, and when they meet, Monsieur arrives with colours such as charcoal gray and more raw surfaces such as Dekton. This leads us always to put forward harmony with the architecture and to make compromises for the couple."
Ms. Mineau pointed out that the "pit" burners (integrated into the counter), the rolling spice drawer, the electrical outlets in the legs and the panels, etc., were among the most popular accessories last summer. You can even install a dishwasher outside if you feel like it.
As we get into the topic of surfaces, we agree that this is the main aspect of the outdoor kitchen, the one you will be working on and maybe even eating. Ms. Mineau told me that the arrival of the Dekton by Cosentino has made it much easier for them, thanks to around forty colours available with little maintenance and almost infinite durability. They also favour materials that you can clean in the spring with the garden hose for the doors. In short, everything to simplify your life.
The World of Outdoor Winter Kitchens
As autumn draws to a close and we are heading towards winter, I imagine that, like me, you know diehards who love the BBQ even at a temperature more suitable for skiing than sailing. Therefore, I questioned Ms. Mineau as to whether there were specific arrangements for using these devices during the four seasons. "Very often, when the customer wants to use his kitchen in the winter, adding a roof is one of his requests; you also have to look at the distance between the house and the said BBQ and sometimes even a heated floor. There are also winterization covers available. We even think of the fact that it snows diagonally and that this can influence the well-being in front of your BBQ in winter," specifies Ms. Mineau.
Sports, an influence on outdoor kitchens.
Very often, when the time for the playoffs comes, or during the big games, we gather at our friends' house to feast. These gatherings are important to Station Grill's customers, who often have beer pumps installed to serve people directly, a bit like a restaurant's atmosphere at home. There are also more and more integrated sound systems or televisions like "The Terrace" by Samsung, about which you can learn more in our Technology section.
Why do business with professionals?
In general, as Ms. Mineau told me, the products offered in supermarkets do not have the same configurations as those designed for your needs by professionals like Station Grill. The adjustment is often made from already prefabricated solutions. It is not tailor-made. "We ask our customers several questions such as, for example, are they right-handed or left-handed? This will influence where spices, cooking utensils, etc., will be placed."Professionals offer you pantries, not for food, but to store your cushions.
Do you think anything is possible outside? Unfortunately no. Furthermore, the professionals will answer your questions, like why Dekton instead of marble, why overflow counters. To this last question, Ms. Mineau makes us think that we are sometimes in swimsuits when we are around the BBQ, and we do not want to get caught in the handles. Indeed, it sometimes happens that the devices' clearance is greater, and they want to balance this effect. "These are all small details that designers or architects very often forget, but which we at Station Grill think about in our daily lives to anticipate the different needs."
Fall and early winter are the perfect seasons to prepare for your new kitchen, as it takes about 6 to 8 weeks after taking your final measurements to design the kitchen. To this can be added adjustments to plans, permit applications, approval, etc. So, calculate a good 2 to 3 months between the first meeting and the inauguration of your outdoor kitchen.
Take an appointment with the professionals of Station Grill right now