Strøm Mont-Saint-Hilaire Spa: The Rebirth
18:46
updated on Jun Fri 2022 16:20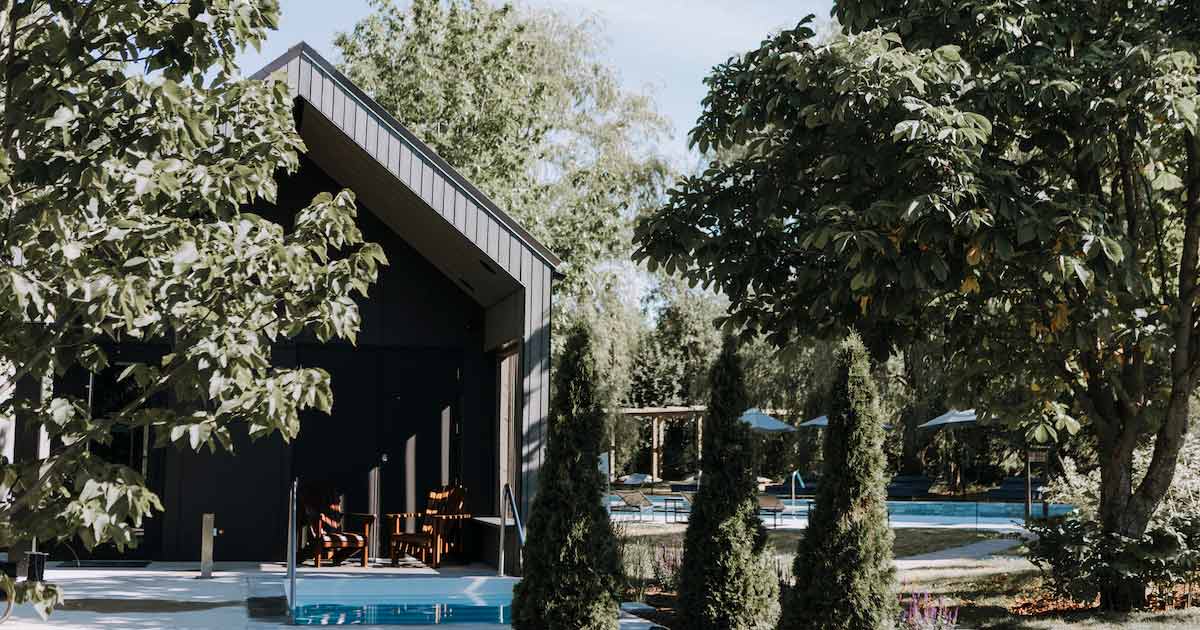 Like a phoenix, Strøm Mont-Saint-Hilaire Spa is reborn from the ashes. If you did not know, it was devastated on December 26, 2016 just after a period of renovations. It is therefore 1 year and a half and 13 million dollars investment later that the latter celebrated its reopening on July 14th.
Strøm Mont-Saint-Hilaire Spa: A brand new pavillon
It is in collaboration with the firm LemayMichaud Architecture Design, also architects of 3 other complexes Strøm Spa Nordique, including that of Quebec City, which will open within a few weeks, that the new complex with an area of ​​nearly 25,000 square feet of building located on a plot of 5 acres at the foot of Mont Saint-Hilaire was born.
This complex built with notes evoking calm and serenity invites you to discover a balance between the inside and the outside, between the landscape and the building, the architecture of the Strøm Mont-Saint-Hilaire Spa was precisely designed to to provoke contemplation and reflection. With its new capacity increased to nearly 300 guests, the renewed Strøm Mont-Saint-Hilaire promises a warm atmosphere and attentive service from its team of more than 150 employees. The bistro also has a greater capacity and a completely renewed menu, which is the work of Executive Chef Raphael Podlasiewicz, who showcases products (including spirits and beers) and craftsmen from the area.
"It is with great pride that our team welcomes you to the reopening of Strøm Mont-Saint-Hilaire Spa. The day after the fire, at 5 am, I was already at my drawing table. I did not just want to rebuild, but do something else, because the old main building was a house. We can say, mission accomplished, because with the help of LemayMichaud Architecture Design we have created an exceptional new site. "
– Guillaume Lemoine, President of Strøm Spa Nordique.
Seduction of the senses at the Strøm Mont-Saint-Hilaire Spa , a new experience.
The resort offers, like the other complexes of the group that you find in L'Île-des-Sœurs and Sherbrooke, several hot and cold baths, a beautiful swimming pool where you can swim, saunas and steam baths, indoor relaxation rooms and external. Note that present and loved elements of the clientele before the fire make their big returns, including mineral stone steam bath, black sauna and relaxing yurt. Strøm Mont-Saint-Hilaire Spa also welcomes novelties for the pleasure of the senses; a relaxation room in the dark with infrared chairs rooted in Scandinavian design and a new panoramic glass room with mountain views. There is a variety of body treatments and massages, as well as a new area of exfoliation with sea salts and essential oils.
An activity calendar for all.
Want something different for your visit to Strøm Mont-Saint-Hilaire? A calendar ranging from a little more festive evenings to family browns is proposed.
Business hours :
Every day from 10 am to 10 pm
Massages and treatments from 9 am
Adress :
641, chemin de la Montagne,
Mont-Saint-Hilaire, QC 
J3G 4S6
//