30th anniversary of Laurie Raphaël: Discussion with Messrs. Daniel and Raphaël Vézina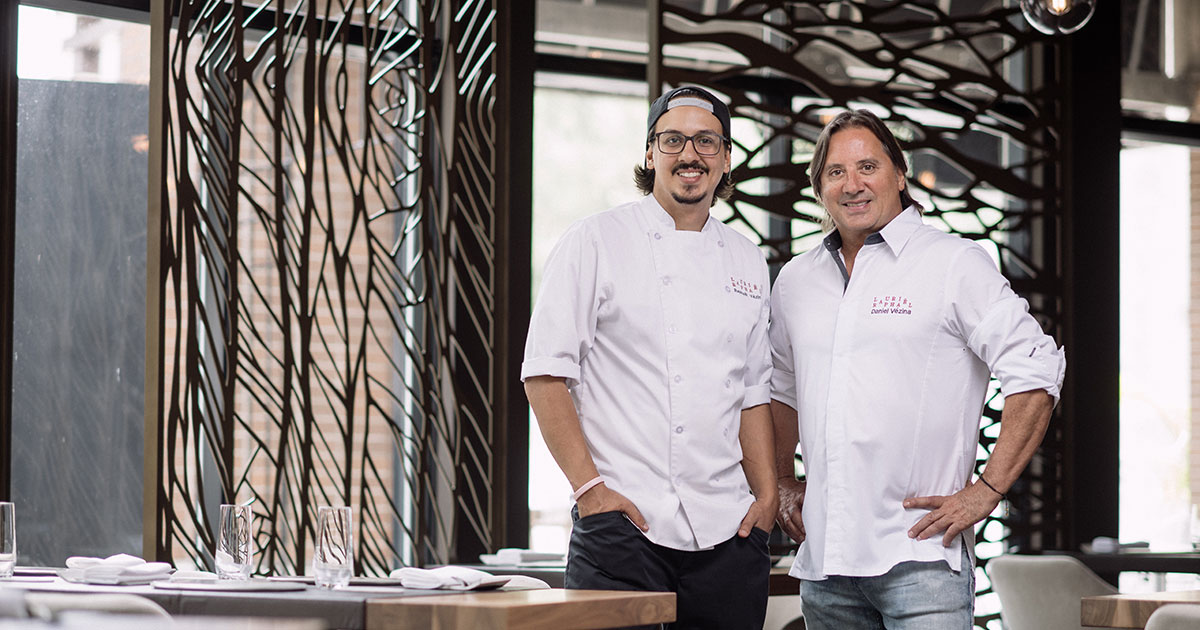 Having the chance to discuss the 30th anniversary of Laurie Raphaël, the legendary restaurant in Quebec City, with its co-creator, Mr. Daniel Vézina, and the chef, owner and son of Daniel, Mr. Raphaël Vézina, is like finding yourself in a little spy on a discussion in the living room of the family established in the National Capital. Here is a summary of our meeting.
30th anniversary of Laurie Raphaël: The Family Takes Over
Normand Boulanger: It is still quite exceptional to see an upscale restaurant in place for more than 30 years, and which is renewing itself. How to explain that?
Daniel Vézina: Indeed, it's rare that we hear that a restaurant with only one location celebrates its 30th anniversary. Very often, after three years, many, unfortunately, close their doors. We are very proud of this achievement. I have always had the dream of a lasting, of having a succession and crossing the ages, a bit like at Bocuse and Trois Gros in Europe, for example, of which the latter is in the third generation. We will certainly see this in our establishment, with, in the kitchen, me, Raphaël and one of his children.
NB: It's a subtle message;)
Raphaël Vézina: When you bathe in this environment all your life, it is sure to be inspiring. And, especially since the success was there for my father. We watched it on television at noon, for example. It was mostly as I got older, when I started high school, where I was looking for a weekend job, so I started washing the dishes. And being there, my gaze inevitably turned to what was going on in the kitchen. It seemed like something really nice: the cooks were having fun, they served nice plates, the atmosphere was good, it was moving.
Being hyperactive, I liked the action there was, it's not office life. I was familiar with the atmosphere of the restaurant as I was here all the time when I was young, with my sister Laurie-Alex (now General Manager and co-owner), and it just became natural to have a career there.
NB: The restaurant was named after the children, so there was a certain attachment to them
DV: I admit that Suzanne (Gagnon, wife of Daniel and co-creator of Laurie Raphaël) and I were pretty visionaries on this. But more than that, we were lucky. The inspiration comes from a restaurant of the time, Georges et Alphonse by Glenn Forbes (now owner of La Cache d'Amélie in Baie-Comeau in the Côte-Nord region of Quebec), which was named in the honour of the children of the latter, and we had found the idea very original. It was during my time as head chef at the renowned "À la table de Serge Bruyère" establishment in Quebec City that I forged the vision for my future project. Having a creative mind, I didn't see myself working for others, I wanted to express my full potential.
RV: It's really a way of making our own choices have something of our own as well. We are the ones who decide if we make more or less profit than what is on the plate.
DV: With this in mind, I chose to spoil my customers, to give their money's worth. A customer walking into the restaurant is one thing. Bringing him back is another.
NB : And starting an upscale restaurant at the time, when there were few, how did it all go?
DV: In fact, there were few restaurants. There was L'Initiale, Marie-Clarisse, Champlain, Georges et Alphonse, Le Melrose. There were 5–6 run by Quebec chefs, and next to it, there were more tourist establishments that were neglected by the locals, so people came to us. And in the early 2000s, it started opening exponentially, to 15–20. Now we don't count them anymore. In addition, he had the market, which helped us and introduced the artisans of Quebec to the children. Being connected to the market means being on the pulse of the seasons, working with our fruits and vegetables. This proximity is extremely important to have the freshest possible products.
The future and climate change
NB : Compared to this market cuisine, does climate change affect you?
RV: Yes, there is a craze for vegetarian cuisine. For example, in our menu, which is divided into themes, there is a vegetarian dish on the menu of all customers. People with various dietary peculiarities (intolerances, allergies, preferences, etc.) love our restaurant because we are able to adapt, and have always done so. We have good reviews from our customers on this aspect on the various tourist sites. All that can be seen is that the choices the company made from the start were the right ones. And the key, in my opinion, is local sourcing.
DV: Our vision has always been to buy the best product, if it's not local, we go elsewhere. For example, the caviar, we buy that of Antonius, distributed by Oysters & Caviar, because nothing is against it. There is a pretty impressive consistency in this product.
The father-son transition for 30th anniversary of Laurie Raphaël
NB: With this in mind of having the father and son working in the same restaurant, how did this transition go?
RV: After high school, as I said above, I was lucky enough to be able to go in Europe for my studies, and I started at the bottom of the ladder here, at first as a clerk. And one thing leading to another, I found myself at Laurie Raphaël in Montreal, in Le Germain (the restaurant has since closed and replaced by Le Boulevardier) as a sous-chef. In the end, I took a chef's position which became available and I stayed in Montreal for two years. And that's how I rose through the ranks to become a c0-owner with my sister.
DV: It was a gradual transition, and what helped was that after Raphael's two years in the metropolis, it was me who took his place, and he who took over the main restaurant.
RV: This way of doing things helps, when I was able to do my various apprenticeships without my father always being behind me watching me do it.
DV: And that's how we were able to transfer with confidence. Having my kids behind was easier. I don't think I would have left the Laurie Raphaël to a stranger or someone who is not in my family.
RV: And in this transfer, it is not only the company, it is also the philosophy, the love of products, the technique, the sharing, the values.
DV: Me and Suzanne, that's what we're most proud of, having transferred our values ​​to our children. Whether it is a job well done, the pride of the Quebec region, teaching and transferring knowledge, hospitality, it is really this transmission of values ​​that makes us proud, as Raphaël said.
NB: In this transition, a few years ago you gave up the lunch service, what did that bring?
DV: At first, when Raphael made this change, I was scared. We had a an à la carte menu and a tasting menu for the evening, and for lunch. Raphaël has decided to take the lunch and the à la carte menu away.
RV: The business has evolved so much that at the time, they wanted as many people as possible, and with lunch, it was a way of democratizing the evening. One way to promote the restaurant. I used to say to my father "Everyone knows your restaurant." Every time a client walks out of the Laurie Raphaël, they must have the maximum experience. If he's coming here to eat an entrée, he's in the wrong place. Yes we make excellent entrées, but if we want to bring an experience to life, we have to change, evolve, refine, etc.
DV: I was talking about it the other time with my wife Suzanne, the kids were absolutely right to make this change. We had several tables around the world doing research and development, and there were rarely à la carte menus. What I thought was that Quebec would not be able to have a clientele to support our restaurant with this concept, luckily I was wrong. Having a tasting menu is better for managing your purchases and expenses.
RV: It allows us, for example, to have Antonius caviar on the menu without selling it extra. Few restaurants do this.
DV: I'm really lucky to have Raphaël, he only improves what I've created.
From À la carte Menu to the Tasting Menu
NB: Having evolved into a tasting menu a few nights during the week, is that something that allows you to make your employees happier?
RV: At 50 place settings, which makes 500 plates, the effort is the same, but focused on quality and not quantity. We focus on perfection.
DV: The quality of the what you found in the plate is so much higher than before. We evolve.
"The Chefs" and the evolution of the profession of cook
NB: Speaking of evolution, it's hard to forget Mr. Daniel Vézina's presence as a mentor in the kitchen of the famous CBC's french side, Radio-Canada, show "Les Chefs". While the adventure is now over for you, let's take a look back at the learning and what you learned from them.
DV: It was an incredible experience, which put cooking on the map and many dreamed and still dream of doing the show. If we look at what is happening today, a chance that there was this opportunity to show and promote the profession and to increase enrollment in cooking schools, because today, with the pandemic, several schools are empty. It takes more than "Les Chefs" to promote the profession.
In this regard, I am working with the government on an alliance of niche restaurant chefs. There are around 50 of us, and no one represents us specifically, so we get lost in the 20,000 restaurant establishments in Quebec. There will be a component on the valuation of the profession. What can we do to bring more future chefs to our big establishments?
RV: If we talk about salary as well, I have no problem paying my bosses a high salary. On the other hand, is the customer going to be ready to pay the bill, that's another question? I wouldn't mind paying a cook at the hourly rate of $100 (Editor's note: This is an example, not the reality), but the customer has to be able to pay the plate in the end, which is far from certain. This is not the festival of restaurant profitability.
DV: Strategies must be put in place in the future to make this profession more interesting.
RV: In addition, our employees here work 4 days during the winter.
DV: If you had offered me a 4-day job 20 years ago, I would have told you that was wrong. I was working 5–6 days because I couldn't see how I could do my week under 6 days. There are things to do in a kitchen. Making a duck confit, it takes 3 hours, making a chicken stock, it took 24 hours.
Technology in the Restaurant Business
NB: Technology has also made your work easier to being able to celebrate 30th anniversary of Laurie Raphaël
DV: Yes really. Thermocirculators, Rationals, Thermomix, sous-vide cooking, etc. have greatly simplified the work.
RV: We can keep protein for up to two and a half weeks now. You can go 3 days without fear of losing food.
NB: If we talk a little about the future, what would you like to see in the next 30 years?
RV: Holding the helm for another 30 years would be a good start. To continue, because evolution is extremely rapid.
DV: Keeping the passion alive, we must never forget that the success of our restaurants depends on the fact that at the beginning there was a guy who liked to cook. Above all, it's about keeping the love of cooking. We, at Laurie Raphaël, are always on the lookout for great products and that's what motivates us to stay on. To always stay in love with what you're doing. Everyone knows that it is a job that requires huge hours of work, which requires working while others are having fun. Still, the story is true. With Raphaël, we have a unifier. There is no one from our kitchen team who left us during the pandemic, not one. We have always managed to find them work.
30th anniversary of Laurie Raphaël: Wishes
NB: What does the 30th anniversary of Laurie Raphaël mean to you?
RV: For me, it's a great achievement.
DV: On my side. I have a feeling of mission accomplished. Why? Because there is continuity in this mission. This would not be accomplished if today I were forced to close the restaurant. For the future, I will always stick with them. I do a lot of consulting with my company Visions Gourmandes, including the new space at Place Tranquille in Montreal. The idea is to decrease the workload.
RV: For me, it's the start of the next 30 years…
NB: Discovering the father-son bond between Mr. Daniel Vézina and his son Raphaël Vézina was only a moment of pure pleasure. I can't wait to visit the restaurant again to taste the menu for the 30th anniversary of Laurie Raphaël.
To reserve your table to celebrate this year of the 30th anniversary of Laurie Raphaël it's here.
Share the post "30th anniversary of Laurie Raphaël: Discussion with Messrs. Daniel and Raphaël Vézina"