A Grand Celebration with Grand Marnier
16:00
updated on Jul Fri 2022 12:26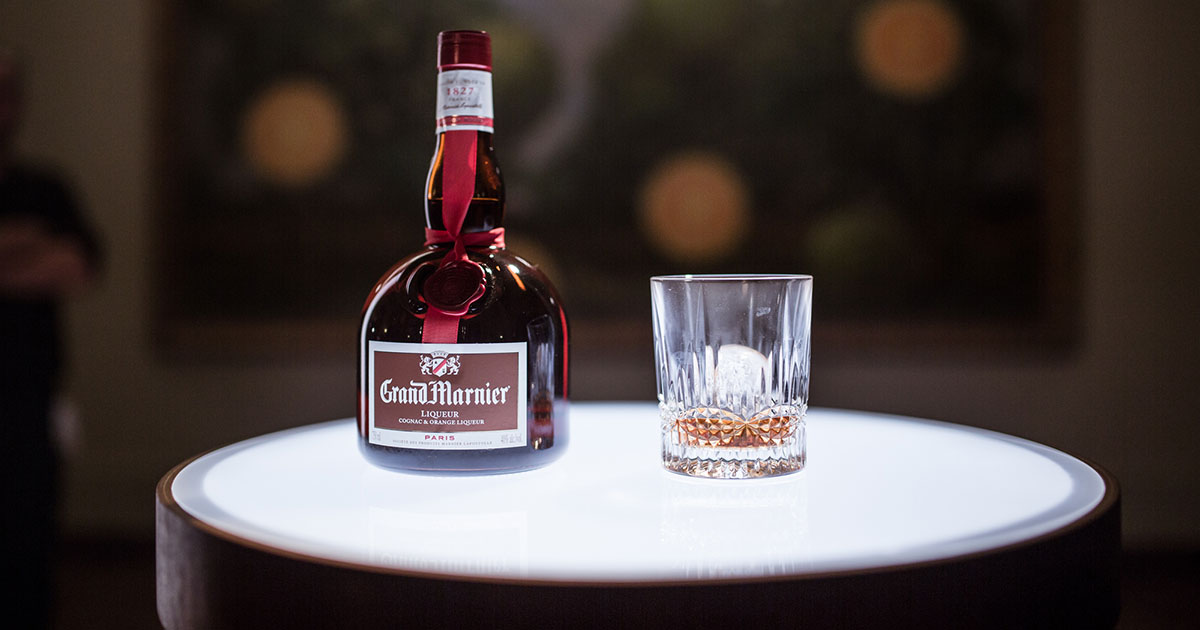 It was then that the first snowflakes on Quebec that I write this article, the atmosphere of Holidays is already present. It was during a party at the Ritz-Carlton in Montreal last September with Patrick Raguenaud, Grand Marnier's Master Blender, that we learned about the brand and we believe, at Gentologie, that it will be perfect on your table throughout the holidays, and beyond to have a Grand Celebration with Grand Marnier.
What is Grand Marnier?
The Grand question. We all think we know the Grand Marnier, by cons, do we really know it? The main expression of the latter, Cordon Rouge, is composed at 51% of blend French cognac (this is a euphemism here since all cognacs are French and come from this region) and 49% of exotic bitter oranges. Its elegant presence combines with the bitter essence of intriguing exotic orange, lending the inimitable liquid an unparalleled and powerful fragrance. In the latter, you will find a complexity of flavors developed centuries ago, while remaining truly versatile in a contemporary world, thanks to the timeless provenance and heritage of the brand. 
Today, it's heritage is maintained by Patrick Raguenaud, master blender, and our host for the evening at the Ritz-Carlton. Born and raised in the Cognac region, he embodies the knowledge and tradition that has accompanied the brand since its inception.
Brandy and cognac, is there a difference?
As for brandy, it refers to any type of distilled alcohol that is made from fermented fruit juice. As for cognac, it is a type of brandy using specific grape varieties, such as Ugni Blanc (a grape variety also known as Trebbiano Toscano), which undergoes a definite distillation period and minimum aging in casks. French oak to ensure optimum quality. Cognac can only be produced in the Cognac region, following strict production methods regulated by French law (Appellation d'Origine Contrôlée known as AOC).
Internationally known, while continuing to resonate with aficionados around the world, the range brings out convivial luxury and something charismatic and intriguing, with its unique fine golden liquid and perfectly put forward thanks to its magnificent iconic bottle.
The Grand Story
It's Grand story begins in 1827, when Jean Baptiste Lapostolle (it is the same family that founded the Lapostolle wines in Chile, including Francisco Baettig, who was the oenologist) founded a distillery in Neauphle-Le-Château, a small town outside Paris that produces fruit liqueurs.
In 1876, when his granddaughter married Louis-Alexandre Marnier, son of a family of winemakers in the region of Sancerre, the House of Marnier Lapostolle was born. In love with fine cognac, Louis-Alexandre Marnier Lapostolle had the innovative idea of combining cognac with a rare variety of Caribbean oranges, the "Citrus bigaradia". It must be said that at the time, oranges were an exotic luxury product, consumed especially on special occasions. By combining the complexity and sweetness of cognac with the exoticism of distilled orange essence (a recipe that is still secret today), Louis-Alexandre Marnier Lapostolle created in 1880 the famous liqueur.
When the Grand Marnier entered the scene in 1880, it was tasted in new cafes and breweries. It is easy to understand how the latter immediately became a popular product, synonymous with this new joy of living. Louis-Alexandre was not happy to simply create the Grand Marnier, he made it a must at all Paris evenings thanks to its links with the "Grands" of Paris; a must at all tables and social events. Its inimitable finesse will later ensure its presence aboard the largest and most famous cruise ship, the Titanic.
But who is Patrick Raguenaud, Grand Marnier's Master Blender?
Although the history of Grand Marnier dates back to the end of the 19th century, it is essential to perpetuate knowledge and tradition and it is the role of Patrick Raguenaud, the master assembler. The latter was born in 1954 in Jarnac, a town in the department of Charente in the south-west of the region of Cognac, France. It must be said that Mr. Raguenaud has always been intimately linked to the territory – his family has been involved in the cognac industry since 1627.
He joined Grand Marnier as a master blender in 2004, a role of importance and requiring remarkable expertise, overseeing the purchase, aging and assembly of French cognac, as well as the significant production of bitter orange.
The Range
The range of the Grand Marnier range reflects a selection of truly unique products, each of which combines an eccentric and unique blend of fine French cognac and exotic bitter oranges.
The expressions Cordon Rouge and Cuvée combine an exceptional aromatic richness. This wealth is attributed to the commitment and expertise of the current master assembler, Patrick Raguenaud, whose deep experience, passion and attention to detail result in the precious liquid that you can enjoy every day.
Grand Marnier Cordon Rouge
The first of the range, created in 1880, the Grand Marnier Cordon Rouge is the jewel of the brand and combines the intensity of the bitter orange exotic to the character of cognac. The recipe, which has remained the same since its creation, gives a liquor to the flavours and powerful aromas. It is composed of 51% cognac, with a degree of alcohol of 40%.
Colour: Clear topaz; brilliant with golden and amber hues.
Aromas: Attractive orange notes with hints of candied zest and vanilla flavours.
Flavours: Full and ample; bitter orange aromas balanced by hints of hazelnuts and butterscotch. The finish is long and harmonious.
Ideal Tasting: Grand Cocktails

 
Grand Marnier Louis-Alexandre
Created in 1977 in honour of Louis-Alexandre Marnier Lapostolle, this recipe is inspired by a ritual that Louis-Alexandre was particularly fond of adding a drop of cognac to his glass of Grand Marnier liqueur to give it a more intense taste. It contains 82% of cognac.
Colour: Warm amber with hues of copper and orange.
Aromas: Nose of candied orange with shades of citrus zest and essences of orange and bergamot.
Flavours: The candied orange and macerated citrus flavours are softened with notes of pine and Earl Gray tea. Very long finish with an intense taste, offering the contemporary experience of the heat of Grand Marnier liqueur.
Ideal tasting: Pure or on ice
Grand Marnier Cuvée du Centenaire
Introduced in 1927, the Grand Marnier Cuvée du Centenaire celebrates the 100th anniversary of the House of Marnier Lapostolle. Cuvée du Centenaire is an exceptional blend of refined XO cognacs combined with the essence of exotic bitter oranges. It is the latter that Chef Grégory Faye used for the sauce of its duck breast recipe.
Colour: Medium amber with a copper note.
Aromas: Fragrances of candied orange subtly paired with hints of spice.
Flavours: Superb, rich, fine and complex; candied orange flavours and aromas of old cognac (light tobacco and balsamic essences).
Ideal tasting: Pure or on ice
Grand Marnier Cuvée 1880
Created to commemorate the year of the creation of the brand, Cuvée 1880 is a distinctive liqueur made exclusively of Cognac XO Grande Champagne premium quality, with exotic orange essence. It contains 91% XO Grande Champagne cognac.
Colour: Copper and dark amber.
Aromas: Intense and rich flavours of oak, with slight orange aromas; Cognac is dominant. Very complex and subtle.
Flavours: Characteristic notes of old cognac, roundness, vanilla, dried fruit (apricot, walnuts) with a light and delicate touch of orange. Persistent length.
Ideal tasting: Served in a tasting glass at room temperature.
Grand Marnier Cuvée Quintessence
This annual limited edition was introduced in 2011 as the ultimate expression of the House of Marnier Lapostolle. It is a rare blend of exceptionally old vintage cognacs exclusively from Grande Champagne and old special family reserves in French oak barrels. This rare blend of cognac is then combined with a double distillation demanding the brand signature exotic wild oranges of the  and 82% of their Paradis cognac.
Colour: Dark copper.
Aromas: Delicious orange notes, fresh and lively followed by fruity and floral notes, and more intense notes of almond and vanilla.
Flavours:  Delicate and fresh taste, unctuousness, dried fruit (nuts, peach). Very long finish.
Ideal tasting: Served in a tasting glass.
Grand cocktails with Grand Marnier
Grand Old Fashioned
A pillar of the resurgence of classic cocktails, the Old Fashioned has long been the preferred choice of discerning drinkers. The addition of the signature Grand Marnier Cordon Rouge propels this classic from good to big, creating a refined cocktail that is also delicious before or after the meal, especially during holidays.
Ingredients:
30 ml/1 oz of Grand Marnier Cordon Rouge
30 ml/1 oz Wild Turkey 101
  3 dash of Angostura
  A twist of orange to garnish
Method: 
Cocktail to be built "in the glass"
Add the drops of Angostura first, then add the Grand Marnier, followed by the whiskey
Preferably add a large ice cube and stir until the mixture is cold
Then add the orange twist on the edge of the cocktail glass, firstly squeezing the orange over the mixture to bring out the flavours.
Grand Collins
Pleasant and elegant modification of the Tom Collins traditionally based on gin, the Grand Collins presents perfectly the cognac notes of Grand Marnier, allowing the real complexity of the liquid to shine a thousand lights. A twist of orange and an eccentric garnish (raspberry/grape) replace the traditional slice of lemon and maraschino cherry to add a touch of eccentricity, while symbolizing the signature characteristics of Cordon Rouge.
 Ingrédients : 
50 ml of Grand Marnier Cordon Rouge

 

15 ml of fresh lemon juice
Sparkling water
Ice cubes
Orange zest
Eccentric garnish (raspberry/grape)
Method: 
Place the ice cubes in a whisky glass and add the Grand Marnier Cordon Rouge, before adding the fresh lemon juice
Fill with sparkling water and mix well before adding the orange zest
Finish by adding the eccentric trim
Learn more  by visiting their website