Prepare the BBQ season with Weber
13:14
updated on Jun Sat 2020 14:01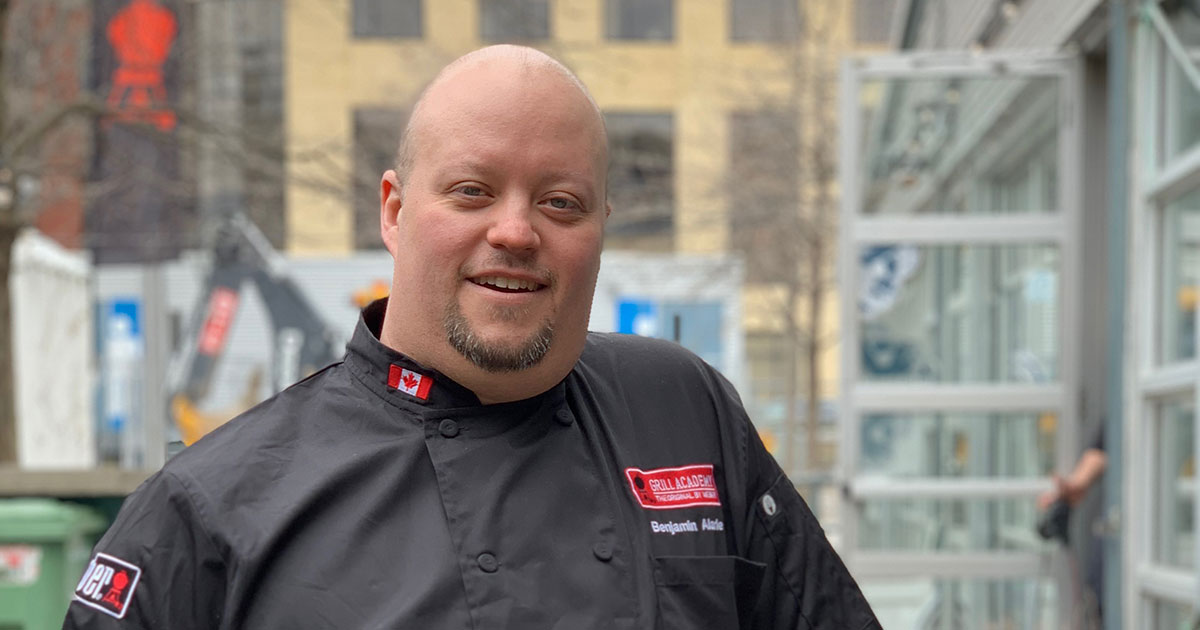 While the BBQ season is about to take off for most Canadians, we had the chance to talk with Benjamin Alarie, Corporate Chef at Weber, for his best tips for starting the BBQ season with Weber.
How do you intend to continue to be one of the more trusted brans to Canadian consumers?
With our innovations and the quality of our equipment, we will always be at the forefront of our field, cooking on BBQ. The excellence of our customer service is also a major asset.
While some have used their BBQ this winter and some have not, what is the best way to upgrade our BBQ to get ready for the summer season? Are there differences to be made if the BBQ has been served in the winter?
A good cleaning is the key! Our range of products specially designed for our BBQ will facilitate cleaning. Regardless of whether we use the BBQ in winter or summer, it is very important to let the BBQ cool down before putting on the protection.
And regular maintenance, what should not be missed to ensure perfect cooking at all times?
A good brushing of the cooking grids and cleaning of the grease recovery container are two of the important points to observe at all times. Thereafter, a little love once a month to thoroughly clean the inside of your cooking device to eliminate any food residue to prevent odors. Obviously, also, to keep the appearance of your BBQ, use our products to shine your Weber!
Can you tell me about Genesis II, the new star of 2019?
A superb machine! Easy to use with several possible options (colors, number of burners, lateral burner available) and the fact of being able to choose with a closed or open chassis. The return of the capture burner will also allow you to better control the heat for your short cooking.
In addition to Genesis II, what's new at Weber?
Our 10 year warranty now applies to all our BBQs. We also have several new accessories and cookbooks.
While condominiums are becoming more and more popular, what is your suggestion for those living in this type of property? And should we pay attention to things in particular?
First, do you have the right to propane or natural gas? If so, the Q series is an excellent choice if you want to save space. Several models are available with or without support, mobile or not. If you can afford to have natural gas, be aware that some models are offered with this option. For people who do not have the right to gas, the Q series also offers electric BBQ! Very good performance with an all-electric device. Remember that it remains a BBQ and its use must be done outdoors!
And for those living in a house with a bigger yard?
A lot of questions! Gas or coal? Smoker? Our needs ? Long cooking? Short cooking? The number of people to feed or the organized party style? You have to choose a Weber BBQ according to your needs and the space you have. If you're only 2 or 3 at home and you're the type to grill steaks and chicken breasts, a Genesis II 3 burner will be perfect for you. You have a little more time to spend on BBQ, coal is a very interesting option. Talk to your Weber retailers and ask the right questions.
You also have natural gas models. What is the big difference for cooking? Does the taste change? Is the cooking different?
Exactly. The difference is more in the power of the burners and not in the cooking or taste. With directly connected natural gas inlets, finished running out of propane!
Speaking of big yard, how has the trend of outdooring changed Webber's vision for the BBQ?
People want to reclaim their outdoor yard! People like to receive and you now see outdoor lounges instead of having a simple garden table. This is the basis of Weber when, at the turn of the 1950s, following the return of the war, people wanted to enjoy family time and Weber answered this call. We still do it with the choice of our BBQ. Many people organize BBQ days with their different types of devices. Start by throwing the smokehouse early in the morning to prepare the long cooking, continue by lighting the charcoal for indirect cooking and finish by turning on the gas BBQ to complete the cooking of steaks and burgers. This is a beautiful day Weber! With our equipment, you can now turn a simple BBQ into a complete kitchen (or almost!) To satisfy everyone.
How, at Weber, does technology change BBQ cooking?
It is now a very useful tool! With the Weber iGrill, you have the chance to not miss a cooking. Simple to use, you can follow in real time, by Bluetooth, the evolution of your cooking.
How can people who want to incorporate technology into their current BBQ do it?
By purchasing one of our iGrill products (mini, iGrill 2 or iGrill 3 incorporated in your BBQ) and downloading the iGrill app. You now have access to a temperature directory to control your cooking to perfection.
Let's talk about the food aspect, what is your favorite BBQ dish?
Very difficult question! I like everything when it's done on a Weber! But a good piece of grilled beef is still a timeless classic, but we can reinvent it!
And if there is a little unusual recipe that you could share with our readers, what would it be?
A salad of arugula with grilled watermelon! Take slices of watermelon an inch thick. Brush with a drizzle of vegetable oil and grill for 2 to 3 minutes per side. Cut into cubes, and serve with arugula, feta cheese and tequila vinaigrette! A whole show for your guests. Or else a pound cake, cooked on the BBQ. Let the cake cool and cut 2-inch thick slices. Grill a few minutes. Meanwhile, grill skewers of strawberries that you spray Grand Marnier during cooking …
And finally, your favorite BBQ grill at Weber?
Again difficult to choose! I am reasonable with my 5 machines at home so …
For charcoal, the Summit Charcoal Grill remains an incredible beast. Not so much in size as performance! It is able to hold a constant temperature for over 12 hours for long cooking or smoking and thereafter be able to increase the temperature up to 600 F to grab your meat pieces … WOW!
If not at the gas level, the Genesis II 335 is made of stainless steel or in color is a very powerful device and requires little maintenance.
When it comes to convenience, the Q-1200 is lightweight and follows me everywhere on vacation!
* Following an activity to prepare the 2019 BBQ season with Weber, we had some tips. Here they are.
Do not put the meat back in the same place where it's cooked when you change it to the side, move it
Always let the meat rest for about 5 minutes after cooking under foil, this will make the meat softer
Always season the meat well.
Brush the oil on the meat and other foods and not on the grates. On the grates, the oil will burn and it will not be good.
Thank you Benjamin and I wish you a great BBQ season with Weber
Discover the different BBQ models on the Weber website!