Château de Miraval Rosé – Côtes de Provence
13:16
updated on Jan Mon 2023 18:50
 The Miraval Rosé: A beautiful rosé wine from Provence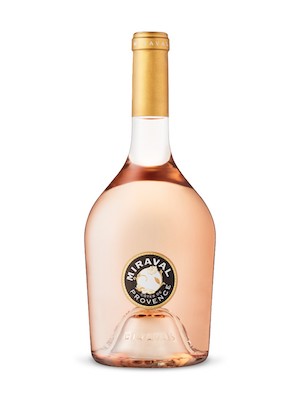 Here is an article originally published in 2015, but updated in this year 2018. To start the summer well (ok, we are still the spring and the temperature continues to play tricks), here is one of my favorite rosé , starting with the Miraval Rosé! Why? Because I'm a little tired of hearing you say that a Gallo White Zinfandel is good. In short, I want you to discover other products that will satisfy you and expand your horizons in terms of rosé tastes!
Let's start with a fairly popular product, now available year-round. You will love it.
The Miraval Rosé: Famous owners
This product was first known because of its famous owners, Brad Pitt and Angelina Jolie. One might think they wanted to make an easy, sweet, affordable wine, in other words to make easy money, but no. By partnering with Domaine Perrin in Provence, the famous duo produced an exceptional wine! Even though the couple is separated, business is still going on at the Jolie-Pitt estate. Made of Cinsault, Syrah, Grenache, and Rolle. So this rosé of a beautiful pale pink color and brilliant. It reveals a very beautiful aromatic expression with delicate notes of red fruits, a complex bouquet of raspberry, white fruit, peach, and white flowers. On the palate, the terroir reveals, with an impression of freshness and balance, a good length, and a very mineral finish, saline and of character. In short, we are very far from Californian sweet wines, but closer to a wine that transports us into a universe that can make us discover another class of rosés!
You want to have more details on the Miraval Rosé, all is on their website
The Miraval Rosé is available in large quantities.
Cover photo: Famille Perrin