Fauna : The Discovery in Ottawa
23:24
updated on Jan Mon 2023 17:37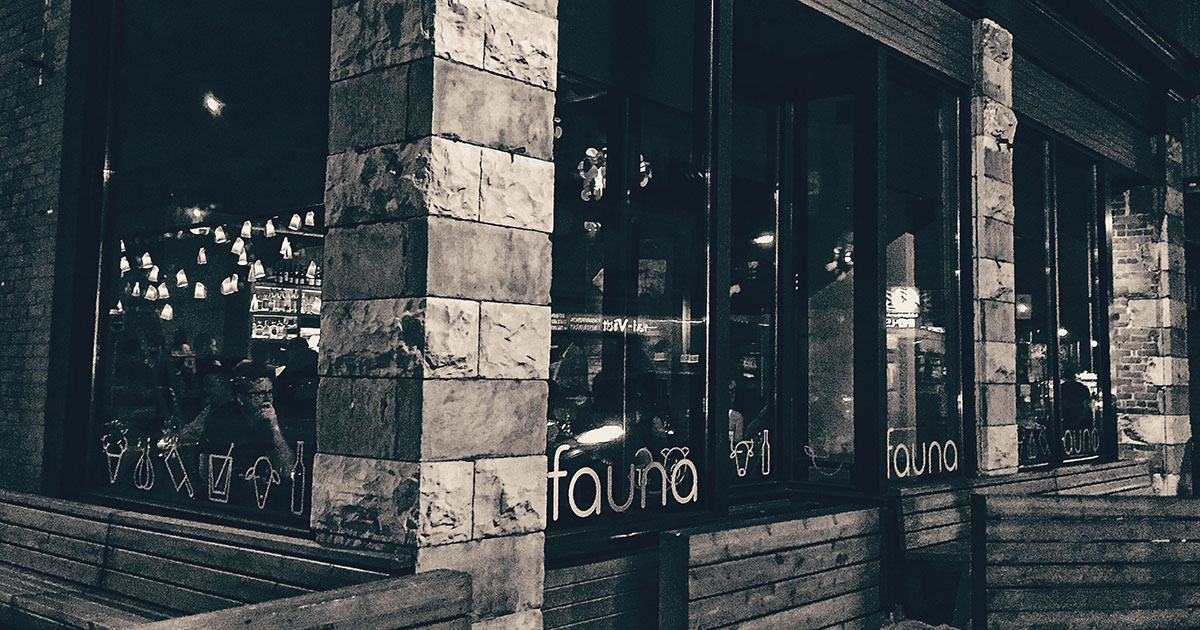 A small restaurant, a bit far from downtown Ottawa, but not too far, a haven for food lovers with local ingredients and plain wines, welcome to Fauna
Let's go to Fauna
After drinking a few Beau's beers in the VIP section after my run (I ran the 10 km at Ottawa Scotiabank Marathon), and taking a few bites, I headed for the Fauna after a good shower. I already had the idea to visit the restaurant after meeting Julian Bernard, the cocktail master of the place at the national final of Made With Love a few weeks rather in Montreal as part of the Invasion Cocktail (he is the national champion 2016-2017), and other friends (thank you Clarah Germain and Florence Doyon-Simon) send it warmly recommended.
Having a little pain in the foot, with a walk of fifteen minutes (I remind you that I had just run 10 kilometers in less than an hour less than an hour ago), I arrived at the place . First impressions, the place is beautiful, the atmosphere is very relaxed, a pretty decor felted with lamps very design, in short, exactly what I needed.
I sit at the bar (little thing, it's always the best place the bar). And I greet Julian, he offers me a derivative of his winning cocktail of the city of Ottawa regional finals, the Blue Sea, (Gin Ungava, cucumber, black pepper syrup grapefruit juice and lemon decorated with a bird pepper), It's a delight !
I listen to people next to my table, and they speak French, surprising all the same. Curious chance, it is the columnist with gourmet books (among others) La Presse Eve Dumas and his spouse who are right next to me. Sometimes, when life makes signs to you, you do not have to ignore them, so I order my first dish. Named greens, this is actually a salad of caramelized goat cheese with a crisp chicken skin of cherry tomatoes and a truffle and lemon vinaigrette. Purely perfect. So good after my race, an incredible balance, a dish that burst full of flavors. That yes. It was after this dish that I met the sommelier of the place Alex McMahon, a friend of Clarah I mentioned above. It will make me discover a lot of delicious juices throughout the evening.
For the second course served with Pearl Morissette's Cuvée Roselana, I go with the fried mushrooms made of morels, chanterelles, wooden ears, maitake, miso mayo, preserved lemon, polenta and sprinkled with Sherry. Perfection. I could not ask for more, I could have done the plate and I wanted more.
For the rest, it was a game tartare, with fermented radish, garlic, rhubarb cream, smoked pear mayonnaise, olive oil powder and toast. Once again, a big wow. Reversing, a beautifully balanced dish, flavors that blend perfectly. The whole thing was served to me with a red wine whose name I do not remember anymore. Actually, I was poured to try. They were all natural wines, like the ¾ of the map.
For dessert, it was citrus + vanilla. A vanilla mousse, a lemon curd, almond juice and a gelato. All with an espresso, poured to perfection.
After interesting discussions and beautiful wines, it's time to return for a beautiful night in a bed more than comfortable.
Address: 
425 Bank Street
Ottawa, ON
Canada
K2P 1Y7