Le Fleur de Lys by Alexis Taoufiq, Meilleur ouvrier de France
15:35
updated on Jan Tue 2023 11:20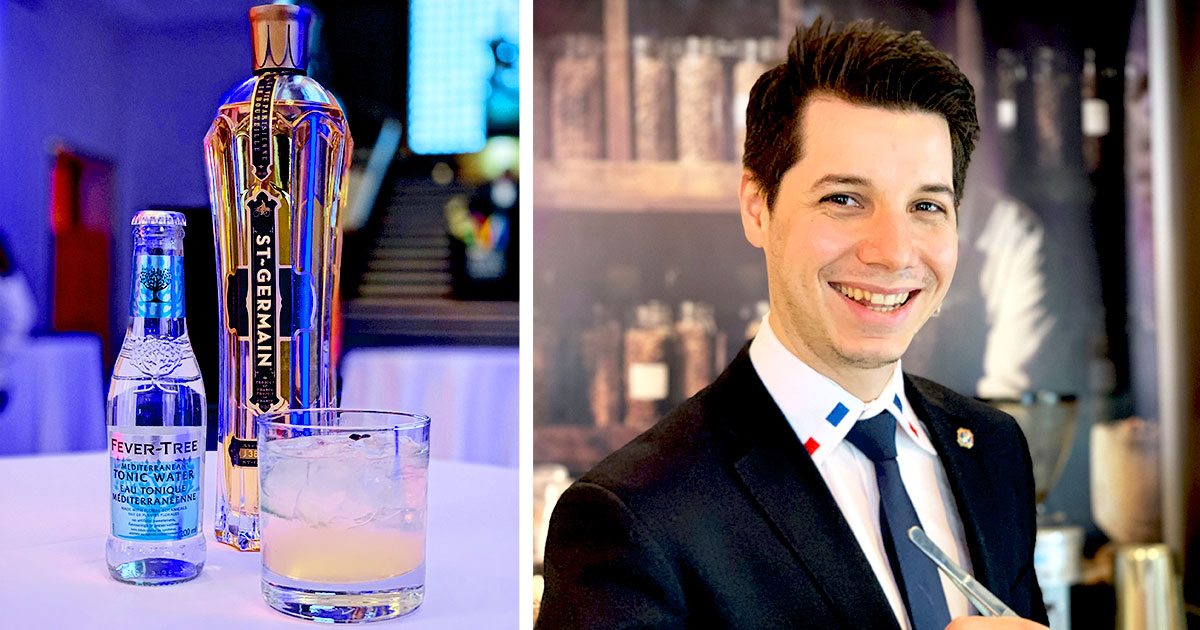 For our fifth article in our series "Behind the Bar", the fourth being the Snoop de Maximilien Jean of Bar Le Royal, we present the Fleur de Lys by Alexis Taoufiq, formerly of the speakeasy Le 4e Mur, assisted by Frédérique Leblanc, former ambassador at St-Germain. This cocktail was created for the event Good France which runs until March 24 on 5 continents. This series will introduce you to cocktails that you can enjoy in the best cocktail bars in Canada. Event cocktails are a big part of the work of mixologists and it's important to talk about them as well. Pay attention to the cocktails that are served in the upcoming events and learn about them.
The story behind Alexis Taoufiq cocktail
So Alexis, where does the inspiration for the cocktail come from?
[Spacer height = "20px"]
So, it's a cocktail that I created with Frédérique Leblanc and we wanted to put forward the France-Québec friendship. So, I took an ingredient of my childhood which is juniper since I am of Alsatian origin and it is an ingredient that one finds in sauerkraut and Frédérique brought the sweetclover which is a herbaceous plant that the we find in Quebec. We worked around the St-Germain, a typical French elderflower liqueur to arrive at the result that we have here.
[Spacer height = "20px"]
And the name Fleur de Lys is really something that represents France and Quebec no?
Yes, we have a very floral side with the elderflower liqueur and the tonic Fever-Tree Mediterranean.
The recipe of Fleur de Lys by Alexis Taoufiq with the help of Frédérique Leblanc
1 oz of St-Germain Elderflower Liqueur
½ oz of juniper cordial (recipe at the bottom)
1 dash of melilot flower infusion (recipe at the bottom)
Fever-Tree Tonic Mediteranean
To make the Juniper Cordial
Make a simple syrup (equal parts of white sugar and water)

Bring the ingredients to a simmer until the sugar is completely dissolved (do not boil). Cool.

Infuse Juniper Berry in your simple syrup
Mix 15 grams of citric acid for 500 ml of simple syrup
To make the infusion of melilot flower
Put 3 teaspoon melilot flower in 94% alcohol (in a mason jar) and filter
For your cocktail, mix all your ingredients in the glass and decorate with cucumber slices and of juniper berry
Enjoy!