Marchesi Antinori: Experience at Hoogan and Beaufort with the SAQ
18:03
updated on Jan Thu 2023 18:38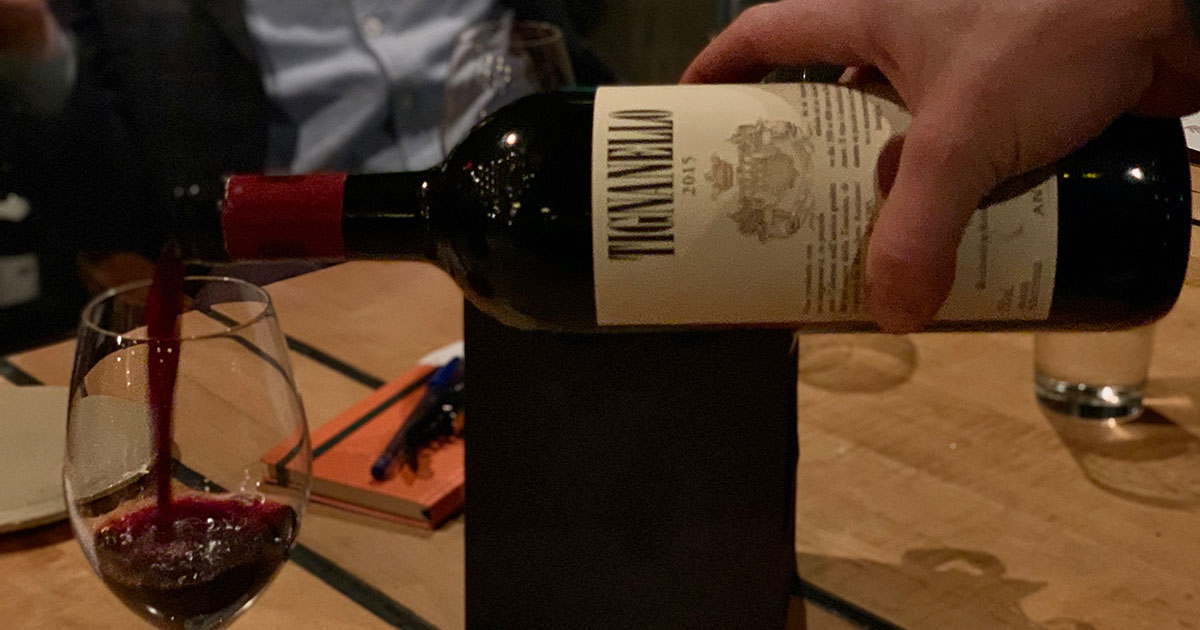 Often, for Gentologie, I receive invitations, but this time it's a contest I won in collaboration with the SAQ and Marchesi Antinori wines (distributed by Mark Anthony Wines & Spirits). The event took place last October at Hoogan & Beaufort. I share this adventure with you.
What would wines be without food? Well, I can tell you, personally, that I would find the experience much less enjoyable. The evening took place, as I told you before, at the renowned restaurant Hoogan et Beaufort under the leadership of chef Marc-André Jetté with Alessandro Leone, international ambassador Marchesi Antinori.
The Marchesi Antinori House
For the Antinori family, it is a commitment to the art of winemaking that dates back more than six centuries, that is to say since 1385, when Giovanni di Piero Antinori became a member of the Arte Fiorentina dei Vinattieri, the Florentine Winemakers' Guild.. 26 generations have followed one another to arrive at what we have today.
The menu for pairing with Marchesi Antinori wines
A 5-course gastronomic experience paired with five wines from Maison Antinori was specially developed for this event. So here they are.
Aperitif :
Villa Antinori | Bianco Toscana IGT 2018
Oysters, apples and cider sabayon
It is with this delicious, very refreshing white wine that I have bought a few times that I think I won my place in the competition.
The latter is a traditional white wine produced in 1931 by Marchese Niccolò Antinori. Villa Antinori Bianco IGT Toscana is a fine expression of the Tuscan territory by blending traditional white grapes with other varieties. The bouquet is fresh and elegant but with a marked character
The mains :
For the main dishes, there were 5 as you can imagine with the 5 services mentioned in the introduction. Dishes with hyper local ingredients, but with a very Italian inspiration, one of the specialties of Hoogan & Beaufort, in addition to their wood fire, which makes this note burnt in several of their dishes, without forgetting their bread.
First course :
Castello della Sala | Bramito della Sala Umbria IGT 2018
Lightly smoked bobbin trout, cucumber, buttermilk and mustard seeds
We are still in the hallway with a delicious fish and its side dishes. Bramito is produced from the vineyards surrounding the medieval castle of Castello della Sala. A variety that thrives in this terroir is Chardonnay. The vineyards are on soils rich in fossil deposits with veins of clay which give the wine minerality and elegance. It is a buttery, yet elegant and mineral wine. A great discovery.
Second course : 
Pian delle Vigne | Rosso di Montalcino DOC 2018
Blanc de gris Oyster mushrooms, burnt onions, parmesan and smoked bread
This wine accentuates the pleasant freshness of the Sangiovese grape, Montalcino's historic variety. The vineyard's soil composition is calcareous-clay that allows Rosso di Montalcino to develop its characteristic freshness, minerality and finish.
A short break to chat with chef Marc-André Jetté
Third course : 
Badia a Passignano | Chianti Classico DOCG Gran Selezione 2015
Agnolotti with matsutaké, poultry, hazelnut and nasturtium
These agnolottis were just perfect. With their poultry soup. And what about the deal.
Now we are going up in the brand with the Badia a Passignano Gran Selezione. The latter is produced exclusively from the finest Sangiovese grapes harvested from its namesake vineyard located in the heart of the Chianti Classico region. This region has been respected and appreciated for its outstanding wine production since the year 1000. The vineyards grow at an altitude of approximately 300 meters (984 feet) above sea level on soils rich in limestone with a fair amount of clay. The wine is aged in the historic cellars under the Badia (abbey) of Passignano that dates back to the 10th century.
Fourth course:
Guado al Tasso | Bolgheri DOC Superiore 2015
Duck breast, chanterelle, pear and leek
With the delicious duck breast with its perfect cooking and its fruits, we have a beautiful blend which is perfectly suited.
A blend of Cabernet Sauvignon, Merlot, Cabernet Franc and occasionally a small amount of Petit Verdot to best represent the complexity and elegance of the Bolgheri terroir. This wine has been produced since 1990 from vineyards on alluvial soils whose composition ranges from clay-sand to clay-loam with rocky deposits know as "scheletro".
The Tignanello, the star
Fourth course : 
Tenuta Tignanello | Tignanello Toscana IGT 2015
Rack of lamb over a wood fire, horn of plenty and white beet
We keep the star for the end, a super Tuscan as they are called. If you've ever had the chance to taste a Tignanello or a Sassicaia, you know why. These wines are at the origin of what we know about wines. The Tignanello was the first Sangiovese to be aged in barriques, the first contemporary red wine blended with untraditional varieties (specifically Cabernet) and one of the first red wines in the Chianti Classico region that didn't use white grapes. Tignanello is a milestone. It's produced with a selection of Sangiovese, Cabernet Sauvignon and Cabernet Franc.
Dessert and sweets
Kouign-Amann, blueberry, caramelized white chocolate, yogurt
Delicious, simple and with lots of flavors, a little sweet taste that goes so well with a rest of Tignanello or Guado al Tasso
Discover the different wines of Marchesi Antinori in SAQ right now 
Visit the Gentologie boutique to learn more about our magazines