Masterclass on Art of Steak at Vieux-Port Steakhouse
09:46
updated on Apr Tue 2023 16:58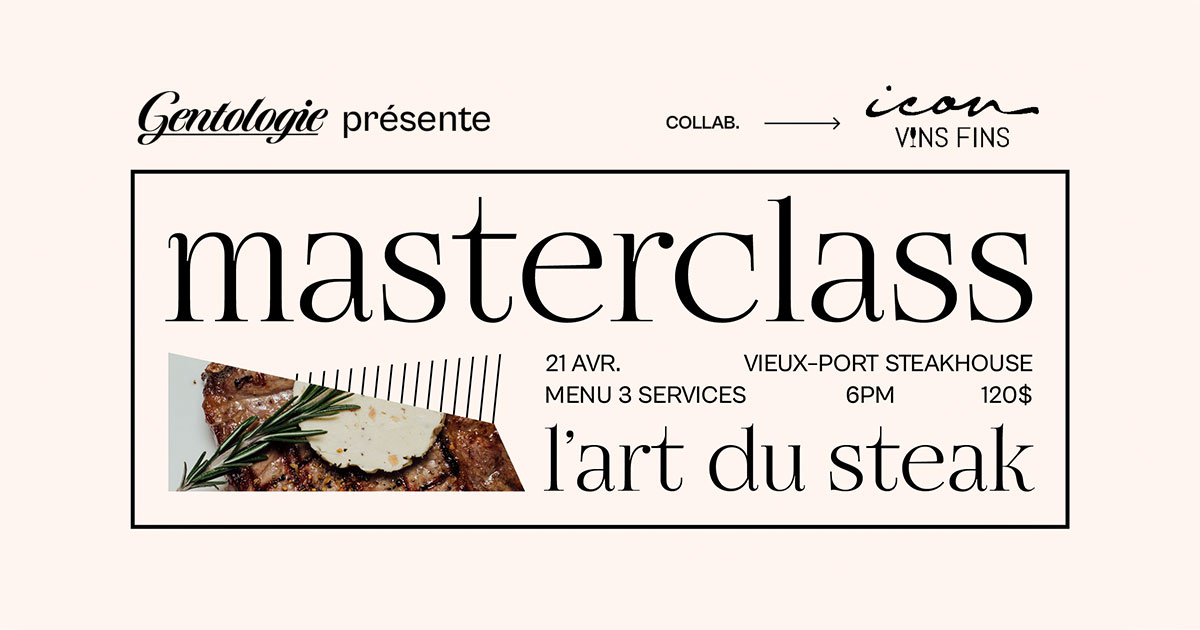 You can feel it, the BBQ season is coming! That's why, on Friday, April 21st, we're bringing you a Masterclass on Art of Steak at Vieux-Port Steakhouse in collaboration with experts in the field, you certainly guessed it, the Vieux-Port Steakhouse, a member of Gray Collection.
Why a Masterclass on Art of Steak at Vieux-Port Steakhouse.
The idea for us is that you can enjoy your summer, and your BBQ 100%. For this reason, you need to know which type of meat is best for your meal to the type of cooking or dish you want to make. We are talking about the temperature at which the steak is cooked, the duration of the cooking time, the resting time, etc. In short, there are many questions that the professionals at the Vieux-Port Steakhouse will answer during the course of the evening.
Much more than just a restaurant, the Vieux-Port Steakhouse is an institution in Old Montréal. For over 35 years, their customers have been enjoying quality cuts of meat cooked to perfection. They select only AAA certified Canadian beef that is aged for 30 days.
If the quality of its meat has made it famous, it is its warm service, its attentive staff, under the management of Mr. Kevin Pouliot, and its classic decor that have made it a Montreal must see. Located directly on Saint-Paul Street in a beautiful century-old building, the Vieux-Port Steakhouse will charm you with its authentic stone walls, hardwood floors and cozy fireplaces.
How the Art of Steak evening will run.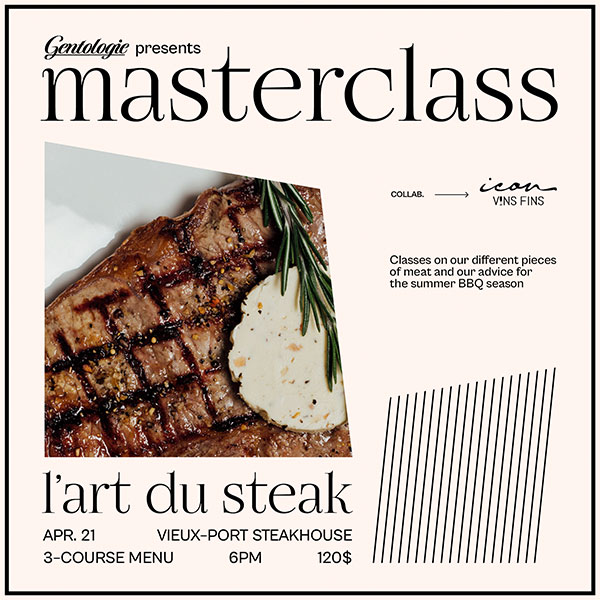 We and the team at the Vieux-Port Steakhouse will welcome you with a glass of sparkling wine from 6 p.m. and the event will start at 6:30 p.m. It won't be anything too formal, just fun and of course, meat. All this in an intimate atmosphere of 22 people in the Maisonneuve room, which, with its warm and authentic decor, hardwood floors and stone walls, will take you back in time. It offers all the elegance of this steak-themed evening.
On the menu for the Art of Steak Masterclass at the Vieux-Port Steakhouse
For $120, you can enjoy a 3-course menu with a choice of appetizers. The main courses will consist of the Butcher's Platter of Rib Steak on the Bone, New York Cut Sirloin, Tenderloin and Sirloin. All of this will, of course, be accompanied by delicious wines provided by Icons/Vins Fins. It will all end with a delicious crème brûlée.
To ensure your attendance, you must book in advance, and the activity is non-refundable.
The Wines of The Night by Icon Vins Fins
Campo Eliseo Cuvée Alegre 2021, Rueda, Spain (Available in SAQ)
Poderi Gianni Gagliardo Grignolino d'Asti 2020, Piedmont, Italy. Private import
Cusumano Alta Mora Etna Rosso 2020, Sicily, Italy. Private import
Vicente Faria Vinhos Quinta Vale Santa Luzia Reserva Tinto 2019, Douro, Portuga. Private import
Speri Valpolicella Ripasso Superiore 2020, Veneto, Italy. Private import
Where it is happening
Vieux-Port Steakhouse.
39 rue Saint-Paul Est,  Montréal, QC
H2Y 1G2
Buy your tickets here (The Masterclass is now sold out) Subscribe to our newsletter to get exclusive information about our next events
Share the post "Masterclass on Art of Steak at Vieux-Port Steakhouse"