National Daiquiri Day – Celebrate with original Daiquiri cocktails
15:47
updated on Aug Sat 2020 17:42
The Daiquiri, it is time to give back it's roots to this cocktail, and it's what the National Daiquiri Day celebrates.
What is the Daiquiri
No drink has suffered more abuse than the Daiquiri. It's about 130 years since the first one, it is the godfather, but a latin version of rum cocktails, Bastien Rémillieux of El Pequeño told us. It has gone has gone from the pride of Havana to an unloved more than ice cocktail on some event tent. Even as this day, even if the craft cocktail movement reaches more and more lovers, many cocktail fans still often associate the Daiquiri with adult slushies, the stuff of spring break blackouts and hangovers.
But in its purest form, the Daiquiri is really a simple and delicious cocktail, a delicate blend of the rum's sweetness with the raw freshness of the mix of sugar and lime juice. This balanced bring you somewhere else really. Every ingredient should be of the highest quality, go organic even for the limes if you can, even with that meticulous choice, the Daiquiri can not be as you want it to. It's important to choose a not too-sweet rum cause it will be as you,re sipping candy juice, do the contrary, and it will be as if you're bitting into a lemon.
Do your own Daiquiri for the National Daiquiri Day!
You rather want to stay at the house and do a Daiquiri evening with friends, here is the original recipe.
Daiquiri Bacardì original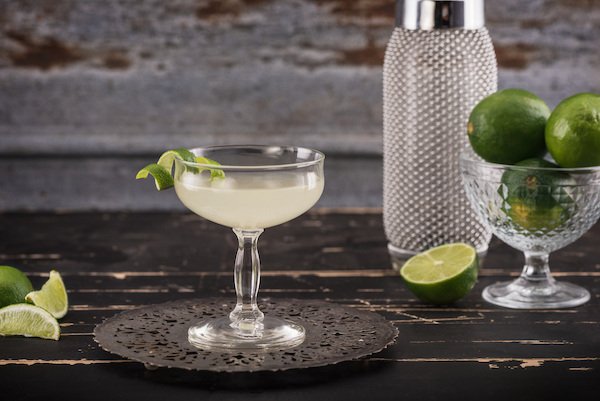 Ingredients
2 parts of Bacardi Superior Rum
1 part fresh lime
 0.75 part cocktail syrup (sugar-semolina, icing sugar, hot water)
Preparation
Shake and filter in a cup
We hope that you learn something here and that you next celebration of the Daiquiri will change during the future years.
The Jamaican daiquiri
This second version, again for the National Daiquiri Day, is in the same style, but with a Jamaican rum, the Appleton Estate Signature.
Ingredients
2 oz. of Appleton Estate Signature
0.75 oz of Fresh lime juice
0.50 oz simple syrup (or Demerara)
Garnish: lime twist
Preparation
Add all ingredients into a shaker with ice, and shake until well-chilled. Strain into a chilled coupe. Garnish with a lime twist.
As for the El Pequeño, it's the smallest bar in the Old Montreal, and you can find it here, and it will be a great place to celebrate the National daiquiri day or when you want to try a great rum.