Quebec Snow Crab and Sea Urchin Salad by Grégory Faye
17:03
updated on Apr Sat 2022 14:12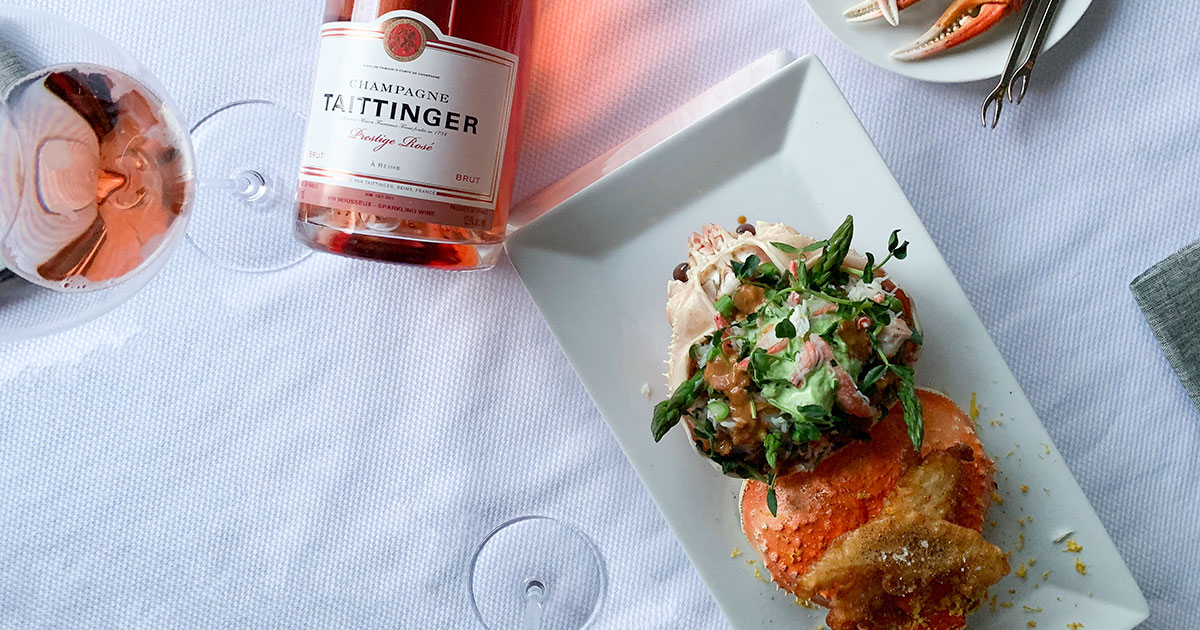 As spring arrives, we all become a little crazy with the arrival of fresh ingredients in Quebec. One of the first is undoubtedly the Snow Crab, the star of our Quebec Crab and Sea Urchin salad.
Our friends at La Mer Fish Market helped us make this wonderful recipe with their delicious crab and sea urchins. The latter will also be on their website in the coming weeks.
I first wanted to put the crab in the spotlight, because that's when it's better, fresh. Even if our asparagus is not from Quebec, it is still difficult to find at this time, we add it, with parsley, to put freshness, which will go very well with our crab, especially as this The greenery we missed a lot this winter.
The pairing with Rosé champagne is an ideal, because what better than to celebrate Spring with Rosé. The Taittinger Prestige Rosé is a beautiful rosé, lively, fruity, fresh and frisky. It will go perfectly with our recipe to bring out the slightly sweeter notes of our greenish cream. Let's not forget the iodine side of the sea urchin that goes very well with our Cabernet Sauvignon vinegar and champagne.
Quebec Snow Crab and Sea Urchin Salad by Grégory Faye
For 4 people
Asparagus mousse
Ingredients:
260 g finely cut asparagus tails
400 g country cream
8 cl  olive oil8 asparagus
Parsley puree
2 gelatin sheets
Preparation
Heat asparagus and parsley puree in a small saucepan with oil olive and fry (salt pepper)
Dip 2 sheets of gelatine in a bowl of water
Pour 400 g of 35% country cream into a bowl and cook for 4 minutes
Put in Vitamix to a green and smooth foam without lumps
Take two finely chopped asparagus and ice with gelatin
Put the gelatin in the small saucepan and boil with 150gr of the asparagus cream mixture
Put all the siphon cream and put it in the freezer
Sea urchin sauce
Ingredients:
160 gr of sea urchins
40 gr of Cabernet Sauvignon Vinegar
40 gr of olive oil (take the medio of Favuzzi)
12 gr Dunes Pepper
Lemon juice
Preparation:
Blend everything at with a hand blender with a dash of lemon juice to a smooth consistency
Crab salad
Ingredients:
60 gr of zest lemon bleached 3 times
260 gr fresh crabmeat
Lemon JuiceTaste bran
32 gr crustacean jelly (Ask your fishmonger)
Asparagus heads
Preparation:
For crustacean jelly:
Froze it and defrosted in a cloth towel
Roll with 1 sheet of gelatin
Mix all together
Tempura Crab
Ingredients:
8 pieces of top of crab legs
Tempura sauce mix
Preparation:
Dip the crab in the tempura mixture
Heat in a pan with hot canola oil.
Sauté 1 to 2 minutes.
Add salt and pepper
Final montage
Take crab shells and pour the salad by dividing by 4
Decorate with asparagus tails and pea shoots
Cover with sea urchin sauce
On a second shell, place the tempura
Serve crab pieces with the Champagne Taittinger Prestige Rose
Thanks to:
Philippe Dandurand Wines ( Taittinger Champagne and glasses)
Alambika (Lehmann Jamesse Prestige Grand Champagne 45)
Accessories:
Flowers: Prune Les Fleurs
Tablecloths and Utensils: Simons
Table Napkin: West Elm
Share the post "Quebec Snow Crab and Sea Urchin Salad by Grégory Faye"