Tbsp. Restaurant: One Spoon at a Time
15:44
updated on Jan Mon 2023 12:42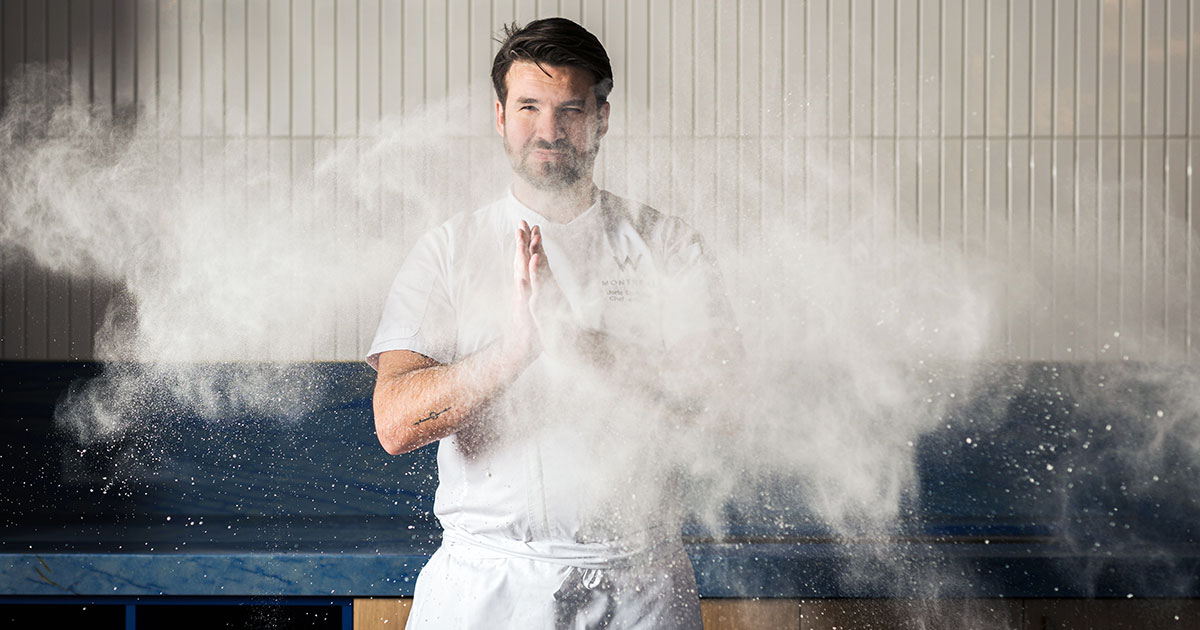 It was on a freezing December day that I headed to meet Joris Larigaldie, new executive chef of W Montreal, to learn more about his new adventure, the Tbsp. restaurant, the new hotel masterpiece which sits next to Square-Victoria, in the heart of Montreal's business district.
Tbsp. restaurant : Inspired by Italy and Quebec
Let's start with the inspiration for the restaurant. It's not an Italian restaurant, but modern Italian cuisine. The latter, but also Quebec products featured. Everything is homemade, and it's generous, just like Italian cuisine.
The name Tbsp. (for tablespoon) recalls the generosity of the spoon, but also its finesse. "The first meal we take is with the spoon when we are children, and even in all cultures of the world, the spoon is present. So here, we are exploring this side of the spoon whether it be gastronomy, home cooking, the generous, emotional, sharing, authenticity. These are things that resonate in the restaurant and that are important to us," Chef Joris told me.
"We sometimes forget that our
ability to taste what is good and what is not good is
above all an instinct for survival and it is our body that
realizes what is good for us and what does is not.
And when we taste something exceptional, in terms of flavours,
I mean, we feel that something is going on in our body and that it says wow!"
– Chef Joris Larigaldie
Tbsp. restaurant: Made for business lunch
I was there for lunch. And Chef Joris explained to me that the avowed goal of the midday meal is to have a table d'hôte where people can eat in 50 minutes, it is really important for the people who work in the offices around and who are often hurry. "We serve them entrée, main course, coffee and sweets, while having quality dishes, fresh homemade pasta. For people who want to spend a little more time, we have a menu that offers 5 entrées, 6 main courses, fresh pasta too. Running a restaurant for quick corporate lunches certainly takes a lot of preparation and organization, the day I was there, they served 60 seats in less than an hour.
Chef Larigaldie told me about sharing earlier, and I could observe people ordering 2–3 starters, and separating everything, the concept is there and it's a great way to taste the different dishes that are on the menu. "If there is one word that we try to avoid, it is the word gastronomy; often there is something derogatory about attaching to this word; the white gloves, Joël Robuchon, who is very good, but that is not what we want here, but we want the same quality. It's all in the spirit of W hotels to go in that direction too, a different, unique luxury.
Eco-responsibility at the heart of Chef Larigaldie's challenges
The eco-responsible side is very present in the establishment, as much in the working logic as in the different products used. Preserves and the seasonality of products are very important for the chef and his team. On the burrata starter, there was black garlic produced directly in the kitchens of the W. "We have a lot of dehydrated products, vinegar, candied, put in oil to respect our local side. For example, in the burrata dish, there was root parsley whose season ended two months ago, well, we kept it in brine for serving. Our yuzu salt is made with yuzu which comes from O'Citrus in Laval, which puts our eco-responsible side back, and for the next 6 months, 5 years, 10 years, we want to be the leader in this quality cuisine.
If we talk about the decor. Forget everything you have known about the various restaurants on the W. Everything has changed and you could say that the restaurant is at 90 degrees. Even the bar has changed places. While Mr. Larigaldie arrived very early in the project, he worked with the sid lee architecture team and the W to make it a project that went in a common direction. "Everything in this restaurant has been thought through to the wall of sprouts, which was my idea, where I can grow salad or mini peppers in winter. It stays in the hyperlocal side of the place."
Montreal meets the United Kingdom in Montreal en Lumière at Tbsp. restaurant
For this edition which will take place on February 28 and 29 in terms of W Montreal, it will be an invitation to discover British gastronomy revisited with Paul Burgalières, head chef at L'Enclume restaurant, by Simon Rogan, in the United Kingdom. Plain, twice Michelin starred. L'Enclume, which from the opening put itself the constraint to work with the products of its farm. Quite a challenge, especially for a restaurant located in the English countryside, in the village of Cartmel in Cumbria.
"It's a unique place, with a lake nearby. They use unique preservation techniques that interest me greatly. I worked with Paul at the Geranium, located in Copenhagen, Denmark, currently No. 5 in The World's 50 Best Restaurants, and I suggested that he come to tbsp. so that we can make a menu for two. It will be a menu where we will speak Quebec products, through our respective conservation techniques."
It is truly a revival for the W Montreal restaurant. A place to experience revisited Italy.
901 rue du Square-Victoria
Montréal, QC
Canada
H2Z 1R1
Reserve or your next visit at Tbsp. restaurant
Originally published in the Gentologie Magazine Issue 3