The Café Artois Saint-Laurent: A Bursting Feast
16:09
updated on Aug Sat 2021 11:37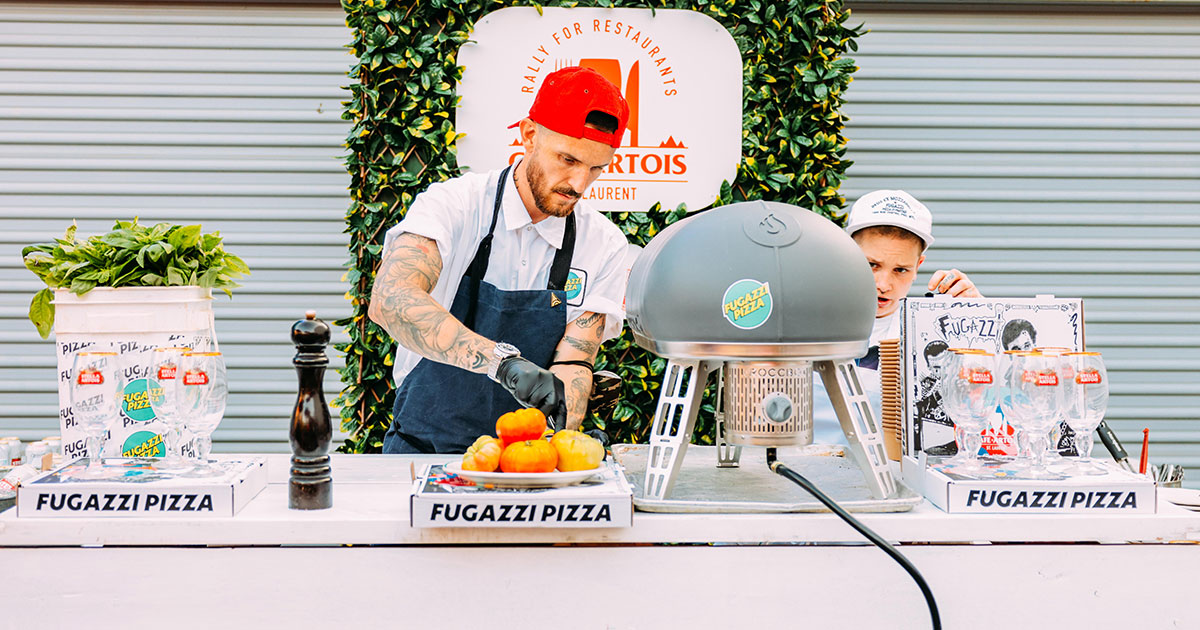 As summer draws to a close, the Café Artois Saint-Laurent, an immersive gastronomic experience in the heart of the Mural Festival, offers to Montrealers and travellers, the opportunity to meet, toast and enjoy an evening of art., food, music and culture as we once again celebrate the possibility of dining together.
Art and Emerging Restaurants at the Heart of the Experience
This magnificent creative activation designed by the very talented local artist, Zoë Gelfantt is located along Saint-Laurent Boulevard and is open by reservation until August 22, serving as a rotating kitchen for two local restaurateurs for the duration of the festival. Ms. Gelfant has put all her heart into this colourful creation of artistic murals that will go from the street to the picnic tables at Café Artois Saint-Laurent, to arouse the joy and appetite of festival goers.
The Café Artois Saint-Laurent will serve as the residence for two emerging restaurants, namely the Fugazzi and the Tropikal, and will give you the opportunity to sample some of the best food Montreal has to offer, while enjoying the festival throughout the day.
You can also reserve a seat on the terrace of Café Artois Saint-Laurent for an intimate gastronomic experience with Fugazzi's executive chef, Jérémie Falissard and with chef Jae Anthony of the Tropikal. They will cook for customers and entertain them with personal stories of their heritage and culinary journeys. You will enjoy a meal package, while being immersed in the inspiring art that surrounds them and the various live musical acts, all in a safe environment.
The dates of the gastronomic experiences at Café Artois Saint-Laurent
Les Expériences Gastronomiques Stella Artois X MURAL seront proposées aux dates suivantes : 
August 21 – Chef Jérémie Falissard, Fugazzi

 

August 22 – Chef Jae Anthony, Tropikal

 
 Brought tickets online for the experience 
Thanks to Stella Artois who was present at the launch party of the Gentologie Magazine Issue 2 of Gentologie
Support Gentologie by purchasing Le Club by Gentologie membership, and you will receive our first print issue in October!