The perfect Beef Tartare for your Week-End
16:14
updated on Jan Mon 2023 17:45
As you know, I'm really a foodie type of guy or as my friend Tommy likes to say in french, Cuisinomane (the name of his blog) (link in french). It's while walking on Instagram that I saw that my friend, the pretty Manon Lapierre, La Petite Bette, (Lionel, you're lucky) made a beef tartare recipe for her family (link in french) and it made me want to try to do it too.
In Search of the Ingredients for Beef Tartare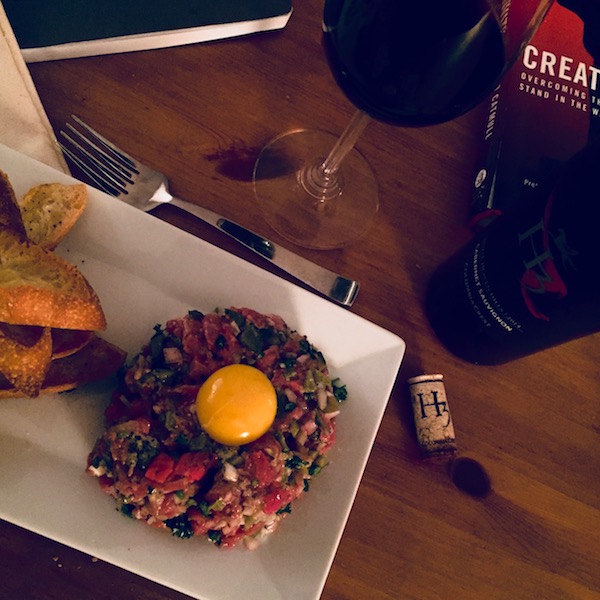 So, it's at the Jean-Talon market that I went to get the essentials. A nice piece of Poivre Noir butcher beef medallion, probably the best meat market, advised masterfully because after tasting, it was perfect at least in my opinion. Also, another advantage of Poivre Noir is that they know where their meats come from, try to find out which one is on the shelves of your grocery stores now.
Then, to Olive & Olives to get red wine vinegar, I took the Cabernet Sauvignon from Torres.
I needed a baguette to make little croutons, I'm lucky because during the Première Moisson Christmas event, I received a bag from the company Dans Le Sac with a label entitling to 3 sticks. So, a quick trip to the Première Moisson store at Jean-Talon Market and it was done.
I bought my vegetables at my grocer's since having no money on me, I just could not buy the rest of the ingredients at the Market.
So, chives, parsley, eggs, old-fashioned mustard and voila.
Ingredients for Beef Tartare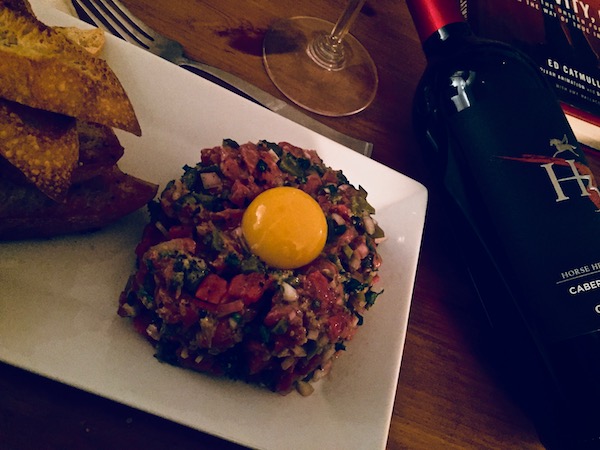 I give you those of Manon (link in french) since honestly but with the ingredients that I added, I went there a little in the eye and I went there that for a person, his recipe is for two people or for 4 entrance.
• 1 pound, about, top of sirloin steak or rump or filet. For my part, I asked my butcher and he suggested a medallion.
• 1 shallot gray (French) minced really very finely
• 1 C. at table (or tbsp) of gherkins in finely chopped vinegar
• 1 C. at table (or tbsp) capers chopped into very small pieces
• 1-2 tsp. at the table (15-20ml) of Dijon mustard, I took the Maille brand
• 1 C. at the table (15ml) of old-fashioned mustard, I took the Maille brand again
• 1 C. (5ml) of Torres Cabernet Sauvignon Vinegar
• 2 tbsp. at the table (30 ml) of olive oil
• A few drops of SmokeShow sauce
• A few drops of Worcestershire sauce
• 1 C. at table (approximately) chopped fresh parsley
• 2 tbsp. chives (chopped chives)
• Pepper mill and salt flower, to taste
• 1 egg yolk
For the accompanying croutons of Beef Tartare
In an oven at 350, bake slices of bread about 1 cm cut diagonally and brushed with olive oil. About 8 to 10 minutes. You can finish them off, but watch them carefully.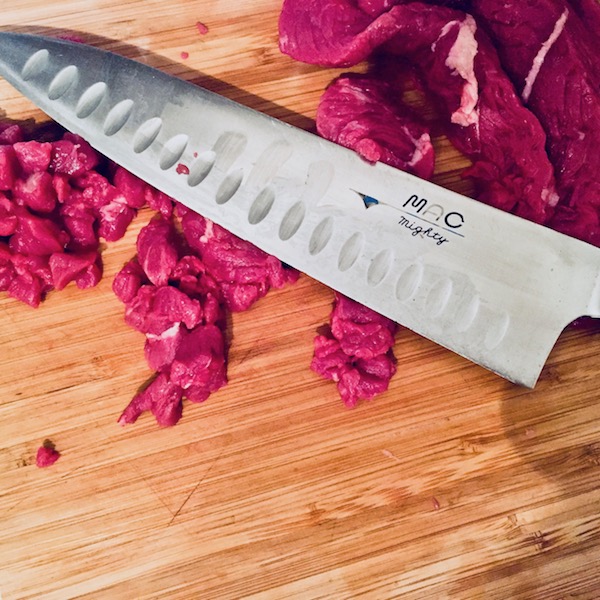 For my part, I put all my ingredients (except the egg) in a bowl and then add my meat. That I cut in medium dice. Have a sharp knife and a clean board. Do not hesitate to re-sharpen your knife during the exercise if you feel resistance or that it is less well. Wash the front knife on the other hand.
Mix everything, but gently. And it's ready. If you serve immediately, add the fleur de sel to the mixture, otherwise wait until serving.
For the presentation, you can either take a round shape cookie cutter, or do like me and take a cup and adjust it all. For the egg, make a hole in the center and add the egg yolk.
H3: A wine to go perfectly with your Beef Tartare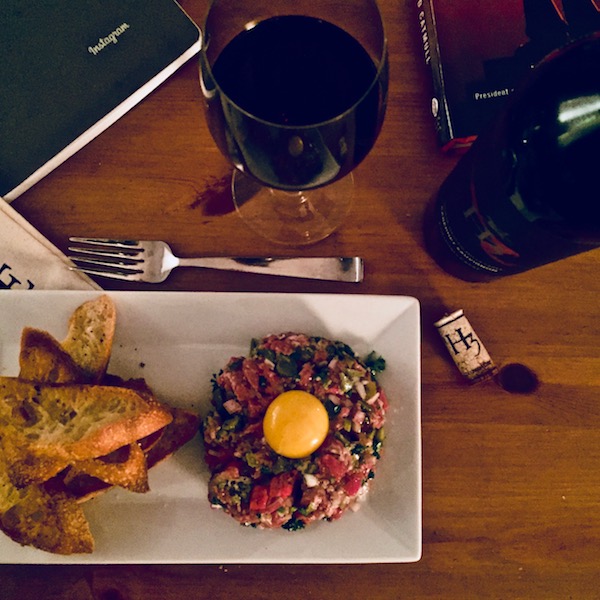 For the wine I went with the H3, a Cabernet Sauvignon from Columbia Crest (In SAQ or in LCBO), the same grape variety as the wine vinegar in the recipe. This cabernet cabernet quite sweet and very nice with this meat. It will not spoil your beef tartare but will go very well with it.
Bon appétit.