Two trips with Les Îles : The First, Sylvain Lague
16:07
updated on Jun Mon 2021 11:29
While Spring is slowly starting to show its nose, Quebec is seeing its local distillers pull out some great products. One of these new products is Les Îles. I spoke with Sylvain Lague, president and founder of Les Îles and Maximiliano Vallée Valletta, new General Manager and brand ambassador for the Les Îles portfolio which includes White Keys vodka, Sainte-Marie's rum and Portage gin.
We know each other, Sylvain; here we are with a wonderful product, Les Îles, could you tell us a little about it? We are not far from the Aperol anyway?
With this product, we are in the family of aperitifs, the family of bitters, Aperol, it is a brand well known a bit like Frigidaire in the world of refrigerators, it's like when creating White Keys, people did not tell me that I had done a Belvedere, but with this product, people say that I did a Aperol, but that's ok too, because they are the ones who created the category, create a cocktail, the 'Aperol Spritz, the Campari group has done an incredible job, I'm at the limit, I'm a little impostor coming back and taking a share in it, but hey we wanted to create our signature products, we have changed it as we liked it, we are close to Aperol in his style, but with a signature that is strong, which is ours.
If we speak at the level of taste, what is different in relation to Aperol?
The two are similar, and often the bars and restaurants will make Spritz with one product. Because we know that 95% of sales are in Spritz. The difference with Aperol is that we are less sweet (250 g per liter vs 200 g per liter), we have different flavors, our bitterness comes from gentian liquor, bitter orange, acacias, rhubarb, sea buckthorn, juniper berry, ginger, very aromatic, more than Aperol, and a little less sweet, without being negative, we feel more bitterness in the Islands. I am between Contratto and Aperol. I think it's a good comparison. I have always been a fan of Contratto, and I think we have a bit more bitterness than the latter we are closer to the Aperol, but we are closer to the aromatic bouquet Contratto. We can see it a bit like that, we made a price that is quite competitive at $23.85 in the SAQ, and this project, among the 4 is by far the one who has raised the most instantly with a unanimous enthusiasm. The number of places in Quebec is impressive and even though I have a hard time believing it. The sommelier, the bartender, and everyone all love the product. It's rare that I hear anything negative about the product.
Is it possible that people do not know much about the aperitifs? Yes they drink it in Spritz, but do they really know the product?
Yes it's true you are right. There is a lot to do, it's a growing product. For example, Aperol has to sell about about 50,000 crates of his product, it's huge just for Quebec. And it is the Campari group which is behind and which is a big world leader and Aperol represents 26% of its sales. It's impressive and I am a small player, if I manage to have 10% of its sales there in Quebec, I will be happy. There will be other competitors. There are 50 Quebec gins and 2 Quebec aperitifs. Some places in Quebec have just returned Aperol and start to make Spritz while it's been 10 years in Italy.
Personal experience, last year, I was in Gaspésie and I asked for a Spritz, they had no Aperol and they did not know that. It's a bit funny to see the trends that are different in different regions of Quebec.
That brings me to tell you about the name of the product because you talk about Gaspésie, we Les Îles, my grandparents come from Gaspésie, I go to the Magdalen Islands every year, I'm a fan of everything is water sports, either kites or others. The islands remind us what? For us it's the Magdalen Islands, it's the holidays, it's the good weather, it's sunbathing. For someone else it will be the X Islands, we want to make the world travel, it is not a great Burgundy wine, aperitifs is made to live a pleasure, live a moment, it's good or it's not good, it's not meant to be of the utmost complexity, I could talk to you about Les Îles for 50 years, but at one point we keep it simple. In reality, it is a festive product that is made to have fun.
I could talk to you about Les Îles for 50 years, but at one point we keep it simple.
In reality, it is a festive product that is made to have fun.
The idea of ​​this product, where did you come from?
In fact, when mixing with our other products, we used a lot Aperol or Contratto, like Negroni or other and I think we have a good demand. 5–8years ago, a Quebec aperitif, that would not have followed. If there are 100 customers who buy, we do not go into it. It was necessary that the Aperol pierce the market and now the local, the artisanal market and we made our place quickly.
Nicolas Duvernois, from Duvernois, launched his PUR Vodka 10 years ago, and it was difficult at the beginning and it is still a huge market. I cannot imagine if it had been Aperol. It probably would have been more difficult. And when you open the door, everyone wins.
Yes exactly. Sometimes in Quebec, we tend to be mean to each other in the competition, but that is not the case. I do not want to take part with this product there to another product from here, but I want us and Amermelade continues to grow by taking shares of Aperol. PUR Vodka still took a nice share of the market by far the first sale in Quebec, I have placed well with White Keys over time, but the vodka market is difficult. With the appetizer, people are a little less sensitive to brands as there are fewer local products. There is more than one curious-adventurous side in there.
Is this category of aperitif, it sells more is the summer or the opposite?
It's really the year. It is certain that we have peaks in the summer with the terrace and during the holidays, but it's really all the time. We drink appetizers year-round now. When the sun comes out, we see a difference in spritz and rosé sales. In October sales of rosés drop.
We were talking about Nicolas (Duvernois) just now who has a large market share with his different products in a can, could you have released a Spritz Les Îles in a can?
Yes. Listen. We could have done that … (laughs) We move with Les Îles and we will look where we go…
I was saying that Aperol had bottles in Italy, and that even Dillon's in Ontario has a bottled Negroni as well.
Ready-to-drink is a carrier, but I would not have done both in the same year for sure. We never know.
To finish our interview a little, you advise people to drink it with what Spritz Les Îles?
The classic Spritz obviously
TonicLes Îles: With Tonic simply with an orange, or even mineral water.
Negroni Les Îles: Replacing Vermouth with Les Îles for 1 ounce of the latter, 1 ounce of Portage Dry Gin and 1 ounce of Campari.
Les Îles and Beer: either 1 or 2 ounces of Les Îles in a beer.
Thank you Sylvain and we continue tomorrow with your general manager, Maximiliano.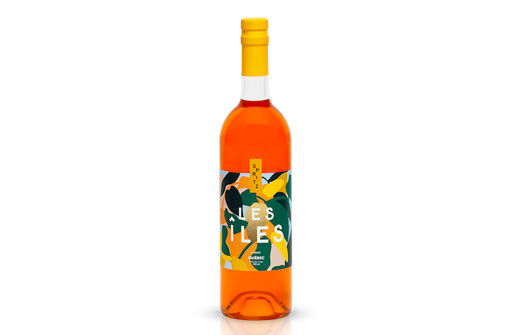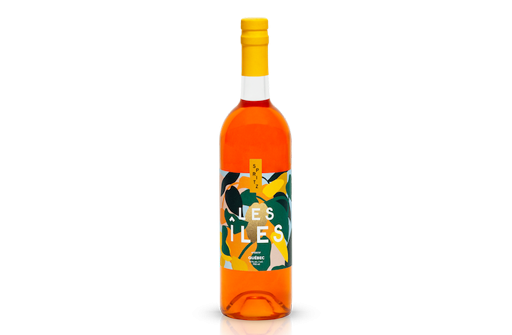 You can buy Les Îles in SAQ!