Orlebar Brown: The quintessence of swim shorts
11:00
updated on Jun Mon 2021 11:32
There comes a time in the life of a man that we want that what we wear at the beach is not the same as when we were teenagers or young adults. I recently discovered the English brand Orlebar Brown, who has just set up a shop in the brand new Holt Renfrew Ogilvy, much to the delight of Montrealers. 
Directly from London
Based in London, Orlebar Brown was founded by Adam Brown and launched in March 2007 as a tailored approach to men's swim shorts. The OB Classic swim shorts remain the original and best 'short you can swim in', offering something you can wear on the beach or by the pool, yet smart enough to wear to lunch or for a drink.
Based on the pattern of a pair of traditional men's suit trousers, Orlebar Brown's swim shorts were developed to feature a four-part shaped waistband, zip fly closure and side fasteners to adjust for the perfect fit. The core styles, known as Springer, Setter, Bulldog (you can see the Bulldog X Swim just down here) and Dane (after Brown's love of dogs), still form the focus of the collection with new iterations each season. All OB swim shorts are guaranteed for five years for quality you can truly believe in.
To celebrate their 5th Anniversary, Orlebar Brown pioneered the use of photographic prints on their hero swim shorts and partnered with the world-famous Hulton Getty Image Archive. The vintage photographs of Slim Aarons, illustrating the luxury and grandeur of the Côte d'Azur in the 1950s, perfectly sum up Orlebar Brown's way of life: sun, travels, happiness and good times. In 2010, they progressed from beach to resort with a full range of holiday clothes that can also be incorporated into everyday wardrobes, including polos, chinos and shirts. In addition, they offer a Design Your Own service which enables you to create your own bespoke pair of photographic swim shorts using the #SnapShorts app in-store or online. This is an opportunity to have a unique shorts.
From a poolside lightbulb moment to reality, Orlebar Brown has grown into a global brand with an ever-increasing number of international stores, an enviable list of stockists and a burgeoning expansion into ready-to-wear. The flagship store in Notting Hill is the epitome of all things Orlebar Brown; from the five metre-high palm tree to the wall of hero shorts, the holiday feeling that is intrinsic to Orlebar Brown's DNA is always visible.
2017 brought Orlebar Brown's 10th Anniversary, marking a new chapter in the evolution of this British success story.For 2019, it is James Bond, the ultimate male style icon that is featured in a capsule collection, in addition to the regular collection.
Collection Spring Summer 2019
Following their CR18 maritime theme, Orlebar Brown's latest collection continues the narrative by venturing into the depths of the sea. Exploring an abundance of life beneath the surface, they've applied the vibrant colours found in tropical fish and coral to their resort wear collection for a bright palette and distorted geometrics that imitate reflections on rippled water.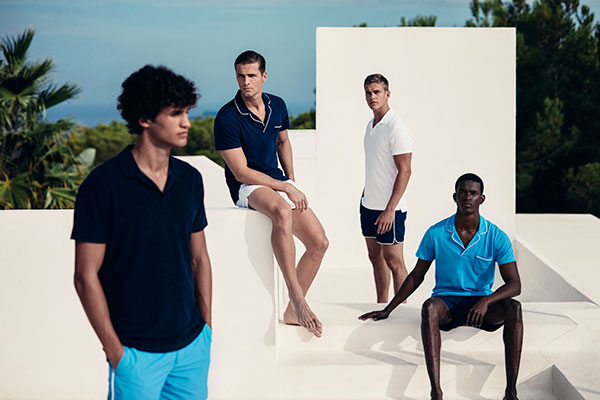 Turning up the saturation with a colour palette of hot coral, blazing yellow, spring green and bahama blue against timeless base neutrals of navy, white and pewter, this season's offering radiates their 'Feel Summer' mantra through feel-good hues.
Their signature eye-catching prints include a collaboration with London-based studio Good Wives & Warriors, comprised of illustrators Becky Bolton and Louise Chappell, who have created two intricate underwater scenes rife with coral and sea life. Reiterating the focus on nature, geometric prints include a collaged tricolour floral while photographics focus on palm trees with a new Slim Aarons exclusive and an infrared Hawaiian beach scene.
Orlebar Brown: Swim shorts… and more
The Summer Sport collection of Orlebar Brown expands with the addition of Coolmax® All Season technology in editions of their bestselling OB-T and Sebastian polo styles. The fabric carries moisture away from the body to keep the wearer cool and dry on hot days while the fiber structures provide warmth on cooler days, helping to optimize performance during both indoor and outdoor sports, ideal for wearing in the hotel gym or to the beach for volleyball.
Button-through shirts have been simplified to two fits; the relaxed-fit linen Ridley and their signature tailored Giles, which is available in cotton, linen, seersucker and denim to cater for all occasions.
New styles focus on sweats but it's the Merino wool Horton buttonless polo that is set to be this season's hero piece. Available in two colourways, intarsia stripes and a contrast panel give it a modern-meets vintage eel that is true to Orlebar Brown's timeless aesthetic.
A brand to discover to stand out on the beach.