My 1st Winemaker Dinner face to face: Vina San Pedro
14:15
updated on Apr Thu 2021 11:27
It's been about a year that I talk about wines more regularly on the blog. In fact I have always been an amateur, I do not consider myself yet as a connoisseur, but I appreciate a lot. I remember that being much younger, my parents gave me permission to put wine in my water. And later, my father made wine, my parents love porto very much, in the outings with my parents, there was a lot of wine everywhere, it was the 80's there, the rules were much less strict. So when Philippe Dandurand wines gave me the opportunity to have a private dinner with the people of Vina San Pedro, I accepted right away. Opportunities are seized when they arrive!
Vina San Pedro: Discovering the brand
In the company of Stéphanie Bourret and Jean-Philippe Arcand of Philippe Dandurand Wines, dinner will take place at the Headquarters. On the side of VSPT (Viña San Pedro Tarapaca), it will be with the oenologist Matias Cruzat, Bianca Jamarne and Paola Spagui, export manager. I must admit that it is a bit embarrassing to be among all these connoisseurs, I who do not know everything and who constantly learns. So the whole thing starts with a presentation of PTSD. San Pedro wines have existed since 1865, they have as philosophy to create the best wines with the best terroir, that is why they occupy such a vast territory.
Here are the origins of the different wines of Vina San Pedro
1865 Limited Edition Syrah -> D.O. Elqui Valley
1865 Single Vineyards Chardonnay -> D.O. Elqui Valley
1865 Single Vineyards Pinot Noir -> D.O. Elqui Valley
1865 Single Vineyards Sauvignon Blanc -> D.O. Leyda Valley
1865 Single Vineyards Cabernet Sauvignon -> D.O. Maipo Valley
1865 Single Vineyards Carmenère -> D.O. Maule Valley
1865 Single VineyardsMalbec  -> D.O. Maule Valley
1865 Single Vineyards Syrah -> D.O. Cachapoal Valley
1865 Limited Edition Blend -> D.O.  Cachapoal Valley
It is really wines from the north to the south of Chile, from La Serena to Talca via Valparaiso and Santiago and Rancagua that are found at San Pedro. All regions of Chile are in these wines.
Up to to the tasting
It should be noted that Vina San Pedro 1865 has three classes of wines:
Single Vineyard
Special Editions
Limited Edition
For the Single Vineyard, this is the main line of product, thus producing wines using grapes from the most beautiful valleys. The Special Edition are unique wines designed for special occasions. As for the Special Edition, as its name says, these are limited editions of wines produced with the best terroirs of Chile. We have tasted several wines, but I will only name those you can have here, in SAQ, LCBO or in private import.
So we start with the whites
Vina San Pedro 1865 Single Vineyard Chardonnay 2015 
What a nice wine, with these notes of citrus and its small acidity, very pleasant. It is not put in an oak barrel, therefore has no taste of wood. A very mineral wine. The latter comes from the Elqui Valley, Elqui is the most northern border of Chilean viticulture. It borders the Atacama desert. The vines grow near the sea, under a powerful maritime influence and a cool coastal climate, which certainly gives the Chardonnay its mineral side precisely. The harvest takes place from February to May, because let's not forget, being in the southern hemisphere, the seasons are reversed in Chile. They are presently in winter, if it can console you side temperature.
Vina San Pedro 1865 Single Vineyard Carménère 2015
Mathias, the oenologist from San Pedro told me the story of the Carmenena, I do not remember everything and to be exact I tapped on Wikipedia to know more, but it's really similar to what " He was telling me. The Carmenere has a bit of an interesting history when we mixed this wine with Merlot in its beginnings, whereas it is rather of Bordeaux origin. In 1991, it was thought to have disappeared as a result of the ravages of the phylloxera, but Claude Valat, a French oenologist from the University of Montpellier, discovers in the Carmen area in the central region of Chile, surrounded by Merlot plants. Vine different from others. The grapes are bigger, the color of the leaves differs. Three years and several DNA analyzes will be necessary to arrive at a surprising conclusion: these grape varieties are plants of Carmenere.
In 2009 genetic tests conducted by the team of JM Boursiquot of the ENSAM and Carole Meredith of the University of California at Davis made it possible to discover that the carménère originated from an old intraspecific interbreeding between the large cabernet N and Cabernet franc N, the big cabernet being a mestizo between iron servadou N and txakoli N. (Source)
In short, if you are a lover of cabernet, you will certainly love this 100% Carmenere. The 2014 was one of the best values of the 2016 Wine Spectator, the 2015 will certainly not be far away with its complex and elegant aromas that make it a spicy wine with notes of blackberries, pears, black cherries, chocolate and even tobacco. On the palate, it is always the intense taste that is found with ripe tannins, but a smooth final. It is the perfect wine for your BBQ while it is an accomplice of your grilled meat. A beautiful wine, a beautiful discovery.
In SAQ
In LCBO
Vina San Pedro 1865 Single Vineyard Cabernet Sauvignon 2014
Ah, the Cab! How not to love. This wine is treated with care, harvested by hand, very smooth on the palate. It was my favourite of all. I even had the chance to have a bottle and some Cabernet chocolate! It was a delight—nice tannins, with a bit of cherry taste, an excellent finish. I could tell you about it for a long time, but hey, it's one of the Wine Spectator top 100 of 2016 (we'll write you a post on these very soon) with 91 points.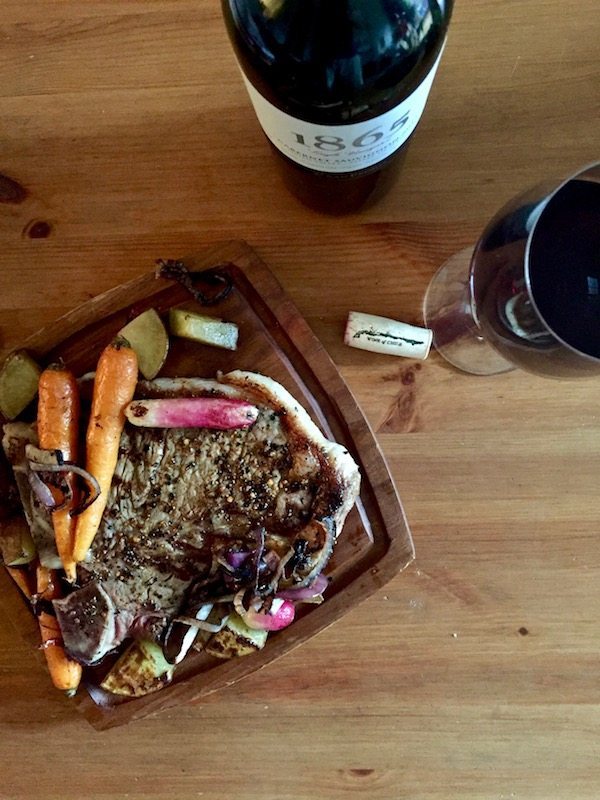 In SAQ (Coming soon)
In LCBO
Vina San Pedro 1865 Syrah Limited Edition 2012
With its clay soils, high in minerals, perfect for white varieties and reds of finesse and elegance such as Pinot Noir and Syrah, San Pedro has contributed to the pioneer of high quality viticulture in the Elqui, Something that did not exist ten years ago.
We have here a complex, fruity wine with subtle aromas of spices. , One finds the plum and and the blueberry, with a presence of charcuterie. In the mouth, it is rather silky and elegant. Very well balanced. And as it is the Elqui Valley, we find mineral notes as we spoke above. A must. And a perfect match with excellent grilled meat.
Other Vina San Pedro wines available in Canada (not tasted)
Vina San Pedro 1865 Sauvignon Blanc
LCBO Description: "This wine delivers mouth-watering, fresh, energetic lime and lawn flavors and mineral notes that extend into the creamy, spicy finish. The very attractive, refreshing and fruity style reveals a certain richness. Drink now and by 2015 ". If you go through the LCBO, buy this wine, which is unfortunately not currently offered in SAQ, but is in LCBO.
In LCBO
Vina San Pedro 1865 Limited Edition Cabernet Sauvignon  2013 
On the LCBO site: "This cabernet sauvignon, from the rocky soils of the Maipo Alto region, is raised 12 months under oak (95% French oak barrels and 5% American oak barrels) before bottling . A deep and intense wine with cherry and blackberry aromas, supported by a robust yet supple structure. "
A big thank you to the people of Philippe Dandurand and San Pedro (visit their website here) for the hospitality and gifts. I hope to visit their facilities soon.