Summer 2023 in gentlemen's style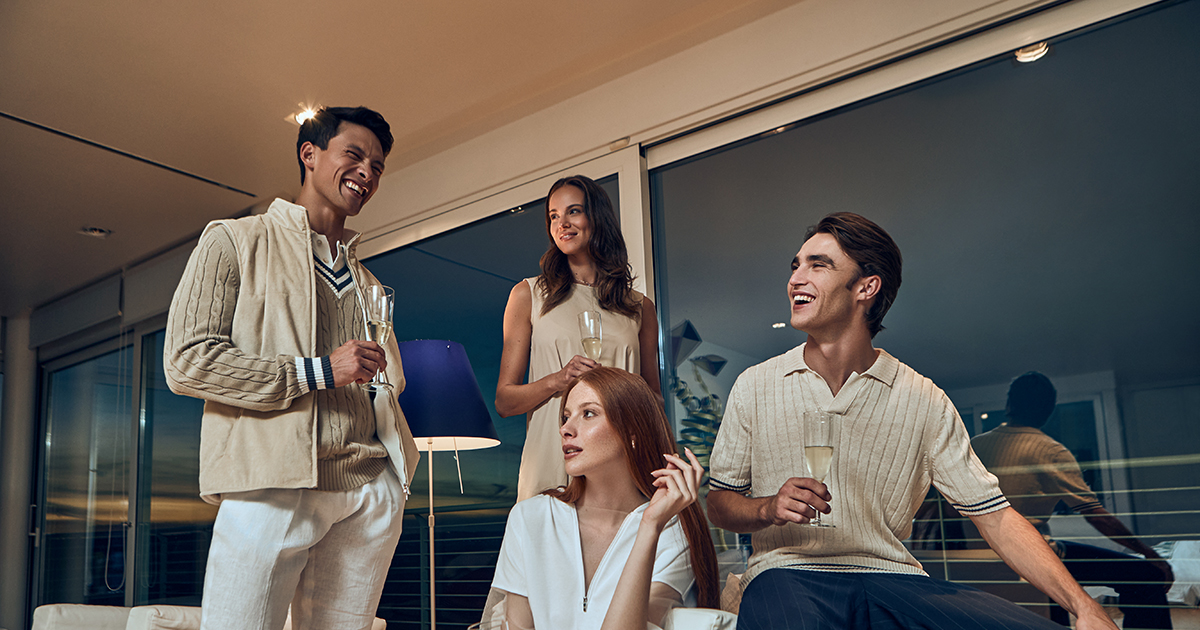 Summer is officially here! As the holidays approach for many, here are a few style suggestions for a summer 2023 in gentlemen's style!
Summer 2023 in gentlemen's style on the beach or by the pool!
Whether you're in the south of France, Italy, Greece, Sandbanks or in Gaspésie, you've got to have a good swim shorts! Surfer style is all very well, but you can break away from this trend, which is not necessarily the most gentlemanly of styles. Vilebrequin
 , Eton et Orlebar Brown (the Bulldog model)
offer models that will turn heads as you walk by!
The James Bond-style terrycloth polo shirt from the 60s and 70s is also all the rage this year. It's available in a range of colours and brands, but the official collection is here
. 
While we told you to take off your hats and caps in this popular article, it's better to protect yourself when you're in the hot sun, and for all occasions. There are a whole range of pretty hats to choose from. On a sailboat or motorboat, go for the cap! And above all, don't forget your sunscreen lotion.
Discover the Summer 2023 Collection at Vilebrequin
The Orlebar Brown Summer Collection is available here
Style for a drink or a night out on the town for a summer 2023 in gentlemen's style
The Sunspel polo shirt is always perfect—it's the same one James Bond wore in Casino Royale, so when it comes to style, you're on top of your game. Sunspel T-shirts (available online and at Clusier) are also very hard-wearing. They're made in either England or Portugal, so when it comes to quality, we're a long way from China! And we love the fact that there's no logo.
A more serious evening? Don't hesitate to opt for a shirt from the Eton collection, which we mentioned in this article. Superbly constructed, they stand the test of time and come in an infinite range of colours and fabrics. You're sure to find one to suit you!
Xacus also has a wonderful selection that is sure to please. You'll find some lovely linen shirts at Vilebrequin
  (same for Eton).
The bottom is a little trickier. It's often this part (your buttocks) that absorbs the various shocks. Whether on chairs or benches, or even at the office before a 5 à 7. Choose a fabric that's not too light and not too heavy. Personally, I like Ralph Lauren, which is made from a very durable cotton. Vilebrequin offers delicate linen trousers for those looking for lightness.
Remember to protect your eyes with pretty sunglasses like Ray-Ban's classic Aviator 3025s, which will make you a budding Maverick. Serengeti also offers models that are just as classic, with a lens colour that is particularly pleasant in the sun and on the road.
Cooler days with a touch of style
There's nothing like a gorgeous warm jumper! These from the Gran Sasso collection are simply magnificent! They come in a variety of incredible colours, and they're also available in short sleeves. Ralph Lauren also offers elegant ensembles that are perfect for many evenings out.
Vilebrequin also offers down jackets and magnificent wool jumpers that will go perfectly with your swim shorts.
A cashmere jumper (like the Bruno model above) will keep you warm and chic at the same time. A wardrobe must-have for your evening dinners here or in San Sebastian, where the Cantabrian Sea cools you down in the evening.
Find denim trousers that fit perfectly (in the photo, Daniel Craig is wearing the Weird Guy model from Montréal-based company Naked & Famous (did you spot the Bollinger's). Forget those with large panels. They're impractical, often drag on the ground and can get caught in the wheels of a bike. In short, they need to be adjusted and have enough room to breathe. We're not in the '70s any more.
When it comes to feet, health comes before style!
Please, gentlemen, avoid Crocs. They're ugly and we all agree they're anything but chic. In short, plastic sandals may look good on the beach, but over time they deform your feet. In fact, some companies have shoes specially designed to go in the water (Like the Larson from Orlebar Brown
), so opt for these and your feet will thank you. But try to find pretty shoes that will enhance your outfit as a whole, and a word of advice: don't tie the laces too tightly. Try to find something classic, as oversized sneakers risk damaging your feet as they change the way you walk and are therefore not good for your posture.
And above all, don't forget the socks. It may seem out of style to want stockings that don't extend beyond your shoes, but you're gentlemen, and your health and that of your feet must come before your looks. There are ways to wear short stockings that won't show much and still look elegant,
Where to find everything?
Many of the Eton, Gran Sasso and Xacus styles are available from our friends at Clusier in Old Montréal, as well as from Harry Rosen. For Orlebar Brown, it's either on their website or at Holt Renfrew. Vilebrequin also has a number of boutiques, including Montréal.