Québec City – What to do, eat, stay and more
17:32
updated on Apr Sun 2023 16:48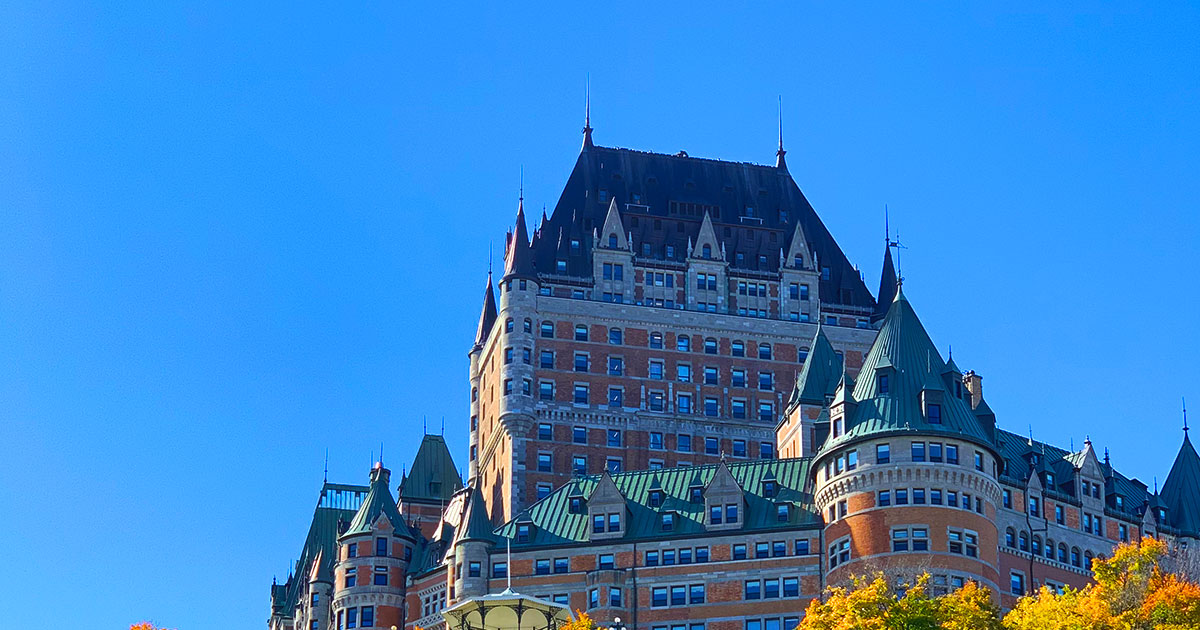 Ah the beautiful Québec City, nicknamed the Old Capital, it is one of the oldest cities in Canada. Its gastronomy makes it one of the queen cities with names such as Le Champlain at Château Frontenac or Daniel Vézina at Laurie Raphaël, it is impossible to ignore the capital of the Québec province.
Québec City is a meeting between the past and the present. It is a clash of generations that leads to the city to regain a dynamism that it had lost. A city that changes with the seasons. Perfect for lovers of sliding sports with high calibre mountains less than 30 minutes from downtown as well as one of the most beautiful spas in Canada with a view of the river.
There is something for everyone in this ever-changing city that always brings its share of surprises.
How to get to to Québec City
By car
Whether it's highway 20 or 40, the road will be pleasant. The route takes approximately 3 hours from Montréal. You can enter the city either by the Pont de Québec or the Pont Pierre Laporte, both are very good. Charging infrastructure is present all along the way for those who own electric cars.
Train
Whether you are arriving from the Montréal airport, Ontario, the Maritimes, eastern Québec or the United States by train, Via Rail offers a multitude of departures every day. The duration of the journey by train is approximately 3 hours, 3 hours and a half. You can get off your train at Sainte-Foy Station or Gare du Palais in Old Quebec.
Visit Via Rail website to know more
Plane
Québec Jean Lesage International Airport is increasingly becoming an aviation hub for Eastern Québec. A multitude of flights from the United States, Europe, Canada to name only these move daily in the direction of Québec City.
Visit the website of Québec City Jean Lesage International Airport
Bus
Several bus companies serve Québec City (Intercar and Orléans Express). If you are arriving from the United States, note that you will need to transfer in Montreal to the Orleans Express buses or you can take the train as well.
To get around Québec City, the Réseau de Transport de la Capitale is your ally with its many buses and, in a few years, the tramway.
Bike
To get around the city by bike, it is now possible to rent electric bikes "àVélo." This service is available to everyone and the helmet is mandatory. The 2022 season will run from May 1 to October 31.
More information on E-Bike sharing system "àVélo"
Where to Eat in Québec City
Le Champlain of  Fairmont Le Château Frontenac
Excellence in luxury catering in Québec. An unmissable setting and table in Quebec. Outstanding service. Service is on top, as well as every products you will find on your table.
1, rue des Carrières
Québec City, QC
Canada
G1R 4P5
Le Laurie Raphaël
Created by the great Daniel Vézina, and now directed by his son Raphaël, the Laurie Raphaël has undergone changes in recent years in order to put the customer back at the centre of the experience. Open less often, except for groups, and a menu under 5 or 3 themes, you want to explore their universe. Please note that the schedules change according to the seasons.
117 rue Dalhousie
Québec City, QC
Canada
G1K 9C8
Battuto
Winner of EnRoute Magazine's "Best New Canadian Restaurants" award in 2017, we find Italy, a little reinvented. Guillaume St-Pierre and his team welcome 40 people in their small restaurant. No more no less. But that's the price to get to perfection.
527 Boulevard Langelier,
Québec City, QC
Canada
Le Clan
Stéphane Modat's new play area, formerly of the Fairmont Le Château Frontenac. Here, it's local. It is a destination that brings together the chef's two passions: Hunting and Fishing. An experience that has been talked about since its opening.
44 rue des Jardins
Québec City, QC
G1R 4L7
Canada
ARVI
Also winner of "The best new Canadian restaurants" from Magazine EnRoute in 2019, this small restaurant with about thirty seats will amaze. Its formula is totally different due to a pre-established menu, so no à la carte menu here, except for a few gourmet additions. They present our way of doing things like a theatre play.
519, 3e Avenue
Québec City, QC
G1L 2W4
Les Botanistes
We are quite far from the downtown here, but the place is worth making the effort. A magnificent decor inspired by nature, central element of the menu of this restaurant. A map featuring plants, but not only.
2010 Av. Jules-Verne
Québec City, QC
Canada
G2G 2R2
Where to Drink
The 1608 of Fairmont Le Château Frontenac
Probably the most beautiful bar in Québec City, if not of the Québec Province. It helps that it's located in the Chateau Frontenac. Here, a beautiful view, delicious cocktails with a plus on Quebec products and a selection of very luxurious products, not to mention the cheese cellar that it shares with Champlain and Sam, a more bistro restaurant located a few steps from the bar.
1, rue des Carrières
Québec City, QC
Canada
G1R 4P5
Jjacques
Hidden and pleasant. A friendly place where cocktails and food go hand in hand. Cozy atmosphere and beautiful encounters await you. Expect to have a lot of fun. Don't forget to take the oysters.
341 Rue Notre-Dame-Des-Anges,
Québec City, QC
Canada
G1K 3E9
Honō Izakaya
You probably guessed it, but here, Japanese ingredients are in the spotlight. The cocktails are the reason to head to this little Asian paradise in Quebec City. You will not regret your detour.
670, rue Saint-Joseph Est
Québec City, QC
G1K 3B9
Chez Tao!
Perhaps a little less chic as an atmosphere, but the cocktails are a delight. Trust the mixologists who will show you all the colours. You will definitely ask for more.
104 rue Saint-Vallier Ouest,
Québec City, QC
Canada
G1K 1K1
Where to Stay
Fairmont Le Château Frontenac
The most photographed hotel in the world. Recently renovated, its rooms are magnificent. You can't go wrong with the Chateau. Learn more here.
1, rue des Carrières
Québec City, QC
Canada
G1R 4P5
Le Germain Hotel Québec
Built at the beginning of the 20th century in Old Quebec and formerly called the Germain-Dominion, Le Germain Hotel Québec is among the first boutique hotels in Quebec. You will quickly be charmed by this institution. A haven of peace in the lower town of Quebec.
126, rue Saint-Pierre
Québec City, QC
Canada
G1K 4A8
Auberge Saint-Antoine
Located a stone's throw from the Quartier Petit Champlain, in the heart of the Old Port and facing the majestic Saint-Lawrence River, the latter is located in the heart of Old Québec. A member of the prestigious Relais & Châteaux association since 2005, this hotel will not leave you indifferent.
8 Rue Saint Antoine
Quebec City, QC
Canada
G1K 4C9
Le Bonne Entente – Hôtel Contemporain
Located a few minutes from Old Quebec, in Sainte-Foy borough, Hotel Le Bonne Entente will offer you a remarkable stay, whether on a business trip or for pleasure. Le Bonne Entente is one of the most luxurious hotels in Quebec and benefits from the services of an incredibly dedicated and experienced staff.
3400 Chemin Sainte-Foy,
Québec City, QC
Canada
What to Do in Québec City
Strøm Spa Nordique Vieux-Québec
A desire to relax takes you? It is the perfect place to relax. The view is incredible, the various facilities are magnificent and everything is done to ensure that your stay in this little paradise is simply a magical way to rediscover the river.
515 Boulevard Champlain
Québec City, QC,
Canada
G1K 0E4
Musée national des beaux-art du Québec
The Grand Museum of the National Capital. It promotes and preserves Quebec art from all periods, from ancient to contemporary art, and ensures the presence of international art through acquisitions, exhibitions and other animation activities. With more than 40,000 works produced since the 17th century, the Museum is the living memory of Quebec art and artists.
179 Grande Allée Ouest
Québec City, QC
Canada
G1R 2H1
Musée de la Civilisation
The latter presents temporary thematic exhibitions and permanent ones, most of which have a link with the humanities and social sciences. It has a large collection of objects of ethnographic and historical interest. It offers guided tours, interactive exhibits, a restaurant, a relaxation lounge and shows. In twenty years, it has received more than thirteen million visitors.
85, rue Dalhousie
Québec City, QC
Canada
G1K 8R2
Where to Shop
Simons Place Ste-Foy
You may be wondering why I recommend the Simons in Place Ste-Foy and not the one in Old Quebec. The reason is simple. The designer's section of the Ste-Foy store is probably the most interesting of all the Quebec stores in the chain (having not visited those in other provinces, I couldn't tell you). You will find international brands such as Hugo Boss, Marni, Alexander McQueen and many others.
2450, boulevard Laurier
Québec City, QC
Canada
G1V 2L1
Denault
Also in Place Ste-Foy, this men's boutique offers brands such as Eton, Sand, Coppley 1883 and more. One stop for your classic clothing needs.
2450, boulevard Laurier
Québec City, QC
Canada
G1V 2L1