Switzerland: Between City and Nature with Jean-Michel Dufaux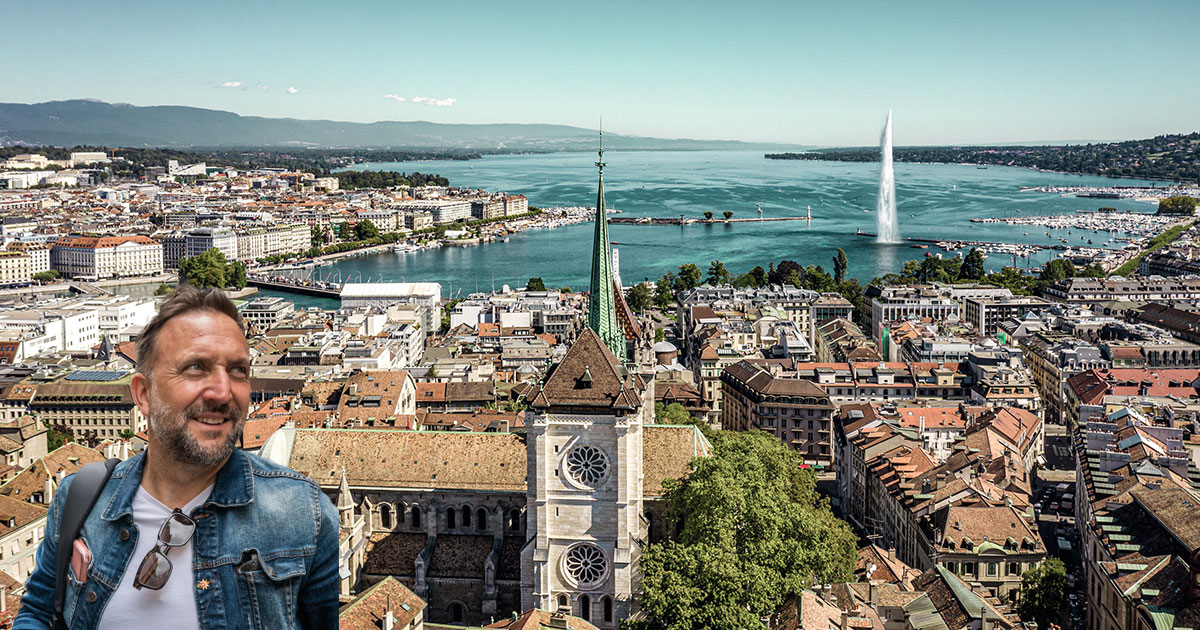 The borders are reopening and many of you are probably looking for an adventure. Why not Switzerland? We asked Jean-Michel Dufaux, collaborator of the most recent national campaign for Switzerland Tourism and author of the book "Mon année à l'étranger," Let's find out more about the must-see places for a first journey to the country of the Helvetians.
Basel
It is the capital of culture in Switzerland. I love the style of the city, it is trendy, wall art is everywhere, not to mention that it is the birthplace of Art Basel, the international art fair. I think it's a very interesting city to kick off your journey. The city can be visited by foot only.
Where to stay:
Hotel Märthof
Marktgasse 19
CH-4051 Bâle
Where to eat:
Café frühling
Klybeckstrasse 69
4057 Bâle
Sandoase
Westquaistrasse 75
4057 Bâle
Do not miss out on:
Art Basel, mid-June every year
Messe Basel
Messeplatz 10
4058 Bâle
Geneva (on the article cover)
We often think of Geneva as a calm destination, but it is a much more bustling place than one might think. It is also a French-speaking city. There is Genève Plage where you can do several sports including paddle boarding or simply enjoy the bar and food. It doesn't feel like Switzerland at all. It disrupts the conservative angle under which the country is always shown. The whole region of Lake Geneva was a sight, but the city of Geneva is the true gem. 
Where to stay:
Hôtel Bristol
Rue du Mont-Blanc 10
CH-1201 Genève
Where to eat:
Les Armures
Rue Otto Barban
1204 Genève
The Barista Lab
Boulevard de Saint-Georges 8
CH-1205 Genève
Do not miss out on:
Eaux-Vives Beach
The Geneva Water Fountain
International Watchmaking Museum
Rue des Musées 29
2301 La Chaux-de-Fonds
The canton of Valais — Zermatt
Here is a classic, where the famous Matterhorn rises with its ever-impressing crest. We find in this canton the mythical landscapes of Switzerland and it is a wonderful destination, as much for its wines (by the way, the Vallée du Rhône wine takes root in Switzerland) as for its food. In addition, speaking of wines, you will find magnificent cuvées to taste. You wouldn't think that Swiss viniculture is of exceptional quality, but the whole valley of Rhone bathes in sunshine, which provides the optimal conditions for the production of excellent Pinots Noirs. It's like the Napa Valley of Switzerland. Note that Zermatt is a 100% car-free city. 
Where to stay:
Grand Hotel Zermatterhof
Bahnhofstrasse 55
3920 Zermatt
Where to eat:
The Omnia
Auf dem Fels
3,920 Zermatt
Do not miss out on:
Gornergrat
Highest open-air cog railway in Europe. Runs all year round. 
Gstaad
Here, it's all about diversity. With its upscale hotels, gourmet restaurants, luxury chalets and proximity to gigantic glaciers, this is the perfect destination for lovers of the great outdoors. You can even do summer cross-country skiing at Glacier 3000. Together with its sister regions, Interlaken and Grindelwald, these three regions are truly the quintessence of Switzerland. Don't miss the chance to taste a cheese-tomato fondue, it's even better than just cheese!
Where to stay:
Hôtel Waldhaus
CH —3992 Bettmeralp
Where to eat:
The Alpina Gstaad
Alpinastrasse 23
3780 Gstaad
Do not miss out on:
Glacier 3000
Route du Pillon 253
1865 Les Diablerets
Switzerland for Sports Lovers
Whether it's climbing, kayaking, skiing, or hiking, there are activities for all levels. Switzerland is truly a breath of fresh air for outdoor sports enthusiasts. 
Getting Around in Switzerland
It's really easy to get around without a car, especially since some cities completely ban them. By taking public transport, be it trains or busses, everything is beautifully orchestrated, and it is easy to move everywhere, regardless of the time of day or whether you are in the city or in the country side.  (Editor's Note: The Swiss Travel Pass is a travel essential in Switzerland.)
Switzerland in General
What makes Switzerland so charming is that the country is a perfect meddle of different languages and cultures, in a very small and safe country of eight million inhabitants, a bit like in Quebec. There are so many cultural riches in the cantons and the different cities, it feels like we are on top of the world.
FIND OUT MORE
Switzerland Tourism myswitzerland.com
Jean-Michel Dufaux, Mon année à l'étranger (in french) at éditions Parfum d'encre.
For travel to Switzerland, the main airline is Swiss
Vous pouvez également jeter un oeil sur les différentes vidéos que M. Dufaux a fait pour Tourisme Suisse dans cette liste de lecture.
Article originally published in the Gentologie Magazine Issue 10.
Share the post "Switzerland: Between City and Nature with Jean-Michel Dufaux"