Hublot Big Bang Depeche Mode "The Singles" Limited Edition
18:26
updated on Mar Thu 2022 18:49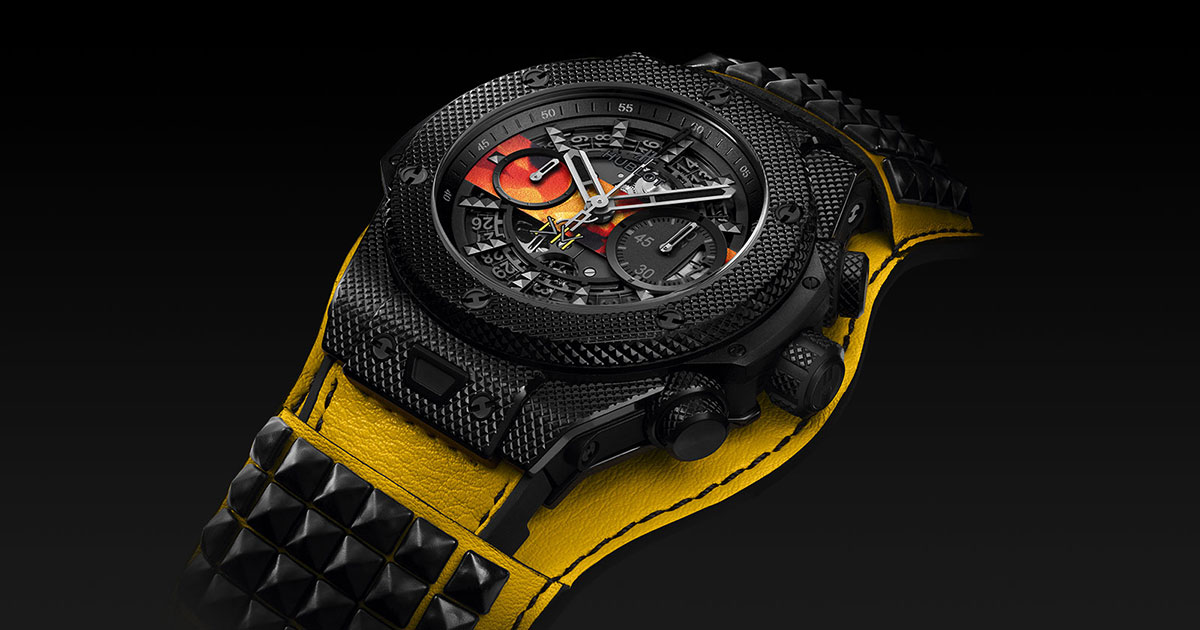 Hublot and Depeche Mode present a project for the collectors: the production of 55 unique Hublot Big Bang Depeche Mode watches with the effigy of each of the 55 singles produced by the group
Hublot Big Bang Depeche Mode "The Singles": Association between time and music
Who does not know Depeche Mode, one of the most influential, beloved and best-selling bands of all time! The last have surpassed the 100 million record sold in the world and have played in front of more than 30 million fans since the band's inception in 1981. In his 37-year career, Depeche Mode has launched an incredible 55 singles, from "Personal Jesus " to " Cover Me "last year. In honor of this incredible career, watchmaker Hublot presents a collection of 55 unique pieces of its Big Bang Unico model, all for the benefit of the Hublot charity and Depeche Mode, charity: water.
"This new collection of watches made with our partner Hublot honors us and touches us a lot, especially since it also aims to support our action in favor of the association charity: water. Martin Gore, Depeche Mode
"Depeche Mode has become a monument in the history of contemporary music. We identify with their dynamism and passion, strong as the first day, and their creativity, constantly renewed. We are fortunate to share with them many values, including our commitment to the activities of charity: water. This new, unseen collection of 55 different pieces pays homage to their incredible career while celebrating all our common points. A new edition for collectors is born! Ricardo Guadalupe, CEO of Hublot.
Each unique piece features on its dial a pellet partially taking the cover image of the disc it represents, reminiscent of the very first model from the partnership between Hublot and Depeche Mode. On the back of each watch is the entire cover of the simple and the logo of the association charity: water. These two elements are affixed on the sapphire of the glass opening on the famous Unico automatic movement. Coming from the manufacture Hublot, it offers a power reserve of 72 hours. Each copy will be equipped with a bracelet of a specific color for each model, completed by a cuff of the same color with its rock and roll rubber nails! This accessory is perforated on its back to allow to see the ice at the bottom of the watch and its movement.
A unique detail
Last detail makes the Big Bang Depeche Mode collection "The Singles" Limited Edition even more exclusive: each unique piece will be accompanied by a Roland JP-08 synthesizer, a limited edition tribute by recreating the sounds of the legendary model Jupiter 8 used by Depeche Fashion over the years. The legendary luggage manufacturer RIMOWA has created a black-anodized aluminum cabin-style Topas Stealth suitcase to serve as a haven for transporting each Hublot Big Bang Depeche Mode watch "The Singles", with the Roland JP-08 synthesizer, the disc matching vinyl and the certificate of authenticity signed by the group.
The rock star kit is complete!
Discover the HUBLOT website here
Share the post "Hublot Big Bang Depeche Mode "The Singles" Limited Edition"