A new bedroom decor with Casper mattress!
10:51
updated on Jan Mon 2023 18:02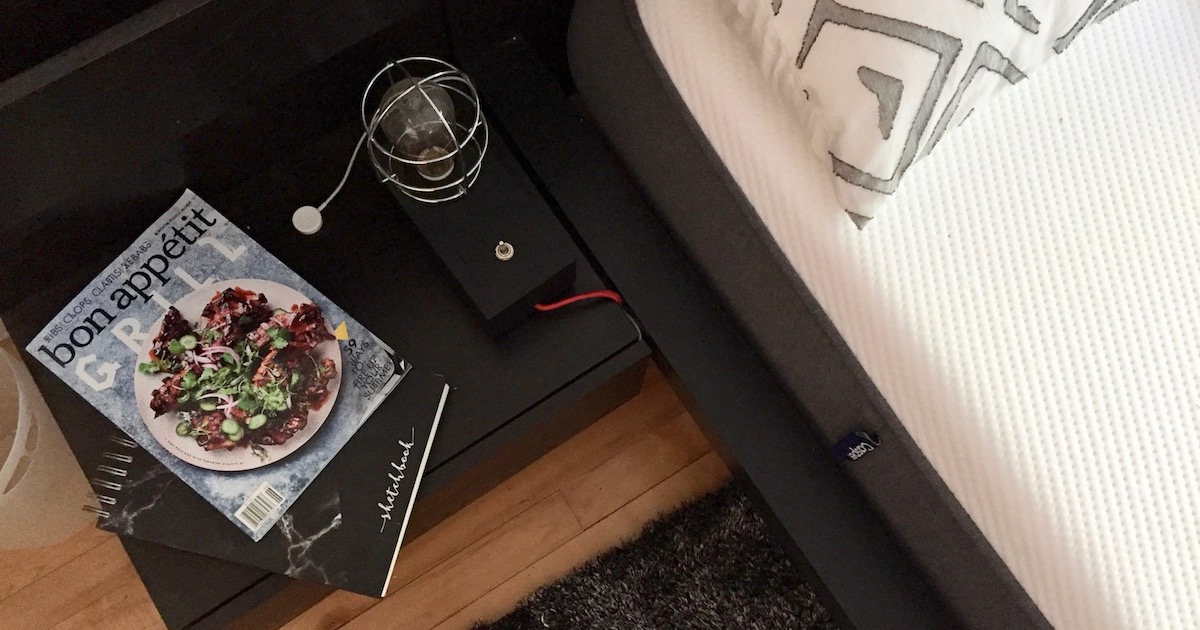 Before you leave all in fear, no I have not been paid by Casper, they have not given me the mattress, a beautiful Queen mattress. So with the arrival of this new mattress, I had the idea to redo the decoration of my room. With the arrival of my 40 years (you can follow the count of my feeling tickets here), I needed a more zen environment, I had a red wall and it was not the nicest environment. In short, I decided to make a new bedroom decor with Casper as inspiration.
A new bedroom decor with Casper: The Inspiration
In fact I had visited the Casper Nap Mobile during his visit to Montreal earlier this summer for the Nap Tour and the decoration and the Zen side of the vehicle really struck me. My environment for better nights had to go through lighter colors. So I chose the painting Sico Evolution (Velouté). Also, I do not understand that Sico is still not on Instagram although they are on Pinterest. It is still work to go from red to white. J, put 2 or 3 layers of paint to make disappear the whole, I who hate to paint. Well, as it is only an apartment and will probably not stay there for a very long time, I did it myself, the few imperfections disturbing me a little less.
So with the view you understand that I needed something pretty zen anyway. So everything came back white, even the gray walls, which were that I have in my living room. I also thought of repainting my desks and my chest of drawers, but it was a bit complex, and it tried me more or less. May be later. To have.
A new bedroom decor with a zen environment
So I started out obviously by painting, I still had my old mattress at that time, it was heavy to move with the bed and everything. In short, I took about 2 weeks to complete the whole, to buy all accessories including this perfect IKEA mirror. I really wanted something Zen. Even though I was going to have a mattress that everyone praised, the environment had to be perfect too (I still have not found my curtains and I just lost 10 minutes to look) to sleep. J, I opted to keep the color brown-black on ems furniture, I may possibly change, but I opted for these accessories in pale wood. By passing the Casper box you see weighs less than 100 pounds (when the mattress is in). You also see my magnificent and efficient Dyson vacuum cleaner.
You see here the same wall as in the photo of the red wall a little higher, I already had the wooden boxes, but they were decorated in a way that I am less with Coca-Cola accessories and DVDs. So I took things that I had at home, including a Leica camera watch from my father, a Hendrick's cup, Burberry cufflinks, a bagel poster received at the bicom Christmas event by Whaat? Studio. You will notice that books are dragging on my dresser, the first all in green is Poutine pour emporter from my friend Marie Eve Gosemick as well as Dinette magazine, received in an event along with other accessories arranged in a hurry.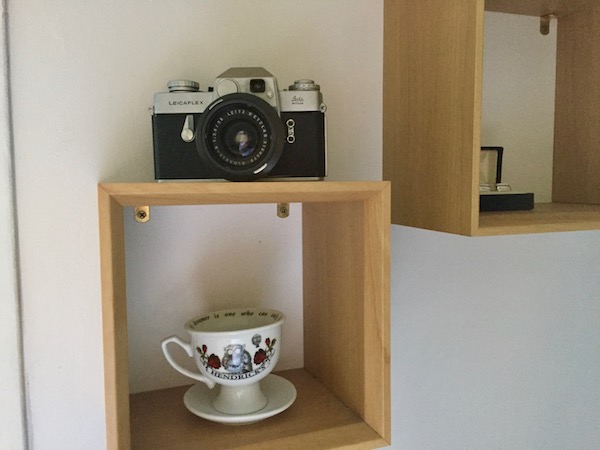 A new bedroom decor with a sleek look
As I said above, the look I was looking for was a Zen and purified. The red color loaded the room a lot and shrunk my space even if it was only a wall. I feel, with the white, that my room breathes, that it has grown. My West Elm bedspread also greatly inspired me towards this gray-white look. And this beautiful and warm cover of West Elm and Faribault handmade for the cold winter nights (the joy of living above a garage).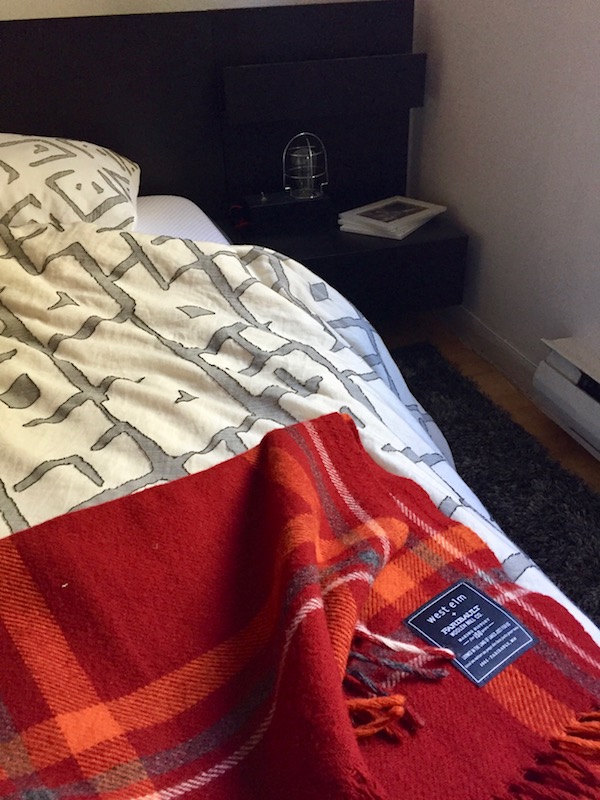 You certainly suspect that there are usually sheets on the bed, but it was only for the shooting, I still had to show the mattress. But I'm very happy with the result. It's really soothing as the environment white. It changes completely, It's a new energy that I see. I sleep better more peacefully.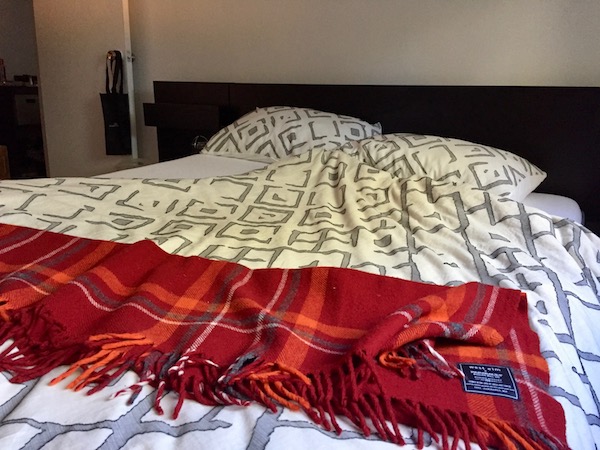 A new bedroom decor with a constant evolution
As you can well imagine, my decor is constantly evolving. besides, the shoe-holder you see on the right will not remain there long. I saw a photo of the fashion blogger Moti Ankari who inspired me a lot.
I love the space for shoes. I find it original and it does not take much space given the height. In short, I look at the project. I also adjusted my wardrobe space, did some housekeeping, sort my linen by style and color, put the stuff that was trailing in recyclable bags (this is something we get at the ton in bloggers events), which I put on my top landing. I will come back with the layout of my wardrobe in a few weeks.
And to finish the two night tables. Nothing complex. You are certainly wondering what I thought of the mattress? It's just lower.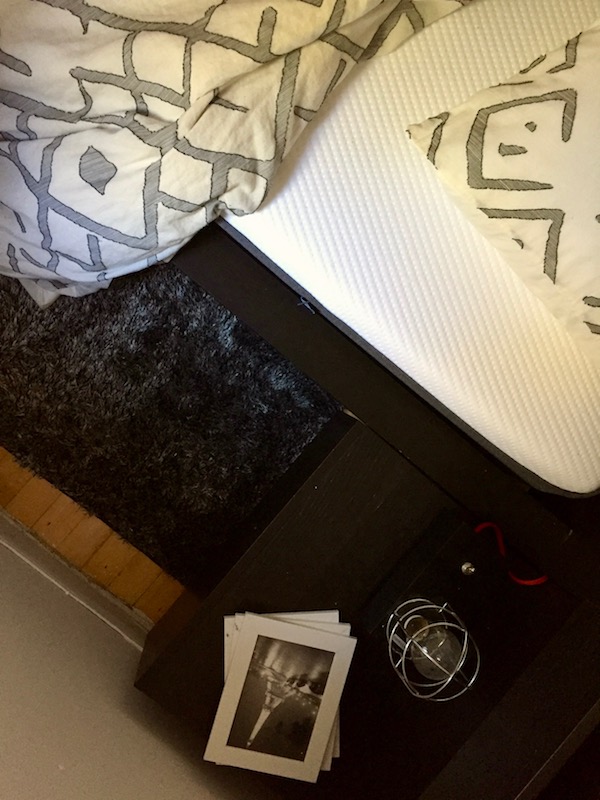 A new bedroom decor with Casper : The mattress test.
I have to say that my previous mattress was still comfortable, but it was big and heavy, especially when it comes to putting the sheets around and rotating it, it was not obvious. On the point of weight, Casper wins.
Changing mattresses is not obvious, you often sleep less well the first nights in a new mattress and it is quite normal. I was passing from a spring mattress to a foam mattress. So I experienced some adjustment. Also, it is a little lower than my previous one and the foam sinks more than the springs so to get up is less obvious but nothing too overwhelming.
Something new at Casper
To sleep, as I said above, there was some adaptation, but I have to say that it was pretty fast, now it is really comfort and love with my Casper mattress. It seems that the sheets are really top according to my collaborator Charlie who made the purchase of the mattress. So I am totally satisfied, I sleep well, I wake up rested. Everything goes for the best in the best of all worlds.
And now Casper has taken many new mattresses, including the the Casper Wave. The latter seems to be an even more interesting innovation. Because do not get me wrong, even if there are several mattresses that resembles the casper, Casper is the first and according to what I could learn to meet people who work there, they push the research thoroughly and do not hesitate not to take risks. And they succeed, they totally succeeded in tambling an industry that was a bit pocket confessed. Who was getting excited when talking about mattresses if 3-4 years ago? Now it's made cool to talk about mattresses. And Casper does not stop.
Casper : Innovation for travelers
Here's the latest addition to Casper fans, they've just announced a collaboration with American Airlines. To tell you how I'd like to try this, it's crazy. You can learn more in the video below.
Want to buy your Casper mattress you too? I leave you my code so you can enjoy $ 75 off on buying your mattress. And if you are not satisfied, you can return it free of charge after 100 nights of trial.
Time to sleep. See you soon.