Ogilvy en Fête 2018 edition is November 21
00:24
updated on 18 February 2019 21:22
This is the second year in a row that the Véro & Louis  is joining forces with the prestigious Ogilvy store for the Ogilvy en Fête 2018 edition Soirée on November 21st at 7 pm (see our post on the 2016 evening). This major event launches Ogilvy House's Holiday Season and becomes the perfect opportunity to start the holiday shopping.
Ogilvy en Fête 2018 edition, An exclusive luxury shopping night
The Ogilvy store will be open exclusively to ticket holders from 7 pm to 10 pm This festive evening will offer several gourmet tables, original small bites and decadent sweets. Several DJs will be present to electrify the atmosphere and guests will enjoy activities such as photo booths, manicure and make-up stations, and live an unforgettable moment.
The return of the Véro & Louis Foundation
"Following the success of the first edition in 2017, it was obvious to renew the experience! We are pleased to partner with Ogilvy for the second year in a row for this one-of-a-kind shopping night "says Véronique Cloutier.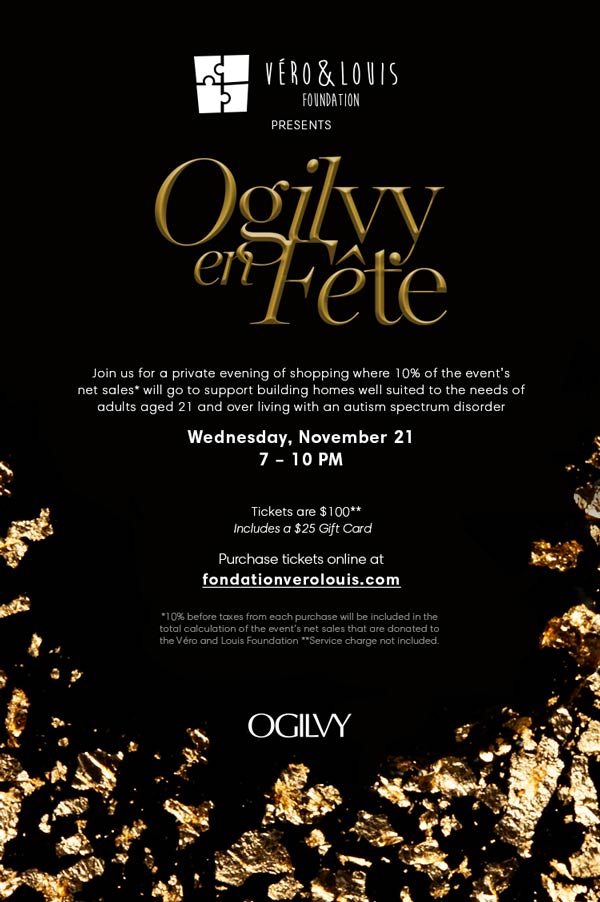 "Celebrating his festive season with Ogilvy Party, Ogilvy has always been involved in the Montreal community. The charity shopping night is a unique opportunity for customers to shop for a very good cause. We are delighted to partner for the second time with the Fondation Véro & Louis to support adults with autism. We are confident that with all the great partners involved, the evening will be a memorable one, "says Normand Ciarlo, General Manager and Vice-President of Holt Renfrew and Ogilvy.
Proceeds from the sale of tickets as well as 10% of the sales of the evening will be donated to the Véro & Louis Foundation. Entrance tickets for the Ogilvy en Fête 2018 edition are $ 100. Guests will receive a $ 25 gift card upon check-in, which can be used at any Ogilvy House store.
To learn more about the Four Seasons – Ogilvy renovations, follow this link