Laurent Duvernay-Tardif: Authenticity Above All
16:44
updated on Aug Tue 2023 10:04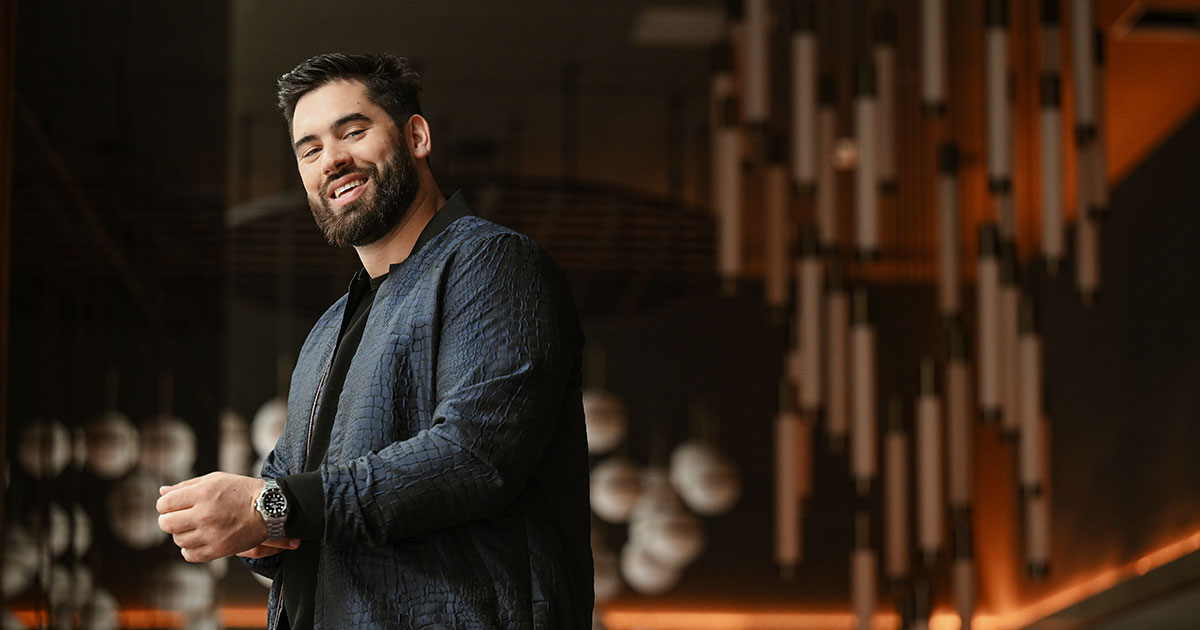 We mostly know Laurent Duvernay-Tardif for his amazing career as a student-athlete balancing football with medical studies, but this Québec sportsman also leads several projects. He has been keeping busy with his foundation, which he co-chairs with his girlfriend Florence, his takeover of the family bakery Le Pain dans les Voiles, as well as commitments with his partners such as Clarins, for which he is the male ambassador and the frontman of the new ClarinsMen product line. You have to be quick on your feet to get to speak with him for a few minutes, which I was able to do on this interview.
Health, a vehicle of choice
With that in mind, let me go back to the main reason why we have the special opportunity to talk to the Super Bowl LIV winner. For several years now, he has been the face of Clarins' products for gentlemen, the ClarinsMen line. Earlier this spring, the company unveiled its Shave & Beard line, aimed at those seeking a true expert shave while caring for their skin and protecting it. The Quebecer and the French company maintain a tight relationship. After all, a McGill University medical graduate needs to carefully pick his partnerships. "Any partnership I am in has to be health-focused in some way, and here we are talking about skin care. We must remember that the skin is the body's largest organ and caring for it is imperative," explains the man who paused his football career to join the primary care team during the pandemic. For Mr. Duvernay-Tardif, this new line is his opportunity to talk about skin health, but also a means for him to express himself on topics such as physical and mental health and to make them a part of more male conversations, as the male audience is sometimes harder to reach on issues relating to those topics. Part of his medical training developed his skills in terms of asking questions, continually learning how his body works, and understanding the specific purpose of ingredients in recipes. "The Clarins team welcomed me with open arms by inviting me to their facilities in France where I met the warm family behind the company. I was also able to visit the laboratories where I could learn more about how they incorporate roots, leaves and various solutions to their products. This reinforced the quality of workmanship of this leader in skin products, because don't overlook the fact that the result is ultimately on my face and the faces of thousands, if not millions, of men. Plus, it makes for a perfect partnership, since I have a beard (laughs)," adds the man who has been promoting the ClarinsMen line for over two years.
Full dedication to everything he does
You may be wondering about Mr. Duvernay-Tardif's future. At the moment I am writing this article, nothing is set in stone. Although he wants to get a new professional football contract, he is determined to complete his medical residency. Being a realist, he gives himself one last shot before going back to school. "I don't want to go back to medical studies and suddenly be called back by a team in the midst of it. If I do something, I will do it whole-heartedly," says the man in his thirties. As a generous man, he was always keen to give back to a cause he holds dear, namely youth. Caring particularly to those living in difficult situations, Laurent and his girlfriend Florence-Agathe Dubé-Moreau created the Laurent Duvernay-Tardif Foundation to foster youth educational success through arts and sports. "The goal is to introduce young people to inspiring activities such as yoga and dance, potential new passions such as contemporary art, and to make the school environment as stimulating and interesting as possible to keep young people in school," emphasizes the seasoned athlete. It should be no surprise that Laurent Duvernay-Tardif has always taken his studies seriously. That being said, he insists that sport is a necessary complement to academics and that it has been essential for him. "We grow so many tools through the practice of our sport. We learn to win, to lose and to work as a team. There's no doubt in my mind that I'll be a better health care professional because of my background as a student athlete," adds the 2021 ESPN Muhammad Ali Humanitarian Award winner for his frontline work during the COVID-19 pandemic. Mr. Duvernay-Tardif and Ms. Dubé-Moreau were ambassadors for the 49th edition of National Volunteer Week, held last April.
Laurent and Gaspésie, a love story
Laurent is an avid sailor and fisherman and describes the home of the famous Percé Rock as his adoptive land. In fact, he pays it a yearly visit. He explains to me how soothing it is for him to be on the water and that he has been sailing since he was a child. Plus, we've seen him a few times on his Instagram account getting lucky enough to bring in some beautiful Gaspesian tuna. All in all, this region on the east coast of Quebec is very important for the athlete who has found a haven of peace and a second family there.
Entrepreneurship, an added string to his bow
Taking over his parents' business, he is now at the head of Le Pain dans les Voiles group. He was brought up in the family bakery and is very attached to the company. He worked there, studied there, met his girlfriend there and spent every Christmas there. "This place is unifying and exudes family values. Following the pandemic, my parents wanted to pass the torch and I said: "Let's give it a try!" Le Pain dans les Voiles is more than a breadwinner. It's an entrepreneurial project, a part of myself I got to discover. Managing a team of nearly 100 employees is quite something, but I love a good challenge. I have a platform that allows me to go further, to connect with the farmers growing our wheat. It is huge work, because every day you need to do it all over again. Just because you made good bread the day before doesn't mean you'll make good bread the next day. I have tremendous respect for my team," says the new owner.
Questions from Gentologie to Laurent-Duvernay-Tardif
What is a gentleman?
A respectful person who is a good listener and stays humble.
What is your favourite city in the world? And why is that?
Barcelona. It gracefully blends culture, art, architecture, history, beaches and gastronomy. Besides, the weather is always nice. 
What is your favourite restaurant or bar?
The pleasure of the table for me comes more from the moment and with whom I share it than from the place.
What is your favourite airline?
Air France. The food is amazing. 
Which are your favourite travel destinations? 
The world. Europe, for history, and you are only 2 hours away from anywhere by high-speed train. I'm not a big fan of all-inclusive destinations, but I do love meeting people who grew up in the Caribbean and immersing myself in their culture.
What are your favourite places to go shopping?
It is difficult for me because of the way I am built. It is mainly my stylist that comes over and gives me options. 
Where do you go to unwind? 
On a nice terrace in summer in good company.
Can you think of something that is essential to your life? 
Real friends telling you real things. Those who are there when you drift away from who you are and bring you back to earth. 
Meeting Laurent Duvernay-Tardif, even for a few minutes, was enough for me to see how genuine a man he is with good values. He keeps humble and stays true to what he loves. In a nutshell, he is such a fascinating individual that I am sure we will see him continue shining in the Quebec media landscape for many years to come. 
Visit the Laurent Duvernay-Tardif Foundation website and his official website.
This article is from Gentologie magazine Issue 11 and has been modified for the web.