Genesis X Convertible Concept: Like a sunset on the ocean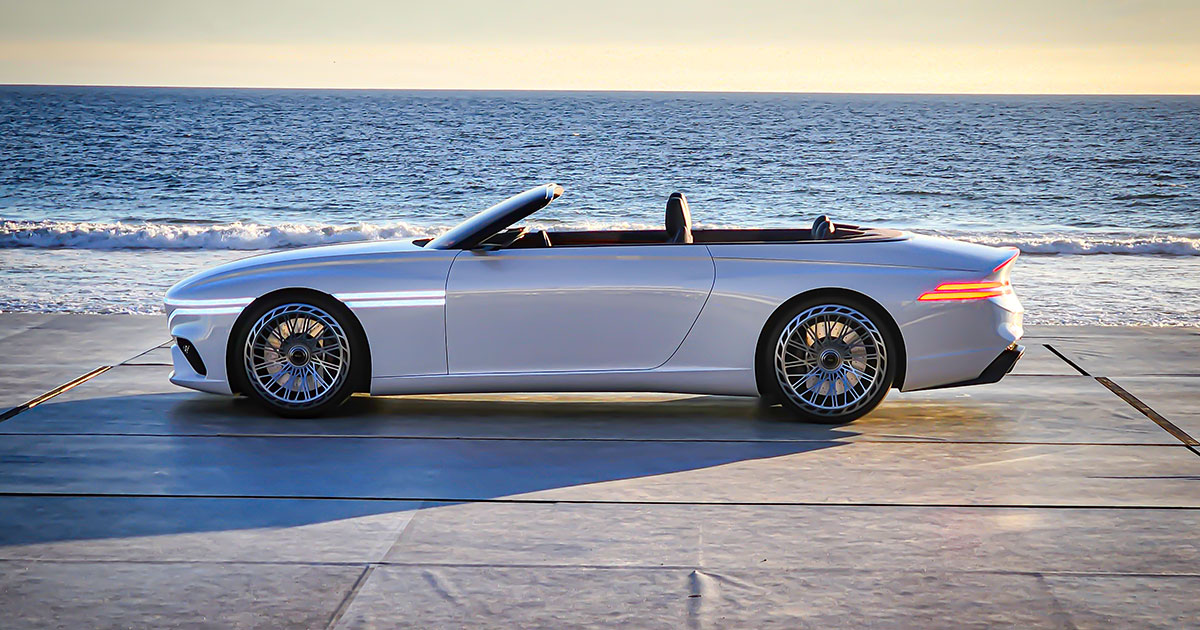 Sometimes the decor makes things shine even more. Imagine the most beautiful diamond in a refined setting. That's the kind of pairing that the South Korean company created when it unveiled the sleek and elegant Genesis X Convertible Concept on the sunny beach of Malibu.
Genesis X Convertible Concept: The spectacular in Malibu
The third in the brand's series of prototypes, the Genesis X Convertible Concept is the purest expression of Genesis design. It features a pair of lights that frame the grille and expand down the sides of the vehicle, giving it a more dynamic look. The good news is that it's a safe bet that this design feature will become a signature feature of Genesis electric vehicles.
The front end has the same astounding, slightly triangular grille as the vehicles, but with a more pronounced backlighting, once again asserting its presence. The rear section features dual red headlamps and a line of light around the slightly raised spoiler.
From above, the Genesis X Convertible Concept is shaped like a glass bottle, reminiscent of the more rounded shapes of sportier grand touring cars. Underpinning it all are the 19-inch wheels mounted on intricately designed, contemporary rims.
The interior is a repeat of what other Genesis concepts have shown. Aplenty of space, made possible by the presence of a smaller electric motor, wraparound seats and an almost retro-looking dashboard, including a dial reminiscent of a traditional rev counter, which is a bit anachronistic in an electrified car.
The industry's most refined roof
Beyond the very spectacular silhouette, the Genesis X Cabriolet Concept offers a retractable and foldable roof. Its composition is surprising, however, as it is made entirely of glass panels, including those covering the passenger area.
Will this concept, of which no technical details have been revealed, ever see our roads? Even if Genesis does not officially intend to do so and presents it as a styling exercise, designer Luc Donkerwolke would like to see it become reality. The man behind the Concept trio, who was head of design, has since been appointed president of the group. And at the time of the unveiling, he made it clear that he was "working to make this concept a reality."
It was in front of a spectacular sunset on the beach in Malibu, with the Pacific Ocean in the background, that Genesis executives unveiled the Genesis X Convertible Concept. An image that will forever represent the refinement and unique style of the Korean luxury brand.
Check out some current Genesis models in our brand section.
Learn more about this concept on Genesis Canada website right here.
Share the post "Genesis X Convertible Concept: Like a sunset on the ocean"