The BMW M8 Competition Gran Coupé: all superlative
15:26
updated on May Mon 2021 12:51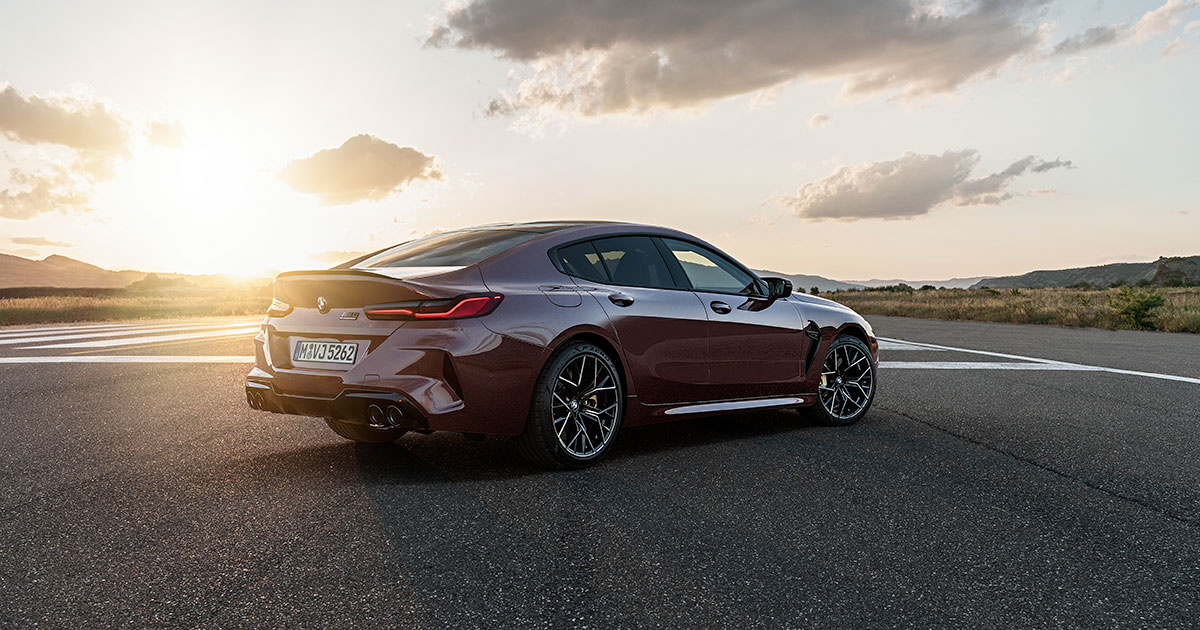 Warning: If you are looking for something reasonable or discreet, go your way. Everything written in this column is beyond the limits, whether in terms of power, consumption or price. However, what do you want, your columnist likes to spoil himself sometimes, and that was the case with the BMW M8 Competition Gran Coupé.
I do not know why the folks at BMW do not seem to trust me when driving performance cars. They tend to entrust me with these competent cars at times when I will not be able to test them except gently. This was still the case this year, as 2021 began at the wheel of a BMW M8 Competition Gran Coupé.
If that does not ring a bell, do not worry. This kind of car is not visible on every street corner. For example, its acquisition price, set at over $ 161,000 base, is more than enough to make it quite discreet. Add to that an output of over 617 horsepower – at least four times more than the best-selling car in the country of 2020, the Honda Civic, and you will understand that it is not for all drivers.
Sleek silhouette
A young friend, a car enthusiast, drove with his mother in front of the house and admired this unique BMW curves. For her part, his mother preferred the SUV, which replaces the BMW for the next few days. This is probably the nuance that distinguishes this supercar: it appeals to amateurs, enthusiasts, those looking for a unique feeling.
It must be said that the M8 Competition is unique. Its size, first of all, makes it impossible to forget. It is more than 5 meters long, 2.1 meters wide and offers a long wheelbase of more than 3 meters. In other words, the M8 Gran Coupé wins in all dimensions.
Obviously, this space is reflected in the cabin as the front occupant position is spectacular and the rear clearance sufficient, although we have to admit that more could have been done. Not to mention the cargo space to match. With its four doors, long sloping roof and long tapered bonnet, the BMW M8 Gran Coupé is almost scary.
Unrestrained power
The real news, though, is the power and handling of this vehicle. Under the hood is an incredible 4.4-litre V8 turbocharged engine, developing a whopping 617 horsepower and 533 lb/ft of torque. Needless to say, all it takes is a little squeeze on the accelerator to unleash real fury under the hood.
Since this is the Competition version, the car can count on a little more power than the regular version, but above all on suspensions, which allow better handling of the contact with the road. In January, on a cold surface and ordinary roads, however, it is impossible to test these capacities which, let's face it, will only rarely be used by the owners anyway.
True maniacs will admire the M1 and M2 buttons, which adjust settings, and Track mode, which puts the car in aggressive mode, going as far as turning off the infotainment screen to avoid distraction. To be reserved for exceptional situations, of course.
However, the reality is that beyond these exceptional capabilities, the M8 Competition is a real roadster. It offers astonishing comfort and the most advanced functions in regular mode, both in terms of entertainment and connectivity. It even includes gesture recognition, which made me look funny as I waved my finger in front of the screen to turn up the amazing sound system's volume. Furthermore, we cannot ignore the engine's incredible sound that brings a smile to anyone who appreciates these kinds of details on a car.
The handling is obviously fairly straightforward; although the overall heaviness is felt in sharp turns, the all-wheel-drive response to the quarter-turn and braking is made without batting an eyelid. A small detail is only of relative importance in this type of vehicle: its average consumption has never fallen below the 15 litres per 100 kilometres mark.
An exceptional car? Certainly. Moreover, what a great success for anyone looking for an exceptional car? Certainly. Furthermore, a great achievement for anyone looking for a performance car without too many compromises in everyday use. However, first of all, it remains a real trophy of exclusivity.
Strengths of the BMW M8 Competition Gran Coupé:
Exceptional power

Sleek silhouette

Spectacular technology
Weaknesses of the BMW M8 Competition Gran Coupé:
Price

Consumption

Limited real use
Technical specifications of the BMW M8 Competition Gran Coupé:
Engine: 4.4 l V8

Power: 617 hp @ 6,000 rpm (460 kW)

Torque: 553 ft lb @ 1,800 – 5,800 rpm (750 N m)

Power supply: Turbocharged

Transmission: Automatic, 8 speed

Gear: Integral

Consumption: 15.1 l per 100 km

Price: $ 161,000 (base)
Discover the different dealers
Read other automotive reviews from Marc Bouchard.
Share the post "The BMW M8 Competition Gran Coupé: all superlative"